In this month's author Q&As we have
Hunter Shea

, author of Faithless. Find out more about the novel, what influenced the story and what he's working on now!

What is the book about?
Faithless is about a priest who lost his faith and will to live after the senseless slaughter of his family. Cut adrift from the life he built and the church that nourished him, he sets off to a remote farmhouse to die slowly. He isn't there long before he realizes he's not alone in the house. Or perhaps he's losing what little he has left of his sanity.
What are the underlying themes?
It's absolutely about deep, unmendable grief. How does one cope with something that turns their world upside down? It's also about the secrets we keep, even from our loved ones. Secrets that can kill. Lastly, it's about friendship, and how far someone is willing to go to save the person they love.
Did you base your characters on anyone you knew?
Raul and Felix are two people I work with, but the characters are wholly from my imagination. I wanted to play with the idea of the sinner that became a saint and the sinner who embraces his fate and how they can some together during the darkest of times.
Who influenced you most in the writing of the book?
I'd have to say all my years of going to church. I learned early on that priests are flawed and they are very much just like us, only with a different calling. I've known great priests who suffered silently through addictions or grief. It was humbling to realize that at an early age. Growing up not far from where the Son of Sam lived in the 70s, I've been drawn to the mystery of cults and why people join them. Faithless is basically a melding of two concepts that fascinate and I'll admit, frighten me: cults and exorcisms.
Is there any advice you can give someone starting to write?
Just sit down and write. There is no magical process or secret tip I can give. It's as simple as taking the time to write your story, and then the fortitude to stick with it until the end and go back to page one and edit/rewrite. We all have a story to tell. It boils down to asking yourself if you have the passion to write it down.
Where did you write the book?
Faithless was written during the pandemic lockdown here in New York. With nowhere to go, having this book to turn to every day pretty much saved my sanity. I wrote it in my attic (which I call my belfry) and outside in the yard, depending on where the mood took me.
Did you write in silence, or to any particular music?
Mostly silence. Every now and then I'll pop in some horror movie soundtrack.
Did you find it hard to write? Or harder to edit your own work?
That first draft is always where the heavy lifting comes in. That's where all your doubts creep in. There's that inevitable middle sag where you question why you even started it. And then you get that rush when you see the light at the end of the tunnel. Editing is a joy for me. It means I made it and now I just need to make it a little better.
What was it like to be edited by someone else?
Don D'Auria has been my editor for a decade now. I know my books are in the most capable hands out there.
What are you writing now?
I just finished a wild novella called Bigfoot in the Bronx. I'm working on some short stories that will revive my Jessica Backman character from previous books and deciding what novel to tackle next.
Thank you!
---
Thank you to Hunter Shea for taking the time to talk today about Faithless. You can pick up his book from the 26th October. It will be available in paperback, hardback and ebook. Check out our website for details.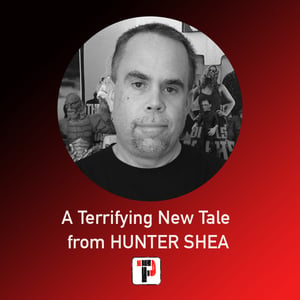 Hunter Shea is the product of a misspent childhood watching scary movies, reading forbidden books and wishing Bigfoot would walk past his house. He doesn't just write about the paranormal – he actively seeks out the things that scare the hell out of people and experiences them for himself.
He's the author of over 30 books, including Misfits and Slash, (Flame Tree Press) The Jersey Devil (Pinnacle) and We Are Always Watching (Sinister Grin). Hunter's novels can even be found on display at the International Cryptozoology Museum. The Montauk Monster was named one of the best reads of the summer by Publishers Weekly.
He's an avid podcaster and can be heard and seen on Monster Men and Final Guys every week, interviewing some of the horror genre's brightest directors, writers and producers, as well as UFOlogists, cryptozoologists and ghost hunters. Living with his crazy and supportive family and two cats, he's happy to be close enough to New York City to see the skyline without having to pay New York rent. You can follow his travails at www.huntershea.com.