In this month's January author Q&A we have Catherine Cavendish, author of In Darkness, Shadows Breathe. Hear all about the novel, who she based her characters on and a few ideas she has for upcoming books!

What is the book about?

The story centres on two women, each living totally different lives. Carol is temporarily living in a luxury apartment built on the grounds of an old workhouse and asylum. Nessa undergoes life-changing, but vital, surgery in a hospital built on the same grounds. Each woman finds a poem called In Darkness, Shadows Breathe by a Victorian woman called Lydia Warren Carmody and both begin to experience strange, unnerving events. For Carol, her dream apartment becomes a nightmare. Nessa opens a door and finds herself back in time. When Carol is also admitted to hospital, both women are caught up in a nightmare, choreographed by an ancient entity that knows no boundaries and crosses dimensions, bending time and space itself.

Nessa and Carol are thrown together. Each needs the other, although the reason is unclear. There is something significant about Lydia Warren Carmody, but who was she and why do her words haunt them? What is the significance of the young girl they both encounter? All Nessa has is question upon question. She must find the answers – for her and for Carol. The battle is on for their bodies and souls and the line between reality and nightmare is hard to define. Why have Carol and Nessa been chosen? The answer lies deep in the darkness…

What are the underlying themes?

Darkness. Fear, both of the real and the supernatural. Nessa is battling a rare form of cancer and Carol has a lot of emotional baggage from her earlier life. Also, I am fascinated by the theory that time can be bent, and may not be as linear as we believe it to be. I explore this here too.

Did you base your characters on anyone you knew?

Not specifically. I never do. There is a bit of me in Nessa as she faces a real battle I also had to face, as do many thousands of people every day. I had cancer and needed life-saving surgery so I can relate closely to her feelings about it and how she dealt with it.

Who influenced you most in the writing of the book?

I read Hunter Shea's book, Creature, which has at its core, his wife's all too real day to day battles with a range of auto immune diseases. The book is an amazing horror novel, but it goes way beyond that and is such a moving story. Up until reading it, I had avoided using my own health experiences – my own personal horror, if you like – but Hunter's story gave me the courage to go there and that formed the start of Nessa's story in In Darkness, Shadows Breathe.

What is the best piece of advice anyone gave to you as a writer?

Don't give up. It may sound clichéd, but it can be very lonely, sitting with your laptop, staring at the latest of a long line of rejections. You just have to take a deep breath, learn anything you can from the knock-back (if they have given you any feedback, for example) and carry on – regardless. You have to believe you will get there. It may take a long time. It certainly did for me. The road to publication can be strewn with boulders but, one day, you'll get there. Keep writing. Keep reading.

Where did you write the book?

We were in the process of moving house at the time so I started in my (then) office at home in Crosby, north Liverpool, surrounded by packing boxes and unable to find half the stuff I needed for reference. I finished it in my lovely library/study in our new apartment in Southport – mercifully free of packing boxes and with peace, order and harmony restored – well, apart from our little black cat trying to write her own version of the story, of course. She does enjoy walking across the keyboard!

Do you write in silence, or to any particular music?

I need peace and quiet, in order to immerse myself in my world and become oblivious to anything going on around me. Once that happens, I really don't know what else is going on. My husband is used to me screaming when he comes into the room where I'm working. He doesn't take it personally

What scares you?

I was quite spooked on a visit to Greyfriars Kirkyard in Edinburgh. It was an organised tour and we were taken into the infamous Covenanters' Prison and the Black Mausoleum – at night. It was dark, cold and laden with atmosphere. I could see why people believe there is something in there with them…something not of this world. Mostly though, I find it is real life that provides the real scares. My stories are escapism.

What was it like to be edited by someone else?

My editor at Flame Tree Press is the amazing Don D'Auria. He is a legend in the horror world which is why so many authors clamour to work with him. He totally 'gets' my writing so any suggestions and recommendations he makes are always spot-on. As a result, I love working with him. He adds that extra ingredient that makes all the difference.

What are you writing now?

I have a number of ideas swimming around in my head but uppermost at the moment is a fledgling story drawing inspiration from the Mass Observation diaries. During the 20th century, people from all walks of life in the U.K. would record their day to day lives and submit their diary entries which were stored centrally and, to this day, provide a wealth of social history. The practice went on for decades but, critically, covered the years of World War II – 1939-1945 and into the post war austerity of the 1950s. One of the most famous actual diarists was Nella Last whose story was captured by Victoria Wood in the film, Housewife, 49. In my story, one of the diarists is going to be… different. Let's say, not the sort of person you would want to encounter. It's all embryonic at the moment, but watch this space…
Thank you!
---
Thank you to Cat for taking the time to talk today about In Darkness, Shadows Breathe. You can pick up her book from the 19th January. It will be available in paperback, hardback and ebook. Check out our website for details.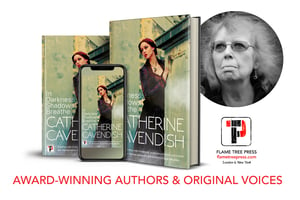 Cat first started writing when someone thrust a pencil into her hand. Unfortunately as she could neither read nor write properly at the time, none of her stories actually made much sense. However as she grew up, they gradually began to take form and, at the tender age of nine or ten, she sold her dolls' house, and various other toys to buy her first typewriter – an Empire Smith Corona. She hasn't stopped bashing away at the keys ever since, although her keyboard of choice now belongs to her laptop.

The need to earn a living led to a varied career in sales, advertising and career guidance but Cat is now the full-time author of a number of supernatural, ghostly, haunted house and Gothic horror novels and novellas, including The Garden of Bewitchment, The Haunting of Henderson Close, the Nemesis of the Gods trilogy –Wrath of the Ancients, Waking the Ancients, Damned by the Ancients - The Devil's Serenade, Dark Avenging Angel, The Pendle Curse, Saving Grace Devine and Linden Manor. Her short story, 'Miss Emmeline's Mirror', recently appeared in the anthology Haunted Are These Houses.

She lives north of Liverpool with her longsuffering husband and black cat (who remembers that her species used to be worshipped in ancient Egypt and sees no reason why that practice should not continue).

When not slaving over a hot computer, Cat enjoys rambling around stately homes, circles of standing stones and travelling to favourite haunts such as Vienna and Orkney.