For today's July author Q&A, we have Kenneth Bromberg. He talked about inspirations for American Dreams and what's next! Make sure you check in for more Q&As with the authors of our July releases.

What is the book about?
American Dreams is a multi-generational story of three immigrants in early 20th century America: Max, a young genius who flees the pogroms of Russia after his father avenges the rape and murder of his mother; Sophie, a beautiful Polish girl deserted by her mother and left with an abusive, alcoholic father; and Jonathan, a young Irishman who escapes his homeland the same day his father, an IRA assassin, is hung by the occupying British army.
As they enter adulthood, we witness Max's violent climb to the summit of the New York underworld, Sophie's struggles to achieve stardom and respect in male-dominated Hollywood, and Jonathan's journey from New York speakeasies to the head of a major movie studio. During the forty-year span of the story, Sophie's and Jonathan's sons are swept up in World War II, from which they both return as heroes. Their reunion in California leads Jonathan to meet and fall in love with Sophie, and Max to discover that he has a son he has never known, which in turn, leads to a violent and unexpected climax.
What are the underlying themes?
American Dreams is based on two underlying themes:
The promise of America in the early 20th century, and the struggles and successes of those who immigrated here.

The importance of family, particularly of parent and child, and how that influences the person we become in the face of adversity and opportunity.
Did you base your characters on anyone you knew?
The characters in American Dreams are inspired by stories told to me by my grandmother, of her childhood in the Ukraine and her arrival and assimilation in New York.
What influenced you most in the writing of the book?
A lifelong fascination with the Mafia in America, and an interest in the early days of Hollywood.
Is there any advice you can give someone starting to write?
As the shoe commercial says, just do it. Try very hard to write for a set amount of time every day, regardless if it's a good day or bad, regardless if you're feeling inspiration. Just let it come out.
Where did you write?
I write in my home, in Santa Monica, but I first think out the story while taking long walks, usually near the beach.
Did you write in silence, or to any particular music?
Generally, I have 60s or 70s pop music playing softly in the background. Somehow this keeps me focused, keeps my mind from wandering.
Did you find it hard to write? Or harder to edit your own work?
The hardest thing for me is to face the blank page, to first draw out the characters and the plot. I find editing and re-writing to be much easier and more enjoyable.
What was it like to be edited by someone else?
It was quite helpful to have another person's point of view, although sometimes a bit hard on the ego.
What are you writing now?
I'm writing a murder mystery set in Los Angeles in the 1920's.
Thank you!
---
Thank you to Kenneth for taking the time to speak to us about his influences and American Dreams. You can pick up this new FLAME TREE PRESS edition of his book, along with the other July releases now. It will be available in paperback, hardback and ebook. Check out our website for details.
Kenneth Bromberg grew up in the beach cities of Southern California with a passion for tennis,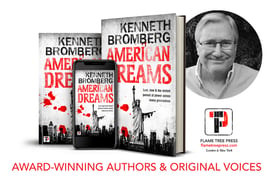 American history, and literature. He attended the University of California, Los Angeles, after which he worked for several years as a bartender. He eventually returned to UCLA to pursue an MBA and become a certified public accountant.
After retiring from accounting, Kenneth fulfilled a lifelong dream of becoming a novelist. His first work, American Dreams, is based upon stories told by his grandmother who immigrated to New York from a small Jewish village near Kiev in the first years of the 20th century.
He lives in Santa Monica, California, with his wife of forty years.
---
Make sure you check back in with the blog for more Q&As with the authors of our July releases!