In the second of this month's author Q&As we have Ramsey Campbell, author of Somebody's Voice. Hear what prompted the writing of the novel and advice for aspiring writers.

What is the book about?
A crime novelist is commissioned to ghostwrite the memoir of a survivor of child abuse, only to find his sense of his own identity and memories undermined by the experience. Meanwhile the survivor's own account proves to be less than entirely reliable, and figures from his past reappear to demand the truth…
What are the underlying themes?
The unreliability of memory and the fluidity of identity. Are we really sure of our memories and of exactly who we are?
What prompted you to write the novel?
A couple of years back a survivor of child abuse was interviewed on my local radio station (BBC Radio Merseyside) in a phone-in show. A caller commented that the lady had been very brave to talk about her experiences so publicly, and the presenter (Roger Phillips) responded that she was a very good writer as well. Now, since the book was ghostwritten, she wasn't the writer, and this immediately started me thinking how such a confusion of identity might develop. Suppose the writer's memories became increasingly entangled with the subject's, and both proved to be unreliable? Somebody's Voice was the eventual result.
Do you think you yourself have stolen the experiences of people unlike you to write the book, as the central character is himself accused of?
I don't think so. Part of the point of the book is to question how authentic his account of someone else's life can possibly be, and all the scenes in it supposedly from their viewpoint are actually written by him – so in that sense I haven't tried to depict the experience of a transgender person, but just a version of their life written by someone who isn't transgender. If anything, the book is commenting on that presumption and trying to show its effects.
Did you base your characters on anyone you knew?
All my characters are based on observation to some extent, but a character is very rarely drawn from a single real person. It's more a matter of assembling a new person from traits borrowed from many, and some imagined traits too. What's most important is that the characters should behave as real people might conceivably behave.
Who influenced you most in the writing of the book?
More like what, to which the answer is reality. I'm not aware of any direct influences, but since it's a psychological novel, perhaps writers of crime fiction I admire may have been at my shoulder. I'd think of Steve Mosby and Alex North for the sinuousness of their complex plots, and Dennis Lehane for his commitment to showing the morally messy consequences of actions.
Is there any advice you can give someone starting to write?
Don't despair, even when your work is rejected. Keep writing, and don't leave work unfinished. Learn to enjoy rewriting as soon as you can – every piece of work needs it, believe me. tell as much of the truth as you can. Always compose at least the first sentence before you sit down to write. Identify your most creative time to write and, if you can, work then – if not, try at least to write some of your new piece every day until it's finished.
Where did you write the book?
I'm up at my desk that looks towards Liverpool across the river, and I always see the dawn when I'm working here. Some writers prefer to face a wall so as not to be distracted, but I believe I draw energy from the view, not least the ever-changing sky. In another sense, though, the process can happen anywhere and everywhere, since while I'm working on a new tale my mind will be composing it even if I'm unaware of this. It can come up with an idea at any time, which is why I always carry notebooks – these days, the phone functions as one too – because otherwise the idea tends to get lost before I can write it down.
Did you find it hard to write? Or harder to edit your own work?
I haven't plotted a novel in advance for many years – I gather material until the book feels ready to be started. I believe in letting the tale develop organically and surprise me as it does. The dark side of this is that I can find myself stranded far out in unknown territory with no idea how to proceed, but I trust the novel to rescue me – generally there's material earlier on that proves to be the solution to where I need to go next in the story. It certainly van be hard to write, but more often it's rewarding, even exhilarating. I've come to regard the first draft as a way of setting out what I need to work with. I'm increasingly ruthless at rewriting and enjoy it a good deal.
What are you writing now?
A new supernatural novel, Fellstones.


Thank you!
---
Thank you to Ramsey for taking the time to talk today about Somebody's Voice. You can pick up his book from the 22nd June. It will be available in paperback, hardback and ebook. Check out our website for details.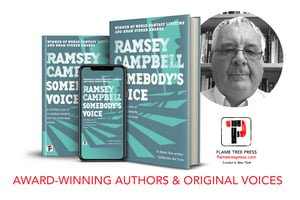 Ramsey Campbell was born in Liverpool in 1946 and still lives on Merseyside. The Oxford Companion to English Literature describes him as "Britain's most respected living horror writer". He has been given more awards than any other writer in the field, including the Grand Master Award of the World Horror Convention, the Lifetime Achievement Award of the Horror Writers Association, the Living Legend Award of the International Horror Guild and the World Fantasy Lifetime Achievement Award.
In 2015 he was made an Honorary Fellow of Liverpool John Moores University for outstanding services to literature. Among his novels are The Face That Must Die, Incarnate, Midnight Sun, The Count of Eleven, Silent Children, The Darkest Part of the Woods, The Overnight, Secret Story, The Grin of the Dark, Thieving Fear, Creatures of the Pool, The Seven Days of Cain, Ghosts Know, The Kind Folk, Think Yourself Lucky and Thirteen Days by Sunset Beach. Needing Ghosts, The Last Revelation of Gla'aki, The Pretence and The Booking are novellas.
His collections include Waking Nightmares, Alone with the Horrors, Ghosts and Grisly Things, Told by the Dead, Just Behind You and Holes for Faces, and his non-fiction is collected as Ramsey Campbell, Probably. Limericks of the Alarming and Phantasmal are what they sound like. His novels The Nameless and Pact of the Fathers have been filmed in Spain, where a film of The Influence is in production. He is the President of the Society of Fantastic Films.