We have a very exciting title coming out in March and we wanted to talk about it!
Your Turn to Suffer is t
he upcoming horror novel by Bram Stoker award-winning author Tim Waggoner
. Find out all about it here: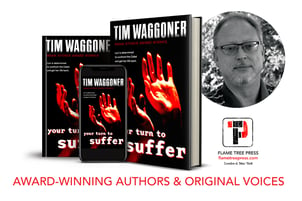 "His ability to weave the surreal with the hyper-real is his greatest talent." — Signal Horizon.


Lorelai Palumbo is harassed by a sinister group calling themselves The Cabal. They accuse her of having committed unspeakable crimes in the past, and now she must pay. The Cabal begins taking her life apart one piece at a time – her job, her health, the people she loves – and she must try to figure out what The Cabal thinks she's done if she's to have any hope of answering their charges and salvaging her life.
---