In this month's author Q&As we have Tim Waggoner, author of

Your Turn to Suffer

. Hear more about the novel, who he based his characters on and a few ideas he has for upcoming books!

What is the book about?


A woman is harassed by a sinister group calling themselves The Cabal. They accuse her of having committed unspeakable crimes in the past, and now she must pay. The Cabal begins taking her life apart one piece at a time – her job, her health, the people she loves – and she must try to figure out what The Cabal thinks she's done if she's to have any hope of answering their charges and salvaging her life.



What are the underlying themes?

How do we come to terms with living in a universe we have no control over and that at times seems to actively be working against us? Do we ignore it, accept it, submit to it, or fight back? And whatever path we choose, what will be lost to us in the end?

Did you base your characters on anyone you knew?

I always base characters on people I know. In one sense, every character I write about is based on an aspect of me. Sometimes they're based on people I know or who I've observed. Sometimes they're based on people whose stories I've read about. I never put a person I know into a story whole cloth, though. Like Dr. Frankenstein, I create my characters by stitching together bits and pieces of various people to create something new and different. I want the freedom to not only make characters fit my story, I also want to be able to do awful things to them without anyone thinking I'm torturing real people in literary effigy.

Who influenced you most in the writing of the book?

There are a number of authors whose dark fantasy has influenced my own: Ray Bradbury, Charles deLint, Clive Barker, Stephen King, Neil Gaiman, Caitlin R. Kiernan, Jonathan Carroll . . . but one of the strongest influences is the work of Franz Kafka.

Is there any advice you can give someone starting to write?

One of the most common pieces of advice new writers hear is "Write what you know." But if you take it too literally, all you'll do is write personal essays, not fiction. Better advice would be to write what fascinates you, what scares you, what infuriates you, what mystifies you . . . Write the kind of book you'd love to read, only it doesn't exist yet. Write the book only you can write, one that grows out of your imagination and obsessions, not anyone else's – and don't let rejection get you down. Keep writing!

Where did you write?

Sometimes I write at home, but often I go out to a coffee shop. I like listening to the white noise of the crowd's conversation, and I find that writing in the midst of life happening around me – people coming and going, chatting, working – is inspiring. There's often a mix of busyness and calm energy in those places, and I find it both invigorating and soothing at the same time, and this combination seems to help me get into a creative mindspace in a way other environments can't.

Did you write in silence, or to any particular music?

I can't write to music that has lyrics. The words of the song interfere with the words I'm trying to produce. If I listen to music when I write, I listen to classical or jazz. Sometimes I'll listen to music that fits the mood of a scene I'm working on. When I write a particularly dark scene I'll listen to music from Twin Peaks or to dark ambient music, such as Lustmord's albums. Sometimes I write in silence. It all depends on what sort of atmosphere gets the words flowing and keeps them flowing.

Did you find it hard to write? Or harder to edit your own work?

I sometimes find it hard to get started on a story or a novel, even when I'm working from a previously created outline. Each story has its own voice, rhythm, and style, and much of that occurs organically as I write. Once I've found my way into the world of a particular piece of fiction, the writing goes relatively smoothly after that. I don't find it difficult to edit my own work, but like most writers, I can't always be objective about a piece's strengths and weaknesses, so having another set of eyes look over my stories is invaluable.

What was it like to be edited by someone else?

As I said above, getting an objective opinion about my work is vital for me. I write for other people to read, and only other people can tell me if I've succeeded in communicating what I wanted in the way I wanted. Different editors have different approaches. Some are concerned with larger elements like plot and characterization, others are more focused on matters of style and sentence structure. Some view themselves as helping to make the author's work the best it can be, while others view themselves almost like collaborators, suggesting significant changes to a work. I like being able to bounce ideas off another person, but I'd rather an editor be focused on making a story of mine the best it can possibly be instead of trying to basically rewrite it their way. If I wanted to work with a collaborator, I'd have started out that way. Now, for tie-in fiction, the situation is different. There's a higher degree of collaboration built into the process since you're working with someone else's intellectual property. For those kind of stories, a more collaborative editor is essential.

What are you writing now?

I'm working on a horror writing guide called Writing in the Dark. Aimed at both beginning writers and established pros, my ultimate goal with this book is to help people write kick-ass horror regardless of where they're at in their careers. After that, I'll start on my next novel for Flame Tree!




Thank you!
---
Thank you to Tim for taking the time to talk today about Your Turn to Suffer. You can pick up his book from the 23rd March. It will be available in paperback, hardback and ebook. Check out our website for details.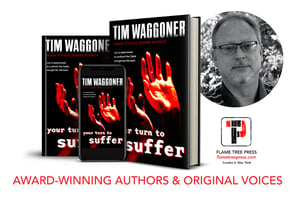 Tim Waggoner's first novel came out in 2001, and since then he's published close to forty novels and three collections of short stories. He writes original dark fantasy and horror, as well as media tie-ins. His novels include Like Death, considered a modern classic in the genre, and the popular Nekropolis series of urban fantasy novels. He's written tie-in fiction for Supernatural, Grimm, The X-Files, Doctor Who, A Nightmare on Elm Street, and Transformers, among others, and he's written novelizations for films such as Kingsman: the Golden Circle and Resident Evil: the Final Chapter. His articles on writing have appeared in Writer's Digest, Writer's Journal, Writer's Workshop of Horror, and Where Nightmares Come From.

In 2017 he received the Bram Stoker Award for Superior Achievement in Long Fiction, and he's been a finalist for the Shirley Jackson Award and the Scribe Award. His fiction has received numerous Honorable Mentions in volumes of Best Horror of the Year, and in 2016, the Horror Writers Association honored him with the Mentor of the Year Award. In addition to writing, he's also a full-time tenured professor who teaches creative writing and composition at Sinclair College.