We have a very exciting title coming out in May and we wanted to talk about it!
Screams from the Void
is t
he upcoming sci-fi novel by Anne Tibbets.
Find out all about it here: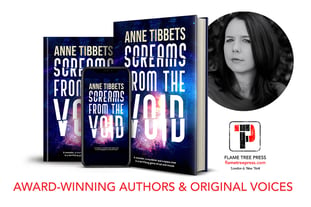 "A tense, gripping SF house of horrors in space, where not all the monsters are inhuman. I enjoyed this enormously." — Peter McLean, author of Priest of Bones



For two years in deep space, the freighter Demeter and a small crew have collected botanical life from other planets. It's a lesson in patience and hell. Mechanics Ensign Raina is ready to jump ship, if only because her abusive ex is also aboard, as well as her overbearing boss. It's only after a foreign biological creature sneaks aboard and wreaks havoc on the ship and crew that Raina must find her grit - and maybe create a gadget or two - to survive...that is, if the crew members don't lose their sanity and turn on each other in the process.
---