In this month's author Q&As we have Anne Tibbets, author of Screams from the Void. Hear more about the novel, who her influencers were and a little advice for aspiring writers.




What is the book about?
SCREAMS FROM THE VOID is about two underappreciated women in a dysfunctional crew, aboard a quarantined space ship, who battled internalized misogyny, sexist bosses, crazy ex boyfriends, and space monsters. Not everyone is going to make it out alive.



What are the underlying themes?
Overcoming trauma, sexism in the workplace and in social dynamics. Finding inner strength in the midst of insurmountably bad odds.



Did you base your characters on anyone you knew?
Nope. All fictional.



Who influenced you most in the writing of the book?
I tried to emulate the anticipation mastery of Stephen King, the horror of the Alien movie franchise, and the underlying rage of every woman pre and post MeToo movement.

Is there any advice you can give someone starting to write?
Writing is rewriting and lots of revisions and edits. Don't marry your words. Work them over and over. Find a writers group. Join writing organizations like the International Thriller Writers, SCBWI, SFWA, and attend writing conferences. There's more to being an author than writing. You need a social network.

Where did you write the book?
In Agoura Hills, California, sitting at my desk or at the public library. At the library, I once caught a guy standing behind me reading over my shoulder, so I mostly write at home now.

Did you write in silence, or to any particular music?
In silence or to classical music. Two Steps From Hell and AudioMachine have great music to write by. Their stuff normally is used in movie trailers and it creates great tension.



Did you find it hard to write? Or harder to edit your own work?
Writing the first draft is torture for me. I can see what I want the book to be, but it's often difficult to capture that vision in the first draft. I find this frustrating. I usually go through three or four revisions of the manuscript before I feel it's anywhere close to where I want it to be, and even then, I usually have to abandon it eventually. I could rewrite anything, over and over again in a never-ending cycle. At some point, you just have to stop and hand it to someone else.

What was it like to be edited by someone else?
At first, it's unnerving. I've just spent a year, sometimes longer, finishing this book, now someone is going to make me change things. But once I start working on the changes, I get very excited. A good editor brings out the best in a writer. If I can see progress and the editor is pushing me to go places I was subconsciously avoiding, it can only make the book better. Besides, I love a good revision. It's cathartic.

What are you writing now?
I have fifty pages of the sequel to SCREAMS finished, I'm debating whether I take it any further. I guess we'll see.




Thank you!
---
Thank you to Anne for taking the time to talk today about Screams from the Void. You can pick up the book now. It is available in paperback, hardback and ebook. Check out our website for details.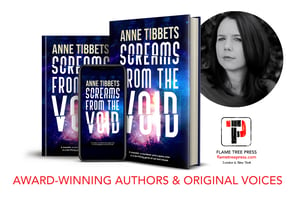 After working in television production as a post-production coordinator, writer's assistant, and freelance script writer, Anne Tibbets turned her attention back toward her first love, novels. She published two works of post-apocalyptic science fiction for Carina Press, The Line Series: Carrier and Walled in 2014, and two more under the pen name Addison Gunn for Abaddon Books, Extinction Biome: Invasion in 2016, and Dispersal, in 2017.

Her next novel, a space horror, Screams from the Void, publishes under her own name and launches with FLAME TREE PRESS in May, 2021.

'Screams from the Void is a knockout. Tibbets ratchets up the tension to Aliens-level dread and never lets up. Bursting with memorable characters and shocking moments of violence, this is space-horror done right. Highly recommended!' – Jonathan Janz, Author of The Siren and the Specter

'A tense, gripping, SF, house of horrors in space, where not all the monsters are inhuman. I enjoyed this enormously.' – Peter McLean, author of Priest of Bones

Anne lives in Los Angeles with her family and a menagerie of pets, collects typewriters, watches far too much TV, and shoots aliens regularly via her gaming console. She is a member, and has volunteered for, the Science Fiction and Fantasy Writers of America (SFWA) and the International Thriller Writers Association (ITW).

When Anne isn't trawling Twitter @AnneTibbets she's working as a book doctor and literary agent.

For more information about Anne and her work, visit her website at: AnneTibbets.com.