In the first of this month's Q&As with our May authors, we have Brian Moreland, author of Tomb of Gods. He discusses some of the themes in the novel, who he based his characters on and advice for new writers! Be sure to check in tomorrow for more writing inspiration!



What is the book about?

A year after a British archaeology team vanishes in the Egyptian desert mountains, one survivor mysteriously returns insane, his body covered in cryptic scars. Dr. Harlan Riley's diary offers clues, along with a map to a cave tomb. Egyptologist Imogen Riley desperately wants to know what happened to her grandfather and his ill-fated expedition. Along with the ambitious Dr. Nathaniel Trummel and a team of scientists and soldiers, Imogen travels to Egypt on a quest for answers. Spies are feared to be among the group sabotaging their mission. Imogen doesn't trust Caleb Beckett, an American photographer who has secret reasons for joining the expedition. The team of archaeologists and soldiers explore a hidden cave labyrinth that ancient Egyptians described in their myths. When they reach a gateway to another world, Imogen and Trummel's team soon encounter strange wonders, as well as terrifying horrors that inhabit this hostile underworld.

What are the underlying themes?

A quest for knowledge about ancient races. All the main characters embark on a personal and spiritual journey that will test them as they confront past sins and encounter monsters that reflect their darkest fears.

Did you base your characters on anyone you knew?

No. These characters are all completely fictional. I originally wrote this story with Caleb Beckett, an American, as the protagonist and Imogen Riley, a British archaeologist, as his love interest. After a few drafts of the novel, I decided to switch the entire story with Imogen as the lead heroine and made Caleb a supporting character/love interest. This is now mainly Imogen's story, with an ensemble cast around her getting their own subplots.

Who influenced you most in the writing of the book?

I got a lot of feedback from my writers group. Tomb of Gods began as a simple short story about two British archaeologists exploring a tomb in Iraq. When it evolved into a novella, I moved the story to Egypt. After reading the novella to my writers group, they suggested I expand it into a novel. The people who influenced me most while writing this book are my mom, as my first beta reader, my writer's group, and several beta readers.

Is there any advice you can give someone starting to write?

Write what you love and are most passionate about. Your excitement for your story and characters will transfer to your readers. Read lots and lots of books from multiple genres—novels, short stories, and nonfiction, articles. You can become a better writing through reading various writing styles. Read a few books on the craft of writing. I'm always honing my craft. Always striving to write better, to write differently than previous books. Take a writing course. Join a writer's group and learn to accept critiques of your work. This will make you a better writer. It's okay to disagree with feedback and edits from fellow writers. At the end of the day, keep the parts of the story you feel strongly about. Then let a professional editor help you decide what to keep and what to cut. Writing is a craft. The more you work at it, the more you read and write, the more your writing will get progressively better. If you want to be a published author, be tenacious, stay persistent, persevere, and always believe in yourself and your writing.

Where did you write?

I wrote Tomb of Gods in many places—my home office in Dallas and while on writing sabbaticals at a cabin in the woods of East Texas.

Did you write in silence, or to any particular music?

Mostly in silence. Occasionally, I listened to horror movie soundtracks to put my mind in the right mood. The orchestral music composed for scary movie scenes inspire me to amp up the action and suspense of my own stories.

Did you find it hard to write? Or harder to edit your own work?

While writing Tomb of Gods, I went through various phases where writing was easy, as well as times when it was an absolute struggle to get into the flow of writing. Some months I hit writer's block and switched to writing short stories. I worked on this novel for over two years, first as a short story, then as a novella, and finally as a novel. Each time I expanded the story, I met new plot challenges. I read early drafts to my writers group, took my lumps, then went back to work resolving the manuscript's issues. I wrote at least 175 drafts. There are several key characters who have their own subplots, backstories and agendas, so it took months to get all their interwoven subplots to meet up at a natural climax. I very much enjoyed revising and editing the book. By that point the story and characters were well developed and revisions and edits were about fine-tuning, making the whole book better.

What was it like to be edited by someone else?

Mostly it's a very positive experience for me to see an editors comments and line edits. They help me see places in my writing that can be improved. These are often my blind spots, so it's refreshing to look at my writing and plotting through an editor's eyes. There are usually at least a few suggestions that I don't like. Either I'm being asked to cut a phrase or bit of backstory that I really love, or I see that I've got more work to do to fix plot issues that I don't always have an immediate answer for. I've learned to respect and understand editor feedback and embrace the process of fixing any manuscript issues. It's all about making the final version of the story the best that it can be.

What are you writing now?

I'm currently writing short stories for a collection, while drumming up ideas for my next novel.



Thank you!
---
Thank you to Brian for taking the time to talk today about Tomb of Gods. You can pick up this book, along with the other May releases now. It will be available in paperback, hardback and ebook. Check out our website for details.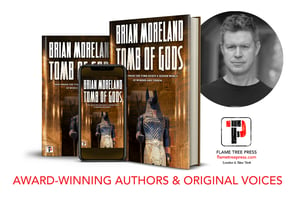 Brian Moreland writes a blend of mystery, action-adventure, dark suspense, and horror. His books include Shadows in the Mist, Dead of Winter, The Witching House, The Devil's Woods, The Seekers, and Darkness Rising. An adventure seeker and lover of world travel, Brian is currently living in various places and writing books and short stories.

Join Brian's mailing list: http://www.brianmoreland.com/
Follow on Twitter: @BrianMoreland
Facebook: https://www.facebook.com/BrianMorelandWriter
Brian's blog: http://www.brianmoreland.blogspot.com

---
---
Make sure you check back in with the blog for more Q&As with the authors of our May releases!


FLAME TREE PRESS | May Releases | 1 | Brian Moreland Q&A
FLAME TREE PRESS | May Releases | 2 | Glenn Rolfe Q&A
FLAME TREE PRESS | May Releases | 3 | The City Among the Stars Extract
FLAME TREE PRESS | May Releases | 4 | Upcoming Titles