Music of the Night, Flame Tree's new anthology edited by
Martin Edwards

, is out and we asked the contributors to talk a little bit about the inspiration for their stories - here's what some of them had to say!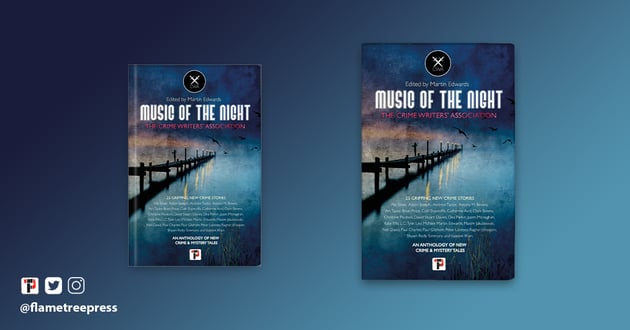 A word from the anthology editor, Martin Edwards:
Welcome to a collection of new mystery stories written by members of the Crime Writers' Association. This year the guiding theme is music, a subject which really enthused members of the CWA and prompted a large volume of submissions. In selecting stories for inclusion, I've aimed to include a wide variety of voices and styles, showcasing the wonderful diversity of contemporary crime fiction. If you glance at the list of contributors, you'll see that I've tried to cater to a wide range of tastes – in mystery writing as well as in music. The stories are an eclectic mix, some of them very short, some much more elaborate. Four of the authors have won the CWA's Diamond Dagger, the highest honour in UK crime writing. Although the CWA's membership is predominantly British, there are two American authors, an Irish writer, and a high profile best-seller from Iceland. In addition, no fewer than nine of the twenty-five stories gathered here are written by people who have never previously contributed to a CWA anthology. I believe this enhances the freshness of the collection and I hope that readers who enjoy stories by writers previously unknown to them will be tempted to sample some other work by those authors. I hope that you will find in these pages plenty to entertain you, and a number of pleasurable surprises.
What inspired your story in Music of the Night?
Abi Silver – Be Prepared
My story was inspired by the campfires of my youth; the culmination of an exhausting (and often damp) week under canvas, joining an eclectic mix of people to sing, shout and chant a variety of weird and wonderful songs, into the darkness of the Yorkshire countryside.
Alison Joseph – A Sharp Thorn
It doesn't occur often in a writing life, but the opening lines of this story really did just appear in my mind one day; what would happen if you got that phone call, someone calling on behalf of a man you've never met, who is dying and needs to see you? The urgency of the phone call, the bewilderment of my central character, meant that I wrote the story just to find out what the hell was going to happen next.
Andrew Taylor – Wrong Notes
When I was growing up, my school had a madrigal society. Some of the songs they sang lodged in my memory, where they still lurk. Occasionally they come out untunefully when I'm in the bath. And out they came again when I was thinking of themes for the short story 'Wrong Notes'. I also wanted to use a handful of locations and recurring characters from my Lydmouth Series, which is set in a small fictional town in the Anglo-Welsh borders during the 1950s. The final ingredient was the character called 'the Cub', a teenager doing what we'd now call work experience on the local paper, and the difference between how teenagers appear to themselves and how teenagers appear to adults around them. I put these together, stirred them up and started writing to see what would happen. Now I know. And if you're kind enough to read the story, so will you.
Antony M. Brown – The Melody of Murder
Two of my passions are music and crime writing. I am co-founder of wow-vinyl, a website that celebrates the golden years of the British charts (1977-85), which presents the cover art of selected singles along with the stories behind the songs. The website was the inspiration for a serial killer who stages his grisly crimes by recreating iconic covers. The Melody of Murder also makes a serious point about the blurring of crime and entertainment.
Art Taylor – Love Me Or Leave Me
"Love Me Or Leave Me" emerged from a couple of overlapping ideas, both related to music. First was the idea of an "earworm"—a catchy tune stuck in your mind—and questions about that tune mounting: What's the song? Where did it come from? What's making it stick? The second, more formally, related to the word "fugue"—in two senses of that word: both as a musical composition in which various elements are repeated section to section (four sections in the case of my story, various elements echoed) and also as a psychological state of some dislocation and loss of identity. Lost and then found? Well, we'll see…

Brian Price - The Scent of an Ending
I've always enjoyed locked room mysteries and a paper in the British Journal of Industrial Medicine gave me an idea for a novel murder method. I know a - much nicer - record collector and I realise how fastidious collectors can be with their precious vinyl. Putting the two together, with a collection of motives, gave me the story!

Cath Staincliffe – Mix Tape
I loved to make mix tapes, just like the woman in my piece. Unique soundtracks to particular times, places, feelings, memories. This one charts the rise and fall of a relationship.
Catherine Aird - The Last Green Bottle
Contributing to this was quite a challenge since I can't sing and as the tune has it 'I ain't got rhythm' either. So there isn't a semi-breve or a quaver in my story - just the children's counting song Ten Green Bottles.
Chris Simms - Taxi!
For me, 'music of the night' conjured images of late-night cabs, often filled with the drivers' exotic choice of music. Women are sometimes preyed on by men masquerading as cab drivers and these two strands became entwined for Taxi!
Christine Poulson - Some Other Dracula
I was inspired by my love of Golden Age crime fiction to write a story featuring an "impossible" crime. A man lies dead in the snow. But why are there no footprints?
David Stuart Davies - Violin – CE
I wanted to write a piece that was a little out of the ordinary in concept - rather like a sheet of music. My story is all dialogue prompting the reader to create the mood and scene for themselves. I hope this approach created the drama and surprise which was intended.
Dea Parkin - The Sound and the Fury
Music as an inspiration to action is an idea I like, and I had a strong image of a woman driving to claim her lover with a favourite album playing in the car. It combined very aptly with my love of Shakespeare's Macbeth, which the title nods to – and so the scenario plays out.
Jason Monaghan - A Vulture Sang in Berkeley Square
The title had been rattling around in my head for twenty years, together with a nascent plot set in London about loss and identity. Build a modern crime into a post-war setting and add in a traditional ballad that haunts the end of Black Hawk Down and this story took wing.
Kate Ellis – Not a Note
With the 70th anniversary of the Queen's coronation coming up, I wanted to transport my readers back to the excitement of that momentous time and explore how society was very different during those post war years. Also I was greatly attracted to the idea of a pushy mother projecting her own thwarted ambitions onto her reluctant daughter.
L.C. Tyler - His Greatest Hit
As Walter Pater once observed: 'All art constantly aspires towards the condition of music.' The parallels between different art forms have certainly always fascinated me. Music telling a story. Words painting a picture. So I jumped at the chance to produce a short story that (in my case) had a structure that mirrored the structure of a song, with an intro, verses, choruses and bridges. Crime and music go well together - a contrast between ordered creation and disorderly destruction.
Leo McNeir - Requiem
The inspiration for 'Requiem' came to me one day during lockdown while working on the plot for a new Marnie Walker novel. In the background on the radio I heard the Lacrimosa from Mozart's Requiem and I recalled walking through Salzburg, his birthplace, one summer's evening and hearing that movement somewhere nearby from an open-air concert. The story just fell into place.
Martin Edwards - The Crazy Cries of Love
I've always enjoyed the songs of Joni Mitchell and, listening to 'The Crazy Cries of Love', an idea for a story came to me. The details of the story changed as I kept writing, but the musical inspiration remained a constant.'
Maxim Jakubowski – Waiting for Cornelia
I've worked close to the music business all my life (I ran Virgin's book publishing operation) and have an undiluted passion for music in all its forms. And then I wanted to bring back Cornelia, the 'heroine' of many of my previous books, so it felt like a perfect marriage.
Neil Daws - The Watch Room
One tale that has stuck in my mind from primary school is the account of Grace Darling's rescue of survivors from the wrecked SS Forfarshire in 1838 (http://www.gracedarling.co.uk/). Although it is a tale of extreme bravery and heroism, the idea of using a lighthouse in a locked room mystery has long appealed to my crime writer's mind. Music was one of the simple pleasures open to lighthouse keepers for entertainment and relaxation, and so The Watch Room was conceived.
Paul Charles – The Ghosts of Peace
For ages I'd been planning on writing a full-length D. I. Christy Kennedy murder mystery featuring a Northern Irish Prog Rock band and based in the iconic Camden Theatre (now Koko) a 120-year-old theatre located at the foot of Camden High Street. In the early 1970s I managed FRUUPP, a Belfast Prog Rock band. From those memories the perfect cast of characters appeared along with a title, The Ghosts of Peace. By the time Martin Edwards came calling with his music themed mystery anthology, I'd forsaken the original book for the more enticing short story option and was very happy that I did.
Paul Gitsham – No More 'I Love You's'
Whilst being roundly beaten in our weekly Scrabble game, Annie Lennox came on the radio. Listening to the lyrics, an idea started to form …
Peter Lovesey – And the Band Played On
My story, And the Band Played On, was triggered by that annoying experience we've all had of a tune that drives us mad because it won't get out of our heads. Only one thing is worse: being trapped with someone else who sings the thing incessantly. Is that enough to justify murder?
Ragnar Jónasson - 4 x 3.3
The story was inspired by a challenge, a long time ago, from my father, to write a short story about silence. I remembered this when I was asked to do a story about music, and John Cage came to mind.
Shawn Reilly Simmons - A Death in Four Parts
A Death in Four Parts was inspired by the idea of a creative person that has achieved lofty heights in their career and is fighting to get to that space again, without driving himself mad in the process. The pressure of creating art under intense scrutiny, with deadlines creeping nearer and nearer, was something I really wanted to explore, and I hope comes across in this story.
Vaseem Khan – Bombay Blues
Bombay Blues begins with the murder of a black jazz musician at a hotel concert in 1950s India - jazz was huge in Bombay at the time. With an audience-full of suspects, my protagonist, India's first female police Inspector, has her work cut out!
---
Thank you!
Intrigued? Check out the book here- it's out now!