We have four great new titles coming out in September, so we wanted to talk about them! These include a new horror from Jonathan Janz called 'The Raven', Hunter Shea's 'Misfits', a new sci-fi called 'Fearless' by Allen Stroud and another amazing sci-fi by debut author Nadia Afifi called 'The Sentient'. Find out more here!

The Raven - Jonathan Janz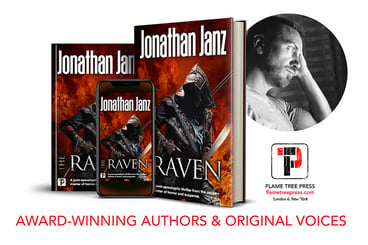 "One of the best writers in modern horror to come along in the last decade. Janz is one of my new favorites." - Brian Keene

Fearing that mankind is heading toward nuclear extinction, a group of geneticists unleash a plot to save the world. They've discovered that mythological creatures such as werewolves, vampires, witches, and satyrs were once real, and that these monstrous genetic strands are still present in human DNA. These radical scientists unleash the bestial side of human beings that had been dormant for eons, and within months, most people are dead, and bloodthirsty creatures rule the earth. Despite the fact that Dez McClane has no special powers, he is determined to atone for the lives he couldn't save and to save the woman he loves. But how long can a man survive in a world full of monsters?
---
Misfits - Hunter Shea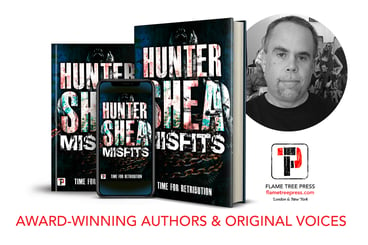 "I don't know how Hunter Shea keeps churning out terrifying stories that feel original, but I want more." – Cedar Hollow Reviews

During the height of the 90s grunge era, five high school friends living on the fringe are driven to the breaking point. When one of their friends is brutally raped by a drunk townie, they decide to take matters into their own hands. Deep in the woods of Milbury, Connecticut, there lives the legend of the Melon Heads, a race of creatures that shun human interaction and prey on those who dare to wander down Dracula Drive. Maybe this night, one band of misfits can help the other. Or maybe some legends are meant to be feared for a reason.
---
Fearless - Allen Stroud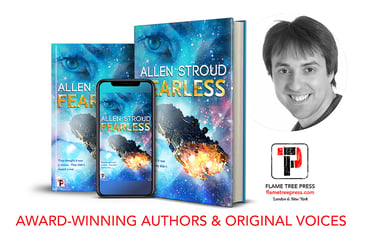 "Fast-paced, gripping hard SF with death in hard vacuum waiting at every turn." — Arthur C. Clarke Award winner Adrian Tchaikovsky

AD 2118. Humanity has colonised the Moon, Mars, Ceres and Europa. Captain Ellisa Shann commands Khidr, a search and rescue ship with a crew of twenty-five, tasked to assist the vast commercial freighters that supply the different solar system colonies.

Shann has no legs and has taken to life in zero-g partly as a result. She is a talented tactician who has a tendency to take too much on her own shoulders. Now, while on a regular six-month patrol through the solar system, Khidr picks up a distress call from the freighter Hercules…

---
The Sentient - Nadia Afifi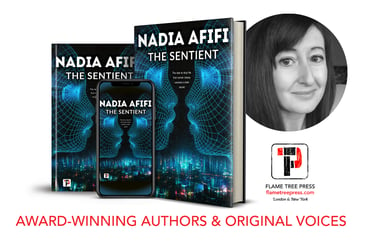 "Afifi's staggering and un-put-downable debut offers a fresh and feminist-forward take on cloning [...] This riveting debut is a must-have for any sci-fi fan."— Publishers Weekly starred review

Included in Library Journal's "Rise of the Monsters: Top Horror Titles and Trends Coming This Season

Amira Valdez is a brilliant neuroscientist trying to put her past on a religious compound behind her. But when she's assigned to a controversial cloning project, her dreams of working in space are placed in jeopardy. Using her talents as a reader of memories, Amira uncovers a conspiracy to stop the creation of the first human clone – at all costs. As she unravels the mystery, Amira navigates a dangerous world populated by anti-cloning militants, scientists with hidden agendas, and a mysterious New Age movement. In the process, Amira uncovers an even darker secret, one that forces her to confront her own past.

---
Make sure you check back in with the blog for more Q&As with the authors of our August releases!


FLAME TREE PRESS | August Releases | 1 | Jason Parent Q&A
FLAME TREE PRESS | August Releases | 2 | JG Faherty Q&A
FLAME TREE PRESS | August Releases | 3 | Steven Hopstaken and Melissa Prusi Q&A
FLAME TREE PRESS | August Releases | 4 | Vintage Crime Q&A
FLAME TREE PRESS | September Releases | 5 | Upcoming Titles