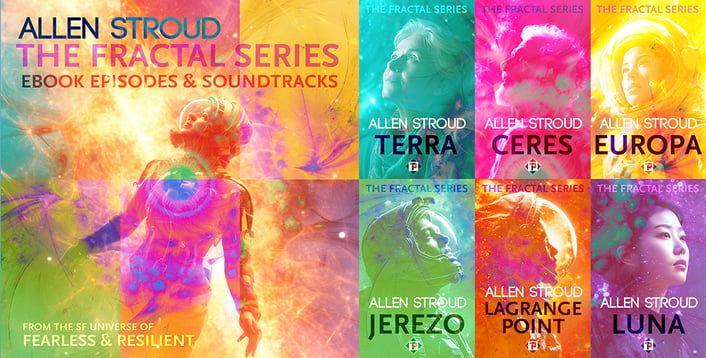 I was born in 2080, with no legs.


Perhaps that gives you an image of me? An image that defines who I am to you as a person? Maybe you get a sense of who someone is by their limitations? Do you think who we are is determined by what we look like? What we can't do? Or what we don't
The first words from Fearless set up the universe of the Allen Stroud's Fractal series, daring the reader to imagine the future, to ride with Captain Shann as the solar system descends into a spectacular war in space.
The Fractal Series Release
August sees a massive expansion of The Fractal Series the start of the waterfall release of ebook episodes and music tracks in the world of Allen Stroud's Fearless and Resilient. In the next 10 months new music tracks and new ebook episodes will release each month. The first track, Temperance drops on Friday 25 August (Spotify, Apple Music, Google Play, Amazon, Youtube, Tidal, Pandora) with the first ebook episode, Europa, following on Friday 8 September) on Amazon, Apple, Kobo and all ebook retailers.
Science Fiction Soundtrack
In the style of Blade Runner and Interstellar, Fractals is an album of emotive science fiction instrumental music written to accompany the Fractal series of episodes and novels. Each track dramatises a scene, a moment or a theme from the ongoing story of Ellisa Shann and the crew of the Khidr. These are cinematic and atmospheric works, composed to fire the imaginations of listeners and readers.
The Fractal Series Ebook Episodes
The stories of the Fractal series are planned for a full trilogy of novels and set of shorter episodes – standalone connected narratives, expanding core ideas and themes. The music picks up moments in all of these different adventures, working with the writing and the dialogue to add to the listener and reader experience.
Links
Links will appear here, as the episodes and music tracks are released. Look out for further information on our social media, and on flametreepublishing.com
Release schedule for the eBook Episodes



Europa (08-Sep-23) • Ceres (13-Oct-23) • Lagrange Point (10-Nov-23) • Terra (08-Dec-23) • Luna (12-Jan-23) • Jezero (09-Feb-23). Available on Amazon, Apple, B&N, Google, Kobo and more...

Release schedule for the Music Tracks
Temperance (Released) • Adversity (29-Sep-23) • Gallowglass (27-Oct-23) • Latent (24-Nov-23) • Tactical (29-Dec-23) • Resonance • (26-Jan-24) • Tenacity (23-Feb-24) • Sunbeams (29-Mar-24) • Album 12 tracks (26-Apr-24). Available on Spotify, Apple, YouTube, Tidal and more...
---
On Fearless, Publishers Weekly said "The depths of outer space test the strength of a dynamic heroine's inner resolve in Stroud's smart, introspective space opera set in the year 2118. [...] With an attention to detail that will please hard science fiction fans, Stroud raises fascinating questions about the politics of space exploration. This is one to be savored."
And from Arthur C. Clarke Award winner Adrian Tchaikovsky: "Fast-paced, gripping hard SF with death in hard vacuum waiting at every turn."
---
About Allen Stroud
Dr. Allen Stroud is an author of speculative fiction, and an expert in world-building. He is also a composer of science fiction soundtracks, creating orchestral synth tracks for audio dramas, podcast theme tunes and short films. His work on the computer game, Elite Dangerous involved a novel, an audio drama and music album completed in 2014 (recently remastered Elite: Lave Revolution has just been released by FPL-Digital).
Stroud regularly creates music to accompany the novels that he writes, producing a soundtrack that helps him visualise the scenes in each story. He began as a student, studying Philip Glass, Michael Nyman and John Adams, incorporating ideas alongside the musical influences of Vangelis, Michael Cretu (Enigma) and Mike Oldfield.
The popular audio drama series, Escape Velocity, produced between 2013 and 2016, was a collaboration between Stroud and audio producer/writer Christopher Jarvis. This showcased a great deal of Stroud's music and is available online. The audio series, The Dex Legacy, written by Emily Inkpen and produced by Chris Gregory also uses Stroud's work for the theme tune and atmospheric scenes.
Stroud wrote the theme tune for the popular podcast, Elite Dangerous podcast, Lave Radio, which has been running for ten years, and also wrote the music for the British Science Fiction Association (BSFA) awards ceremony.