It is with great excitement that we reveal the list of authors in our Compelling Science Fiction book! With new and recent stories by contemporary authors, as well as classic fiction from the genre, this is a collection not to be missed. We're delighted with the line-up, which has been made in close collaboration with Joe Stech, foreword writer and consultant editor of this anthology and publisher of the Compelling Science Fiction magazine. Thanks again to all authors who submitted stories for consideration on this fascinating theme. The book will be available later this year from August (UK) and October (USA/Canada), featuring the following:
Limiting Magnitude by Pauline Barmby
Slow by Ramsey Campbell
Decorative by P.A. Cornell
Cupid's Compass by Leah Cypess
To Dangle by a Thread by Deborah L. Davitt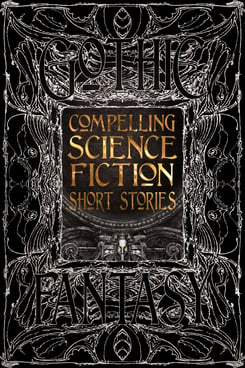 The Memory You Are Trying to Access by Jonathan Ficke
Sarah.exe by Voss Foster
Altered Chemistry by Ana Gardner
Season of Change by Adam Godfrey
Rationalized by Larry Hodges
The Instantiation of Ciara with a C by K. Kitts
A Walk in the Sun by Geoffrey A. Landis
Where Would You Like to Go? by Elaine Midcoh
Exorphin by Marshall J. Moore
Always and Forever by Mike Morgan
The Transfiguration of Sarah Webb by Michael Penncavage
Seven Permutations of My Daughter by Lina Rather
The Pearls That Were His Eyes by Jude Reid
Seen, Not Heard by C.M. Shevlin
The Volunteer by H.G. Silvia
Jigsaw by Douglas Smith
Across the Terminator by David Tallerman
Lost to Their Own Devices by Adrian Tchaikovsky
I, Arachnobot by Brian Trent
The Time Mechanic by Marie Vibbert
These modern authors will appear alongside work by the following classic writers: Dr. Miles J. Breuer, Ray Cummings, George Allan England, Austin Hall, Rudyard Kipling, Otis Adelbert Kline, Lucian of Samosata, Fitz-James O'Brien, Edgar Allan Poe, Garrett P. Serviss, H.G. Wells, G. McLeod Winsor.
This book will be available to buy later this year via book stores, Amazon, and our website page for Compelling Science Fiction!
Links