We're pleased to announce the list of authors chosen for inclusion in Strange Lands Short Stories! Available from October 2020 in the UK, and November in the US/Canada, this is the latest title in our Gothic Fantasy anthology series. This new collection similarly casts stories by modern authors alongside early classic fiction on the theme. Our call for submissions was met with a fantastic response, so we have been kept busy over the last few months honing down a selection of tales of other worlds, daring adventure and rich imagination. We're excited to share the results with you now – many thanks again to all who submitted and congratulations to the below:
Strange Lands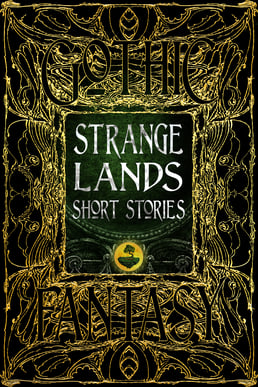 Carmen Oscuro by Rhoads Brazos
Garden of the Gods by Ed Burkley
Hearing Is Believing by Ramsey Campbell
City Planning by Victoria Dalpe
The Martian Tango by Philip Ellis
5:47 on a Tuesday by Marissa Harwood
Thicker than Water by R. Leigh Hennig
The Pool of Xoctl by Gordon Linzner
Deepest, Darkest by Christian Macklam
There Is No Place for Them on This Planet by S.R. Masters
Gemini Syndrome by P.L. McMillan
Conception by Hannah Onoguwe
The Little Angler by Alex Penland
The Right Sort of Monsters by Kelly Sandoval
Wondrous Grot and Secret Cell by Sam Stark
The Endless Bazaar by M. Elizabeth Ticknor
These contemporary authors will appear alongside short stories and novel extracts from the following classic writers: Hans Christian Andersen, Fenton Ash, Cyrano de Bergerac, John Buchan, Samuel Butler, Daniel Defoe, Homer, Washington Irving, Frederic Arnold Kummer, David Lindsay, H.P. Lovecraft, George MacDonald, A. Merritt, Edward Page Mitchell, Kenneth Morris, Edith Nesbit, Francis Stevens, Robert Louis Stevenson, Jonathan Swift, Jules Verne, Stanley G. Weinbaum, H.G. Wells, Fred M. White.
This book will be available to buy later this year via book stores, Amazon, and our website page for Strange Lands!
Links