It is with great excitement that we reveal the list of authors in our upcoming Weird Horror Short Stories book! With a foreword by Mike Ashley, the anthology includes new, previously unpublished fiction, recent work by modern authors, and older classic tales exploring the roots of this fascinating genre. The collection will be able to buy from this June (UK) and July (USA/Canada). Once again, our thanks go to all authors who submitted stories for consideration, and congratulations to the below:
Weird Horror
The Place of Revelation by Ramsey Campbell
Flotsam by Daniel Carpenter
The Things from the Woods by Micah Castle
White Noise by Kevin M. Folliard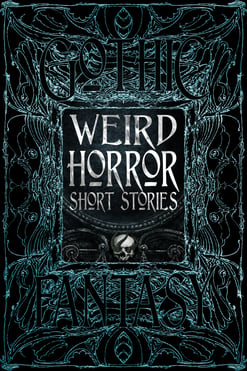 Dark Skies by Anastasia Garcia
The Animal King by Timothy Granville
Isle of the Dead by Steve Hanson
The Brightest Lights of Heaven by Maria Haskins
He Led by Nyx Kain
The Call of El Tunche by Shona Kinsella
Lola by Lena Ng
The Black Ship by Reggie Oliver
Agon by Jason Parent
The Stones Move at Night by Bonnie Quinn
The Blessed Affliction by Eric Reitan
Stray by Cody Schroeder
While the Black Stars Burn by Lucy A. Snyder
From Within by Richard Thomas
Eternal Visions by Chris Wheatley
Exogenous Cephalus Syndrome: A Case Report and Review of the Literature by Maria Wolfe
These modern authors will appear alongside work by the following classic writers:
Louisa May Alcott, Gertrude Atherton, E.F. Benson, Algernon Blackwood, Robert Bloch, Robert W. Chambers, Lucy Clifford, Arthur Conan Doyle, H.D. Everett, Francis Flagg, R. Murray Gilchrist, Nathaniel Hawthorne, William Hope Hodgson, Carl Jacobi, M.R. James, Fritz Leiber, H.P. Lovecraft, Arthur Machen, Barry Pain, Edgar Allan Poe, M.P. Shiel, Clark Ashton Smith, Harriet Prescott Spofford and H.G. Wells.
This book will be available to buy later this year via book stores, Amazon, and our website page for Weird Horror!
Links