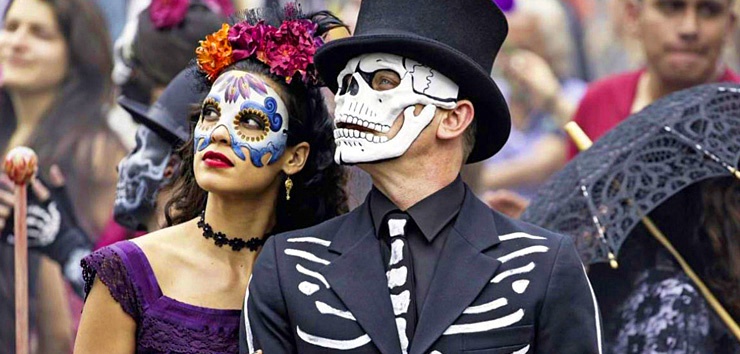 Bond is back. Spectre has been winning over critics and is now showing at most major cinemas. What fans and reviewers seem to be enjoying is not only the character of Bond, but director Sam Mendes' sleek vision of the super-spy's adventures. After 2012's well-received Skyfall, Mendes has returned with Spectre, a film equally dripping with the director's signature style and eye for seductive costume and set design. Whilst Skyfall was guided by veteran cinematographer Roger Deakins (when, oh when will he get his Oscar?), Spectre's camerawork lay in the hands of Hoyte Van Hoytema – already boasting impressive credits, from Interstellar to Spike Jonze's Her.
But why all this focus on style? Well, Bond is undeniably a stylish figure. But what Mendes has brought to this franchise is a consistently opulent sense of place and design. This helps the films take on a lavish quality that was previously reserved only for the titular character, meaning that the Bond movies now have a look and feel fitting for the enduring spy series.
Mendes maintains this stylistic barometer by stunning us with Spectre's impressive opening sequence, set in Mexico City during the Day of the Dead celebrations. Jam-packed with colour, energy and noise, characters frolic in the streets, dressed in an array of dresses, suits and fun fancy dress. Mendes is able to harness this potentially discordant crowd and create a tense, tightly composed sequence in which Bond, well, does what Bond does best.
It is perhaps not lost on even the most casual filmgoer that the Day of the Dead celebrations seem an apt setting for an assassination. The aura of death seemingly hangs over Bond at all times, yet perhaps this isn't a fair comparison to draw against the Mexican festival. For in reality, it is a joyous celebration of life.
Have Some Respect
Some of the pomp surrounding the festival is perhaps due to the belief that should a deceased loved one be buried with their personal belongs, they will carry them over into the afterlife. The importance of decoration and craft is seen throughout the Mexican holiday – observed on the 1st and 2nd of November – with colours and extravagant outfits being adorned by most attendees. This is to highlight the fact that the Day of the Dead is anything but a sombre event. Whilst respectful, it is also a celebration of life. People dedicate days, sometimes weeks, to the preparations. They will craft beautiful altars on which mementos are stacked; create arresting, extravagant bouquets of flowers; and build market stalls that stock trinkets and other small decorations.
The holiday is split over two days; the first is for families to welcome back children who have passed, whilst the second is reserved for adults' remembrance. This can be, of course, emotionally taxing for those who have lost loved ones, but part of the beauty of this Mexican tradition is the way in which it encourages participants to confront death. The result is hopefully a very constructive experience, helping induce healing in the hearts of those who may inadvertently cause themselves harm should they bury their pain.
Part of the holiday's distinctive style is based on sugar art – most famously in the shape of skulls. Introduced by Italian missionaries in the seventeenth century, this method of decoration soon became popular in Mexico due to their prolific sugar production. Soon enough, the method evolved into something unique to the North American country. Though in some ways there is a consistent style across most renderings of sugar art, their charm lies also in the fact that most adopters of this style use idiosyncratic methods to make their designs stand out. This results in a culmination of art created by a huge selection of people: a body of work that reflects the individual nature of respect, whilst also contributing to an overall harmony that makes this holiday a truly aesthetic treat. If you'd like to learn more about how the holiday is observed around the world, you can click here for more information.

With an established tradition of producing beautiful art books, we couldn't skip this beautiful form of art and design. Our book Day of the Dead is full with information about the holiday, all set alongside compelling images and photography. You can take a closer look at the title here. Or, if you'd prefer something to hang on your wall, we have a 2016 art calendar, which you can see here.