Last weekend would have been Sir Arthur Conan Doyle's birthday, one of Britain's most prolific writers to date. In celebration, we're looking at some of the top adaptations of his most famous and respected works, Sherlock Holmes.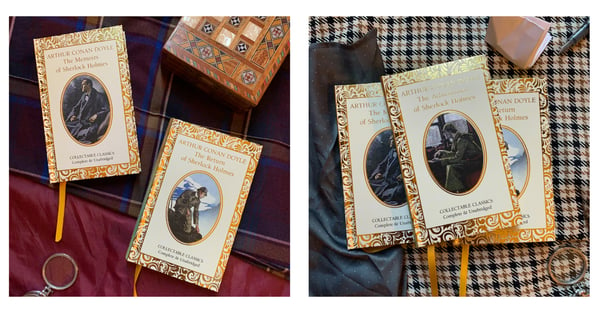 Sherlock Holmes has become a household name. Despite being first published in 1887, the youth of today continue to read, watch and admire the beloved detective even today. 221B Baker Street is one of the most well-known addresses worldwide all thanks to Sir Arthur Conan Doyle. As well as a detective fiction writer, Doyle produced other works in the forms of plays, romances, poetry, non-fiction and historical novels. At the young age of 27, Doyle published his first work featuring the infamous Holmes and Watson duo in A Study In Scarlett. This was the first of four novels and fifty-six short stories Doyle went on to write about the pair we grew to love. Interestingly, Holmes was partially modelled on Doyle's former university professor whilst Watson's surname is owed to a medical colleague of his. Enough rambling, here's a list of adaptations to fulfil those Sherlock cravings:
Sherlock (2010-2017)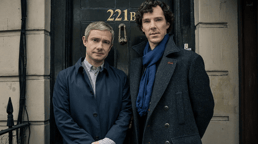 This is probably the most notable modern adaptation of Doyle's franchise, starring Benedict Cumberbatch as Sherlock himself and Martin Freeman as his Watson. The BBC really got the casting on point with this one with Cumberbatch portraying the most accurate version of Sherlock I've seen to date. Its modern take is set in the present day while a one-off episode features a Victorian period fantasy which resembles the original Holmes stories. The four season series was a huge success with it being nominated and winning several awards across its air-time. Many of us fans are still hopeful for a season five sometime in the future so fingers crossed!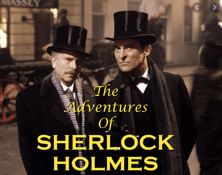 The Adventures of Sherlock Holmes

(1984-1985)
This 1984 series, produced by Granada Television, starred Jeremy Brett as the famous detective himself. The series produced 36 episodes with an additional five-feature length specials, covering forty-two of the sixty original stories Arthur Conan wrote. It's set in the late Victorian era, therefore accurately representing the time period in the books.


Mr. Holmes (2015)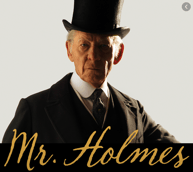 This 2015 mystery film saw Sir Ian Mckellen step into the role of Sherlock Holmes. This adaptation differs from the rest as we follow a 93-year-old Holmes, retired and aging, struggling to remember his final case. Set in the modern day, Holmes grapples with an unreliable memory and has to rely on his housekeeper's young son to revisit the unsolved case that sent him into retirement. There is something about a woman that weighs on him and he sets out to piece the puzzle of his mind together.

Holmes and Watson

(2018)
In 2018 we saw the release of a mystery comedy adaptation starring Will Ferrell and John C.Riley as Holmes and Watson. Arguably two of the most well-known American comedy actors take on very traditionally English roles and bring their unique take on the classic novel. Although it didn't do so well on the ratings, this is a light-hearted, entertaining watch if you're looking for a twist on the Holmes you think you know.

Young Sherlock Holmes (1985)
This 1985 mystery adventure film takes us back to Sherlock Holmes' boarding school days where he meets John Watson and together they solve a mystery. We see Holmes' like we've never seen him before, well, he's basically just a miniature sized version of his adult self - running round solving mysteries with his compadre. In this adaptation, Holmes investigates these freaky delusions that people start having which ultimately leads to their death. It's somewhat the origin of the famous duo.
Sherlock Holmes (2009)
In 2009 Robert Downey Jr. took his hand at playing Sherlock Holmes in this period mystery action film. In this all star cast movie we are presented with a version of Holmes we've never seen before. From Downey's slightly messy hair to his exuberant personality we get a slightly 'cooler' portrayal of the symmetric, anal Holmes we know. Maybe it's Downey's natural charisma peeping through or the fact he has the heart-throb Jude Law playing his Watson - there's just something edgier about this whole adaptation.
Sherlock Gnomes (2018)
Missing a garden gnome? Not to worry. Sherlock Gnomes is on the case. In 2018 this animated mystery comedy came to our screens and kids and adults everywhere loved it. Although based on Arthur Conan Doyle's characters, this film is a follow on from Gnomeo and Juliet (2011) after they move to a new garden to live their happily ever after, trouble arrises. Que, Gnomes to the rescue. It's a very light-hearted film suitable for all ages and with another all-star voiceover cast.
Sherlock Holmes (1916)
Rewinding all the way back to the first ever movie adaptation, premiering in 1916, is the silent film Sherlock Holmes. William Gillette plays the lead in this vintage adaptation which prior to 2014, all copies were thought to be lost. Behold, a copy was found. This film is solely based on three of the Doyle stories: A Scandal in Bohemia, The Final Problem and A Study in Scarlet.
Elementary (2012-19)
In 2012, CBS switched things up producing an American drama series that presents a contemporary update of Doyle's Sherlock Holmes. The whole premise of the show is based off a one-liner that Sherlock delivered when asked about his deductive reasoning "Elementary, my dear Watson." Johnny Lee Miller takes the lead in this modern day NYC based series, accompanied by his female Watson, Lucy Liu. This is a loosely based adaptation as Elementary do make some slightly alterations to the original stories but we still get a madly brilliant Sherlock and a fresh perspective on his companion.
I know who my favourite Sherlock is, who's yours?
If you love Sherlock as much as I do, check out our beautiful Collectable Classics range featuring The Adventures of Sherlock Holmes, The Return of Sherlock Holmes and The Memoirs of Sherlock Holmes. These make a gorgeous addition to any bookshelf and if you're looking to scratch that Sherlock itch even more, find an extensive range of Doyle's short stories in our foiled embossed gothic fantasy series Sherlock Holmes Short Stories. We really can't get enough of the infamous duo!
Image credits (in order):
© Exclu Magazine
© Denofgeek.com
© Amazon
© IMBD
© The Mary Sue
© Slash Film
© Wix.com
© IMBD
© Getty Images
© IMBD