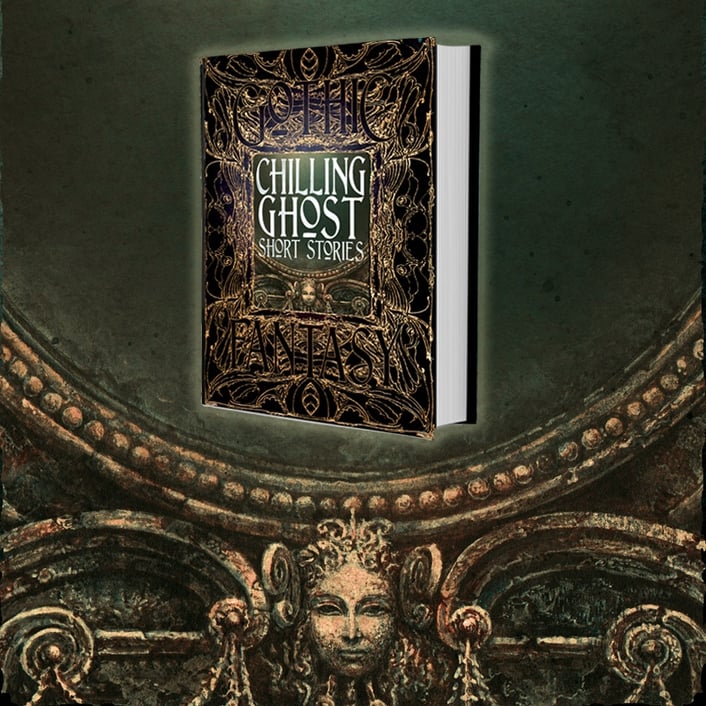 Our forthcoming Gothic Fantasy anthologies feature an explosive mix of new and classic writers. We've released the list of new authors, and their stories, now here are the biographies of Chilling Horror Short Stories. Some are first time writers, others have had stories printed in magazines and story collections before.
---
Kurt Bachard Mourners (Originally published in Bards and Sages Quarterly, 2012)
Kurt Bachard lives in South London, UK. A Pushcart Prize Nominee, his fiction and non-fiction have appeared in numerous publications, including the Black Quill Nominated Shroud Magazine, Underground Voices, Suddenly Lost In Words, and Ryga: A Journal of Provocations, and he has stories forthcoming in Alfred Hitchcock Mystery Magazine, among others. He's currently looking for an agent or publisher for his first novel, with more in the pipeline. He can be reached at bachard.wordpress.com
Jonathan Balog Stay Away from the Accordion Girl (First Publication)
Jonathan Balog grew up in Maryland and graduated from Washington College in 2005 with a BA in English. His fiction and poetry have appeared in Ares Magazine, Independent Ink Magazine, So It Goes: A Tribute to Kurt Vonnegut, Long Distance Drunks: A Tribute to Charles Bukowski, Chiral Mad 3, Ominous Realities and the Stoker-nominated Dark Visions vol 1. He lives in Rome, Italy, with his girlfriend Heather and a pit bull named Kilo. He once met the Accordion Girl in a dream, but she was older, with eyes that burned with a fiery hunger, and she tore his throat out with razor-sharp teeth.
Trevor Boelter Audio Tour (First Publication)
Trevor Boelter has been published in The Altar Collective, Indiana Crime Review 2014 and Dark Fire Fiction. Trevor is a Beatles expert and his one-act play And Now It's All This!, which dramatized John Lennon's infamous quote about being 'bigger than Jesus', premiered at the Ticket To Write Festival in Liverpool, England, in 2014. Every year during the month of October, Trevor challenges himself to 'write a creepy story a day', which he posts on his website www.octoberghosts.com. He lives in Los Angeles with his wife and daughter.
Zach Chapman Ghost Farm (First Publication)
Zach Chapman grew up on a ranch just north of San Antonio, Texas, where he could see the cows grazing in the pasture from his bedroom window. His fiction has appeared on Unsung Stories, Writers of the Future and Star Ship Sofa. His literary influences span from Jack Vance to the latest Halo game and Batman comic. He currently lives in Austin, Texas, with his librarian wife Taylor, a cat, a rabbit and a lazy-eyed rescue dog named Dingo. Follow his future publication announcements on twitter: @chappyzach
Vonnie Winslow Crist The Return of Gunnar Kettilson (Originally Published in Cemetery Moon, 2010)
Vonnie Winslow Crist is a speculative author-illustrator from the USA. Her works include The Enchanted Skean (Compton Crook Award Finalist), Owl Light, The Greener Forest, Leprechaun Cake & Other Tales, River of Stars, Essential Fables and other books. Crist's writing has won awards from L. Ron Hubbard's Writers of the Future Contest, Maryland State Arts Council (USA), National League of American Pen Women and elsewhere. Published in magazines and anthologies across Australia, Canada, Italy, Spain, Finland, the UK and USA, her writing and art celebrate the power of myth. Take a look at Vonnie's blog here: www.vonniewinslowcrist.com
Donna Cuttress Flaming Fuses (First Publication)
Donna Cuttress is a short story writer and reviewer from Liverpool in the UK. She has had previous work published by Crooked Cat, Sirens Call and in Firbolg Publishing's' The Rogues Gallery. Her piece for the Latchkey Tales journals came out in April 2015, and her work for Sirens Call and Kace Tripp Publishing's Crooked Tales is due for release. Donna writes reviews of classic horror films and TV programmes for The Spooky Isles website. She is currently working on her first novel.
Amanda C. Davis The House, the Garden, and Occupants (Originally Published in Triangulation: Morning After, Parsec Ink, 2012)
Amanda C. Davis lives, works and writes in semi-rural Pennsylvania. Her work has appeared in magazines and anthologies worldwide, including Crossed Genres, Andromeda Spaceways Inflight Magazine, Ténèbres 2015 and others. She is a member of SFWA and a proud local Municipal Liaison for National Novel Writing Month. She has an engineering degree and a fondness for baking, gardening and low-budget horror films, tweeting about them enthusiastically as @davisac1. You can find out more about her and read more of her work at www.amandacdavis.com
James Dorr Victorians (Originally Published in Gothic Ghosts, Tor Books, 1997)
Indiana (USA) writer James Dorr's The Tears of Isis was a 2014 Bram Stoker Award® nominee for Superior Achievement in a Fiction Collection. Other books include Strange Mistresses: Tales of Wonder and Romance, Darker Loves: Takes of Mystery and Regret and his all-poetry Vamps (A Retrospective), soon to be out in a new edition from White Cat Publications. An Active Member of HWA and SFWA with nearly 400 individual appearances from Alfred Hitchcock's Mystery Magazine to Yellow Bat Review, James invites readers to visit his blog at jamesdorrwriter.wordpress.com
Tim Foley The Figure on the Sidewalk (First Publication)
Tim Foley lives in Northern California in a house surrounded by ash trees. His dark fiction and critical essays have appeared in publications on both sides of the Atlantic, including All Hallows, Dark Hollow, Morpheus Tales, Supernatural Tales and Wormwood. His play The Old Nurse's Tale – an adaptation of Elizabeth Gaskell's 'The Old Nurse's Story' – was featured in the Wildclaw in the Wild festival in Chicago in 2014. He owns a number of ghost story collections, including a 1914 edition of Richard Middleton's 'The Ghost Ship'.
Philip Brian Hall The Waiting Room (First Publication)
Born in Yorkshire, Oxford graduate Philip Brian Hall is a former diplomat, teacher, examiner and web designer. Sidelines have included standing for parliament, singing solos in amateur operettas, rowing at Henley and riding in over one hundred steeplechases. Writing mainly in speculative genres, he has had short stories published by AE The Canadian Science Fiction Review, T Gene Davis's Speculative Blog and The Sockdolager. His novel The Prophets of Baal is available as an e-book and in paperback. He lives on a very small farm in Scotland with his wife, a dog, a cat and some horses.
Raymond Little An Englishman in St. Louis (First Publication)
Ray was born in London and now lives in Kent, where he writes dark fiction. His short stories have appeared in anthologies in both the UK and the USA, and his first novel, Doom, will be released in 2016. Ray cites the ghost stories of Charles Dickens and M.R. James as childhood influences; he would often read them by torchlight in bed, which may explain quite a lot. He is currently working on a supernatural horror novel called Thin Places, and is selecting the best of his own stories for a proposed anthology, Present Tense. Discover more about Ray's work at www.raymondlittle.co.uk
Luke Murphy Death and Champagne (First Publication)
Luke Murphy was born in West Berlin back when it was still called that, brought up in Ireland, and now lives in Toronto. His fiction writing has appeared in the Tesseracts anthology, the Growing Concerns eco-horror collection and other speculative fiction outlets. He's loved horror, fantasy and ghost stories since, as a boy, he learned about Dame Alice Kyteler, the famous medieval witch in his Irish hometown of Kilkenny. He works as a freelance writer, animator, designer and filmmaker. See more at www.lukemurphy.com
Jeff Parsons Lost Souls (First Publication)
Jeff is a professional engineer enjoying life in sunny California, USA. He has a long history of technical writing, which oddly enough often reads like pure fiction. He was inspired to write by two wonderful teachers: William Forstchen and Gary Braver. Jeff got his first break with SNM Horror Magazine. SNM published his book of short stories titled Algorithm of Nightmares and also featured his stories in the SNM Bonded by Blood IV and V anthologies. He is also published in The Horror Zine and Dark Gothic Resurrected Magazine, and The Moving Finger Writes and Golden Prose & Poetry anthologies.
Michael Penkas The Skeleton Crew (First Publication)
Michael Penkas has lived in Chicago since 2004 and has worked as a librarian, a typesetter, an archivist, a proofreader and an editor. His work has appeared in a variety of publications that include HWA Poetry Showcase (volumes I and II), Dark Moon Digest, DarkFuse 1, Lady Churchill's Rosebud Wristlet, Shock Totem, One Buck Horror, Midnight Echo and Black Gate. His first novel, Mistress Bunny and the Cancelled Client, was published in November 2014. He maintains a website at www.michaelpenkas.com
Brian Rappatta Songs for the Lost (Originally Published in To Sift the Sacred, and Other Fantasy Stories, Infinite Jester Publications, 2012)
Brian Rappatta is an American expat who currently lives and works in South Korea. His short fiction has appeared in Shock Totem, Writers of the Future, Zencore: Scriptus Innominatus (the 7th volume of the Nemonymous anthology series, which was shortlisted for a British Fantasy Society Award for Best Anthology), and in various other anthologies and publications. He is a graduate of the Odyssey Fantasy Writers Workshop, where he studied with Writer in Residence George R.R. Martin.
Rhiannon Rasmussen An Unquiet Slumber (Originally Published in Arcane: Thirty Weird and Unsettling Stories, 2011)
Rhiannon Rasmussen graduated with a B.F.A., emphasis on Printmaking, from Portland State University in 2012. An illustrator, writer, printmaker and graphic designer, Rhiannon's work has appeared in galleries & magazines including Lightspeed Magazine, Grand Science Fiction, Shimmer, Kobold Quarterly, ARCANE, Innsmouth Free Press, The Sockdolager, several volumes of the Tankadere comics anthology, Weird Tales, Autzen Gallery (Portland, OR) and STORE Gallery (Portland, OR). Further work can be found at www.rhiannonrs.com or on Twitter @charibdys
M. Regan Almost (Originally Published in the Gustavus Journal Firethorne, 2011)
M. Regan has been writing in various capacities for over a decade, with credits ranging from localization work to scholarly reviews, advice columns to short stories. Particularly fascinated by those fears and maladies personified by monsters, she enjoys composing dark fiction and studying supernatural creatures. She currently lives and works in Kyoto, Japan, where she draws inspiration from the country's rich history of youkai, as well as the more modern influences of its popular culture.
Annette Siketa A Bulge in the Wall (First Publication)
Annette Siketa was diagnosed with breast cancer on September 11th, 2001 (THE September 11th), and was told she would not live beyond Christmas. Seven years later, a routine eye operation tragically rendered her blind. Her life changed dramatically, and it was her penchant for creating imaginative stories that 'saved' her, though at the time, she knew nothing about professional writing. From a literary standpoint, her first novel, The Dolls House, was an unmitigated disaster. However, she persevered and learned the craft, and has now written a wide variety of award-winning short stories and novels, including 'The Ghosts of Camals College'.
Cathy Smith The Psychic Fair (First Publication)
Cathy Smith is an aboriginal writer who lives on an Indian Reservation within Canada. Her stories 'Pretty White Snake' and 'Where is Shingibiss' were podcasted on Anthropomorphic Dreams, and 'Gifts from a Grim Godfather' was published in Burial Day Books' Gothic Blue Book IV: The Folklore Edition. 'Jubilee' will be published in Game Fiction: Volume One. She has also won an honorable mention from the L. Ron Hubbard's Writers of the Future contest. You can follow her latest projects at khiatons.wordpress.com and via the page 'Khiatons, Cathy Smith, I write' on Facebook.
Lesa Pascavis Smith Unclaimed (First Publication)
Lesa Pascavis Smith lives in West Virginia and often draws inspiration for her stories from the Appalachian hills and hollows rich with mystery and intrigue. Lesa wrote her first ghost story at the tender age of seven and now gravitates toward the darker side of writing, often weaving spiritual and supernatural elements throughout the pages. Lesa's works have been featured in The Were-Traveler e-zine and Bones I, II and III, edited by James Ward Kirk. Her short story 'The Revenge of the Combine Killer' will also be appearing in the upcoming Redneck Zombies of Outer Space, edited by Jonathan Maberry.
LINKS
We have a number of other posts on the Gothic Fantasy short story collections:
See here for the full list of successful submissions
And here for more about the selection process
See here for information about the books, on our trading website, flametreepublishing.com