Today we are looking at the three titles being released this week from FLAME TREE PRESS. With two brand new releases and one new to Flame Tree title, we're kicking off the year with some amazing stories. Don't forget to check out the Q&As we posted earlier in the week with each author, to learn a little more about the inspiration and work that went into each title.

Junction - Daniel M. Bensen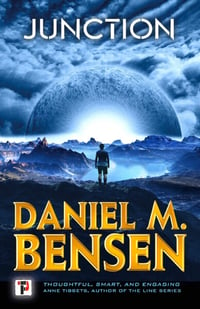 When Japanese nature show host Daisuke Matsumori finds himself on an alien world, he hopes to rekindle his passion for his work. Traveling through a newly-discovered wormhole in the Papuan highlands, he joins biologist Anne Houlihan on Junction, a patchwork planet of competing alien ecosystems. When their exploratory party crashes in the alien wilderness, Daisuke and Anne try to lead bickering soldiers and civilians back to civilization alive. As they trek across one unearthly biome after another and members of the party continue to die, however, Daisuke wonders whether human politics might be more deadly than alien biology. One of his companions might be a murderer.
"...it's one of the most unique science fiction novel in the last ten years or so." - Angelo Benuzzi

You can find Daniel on Twitter - @Evil0Dan
You an also find Daniel on his website - thekingdomsofevil.com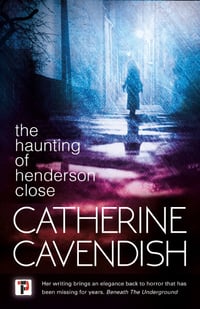 The Haunting of Henderson Close - Catherine Cavendish
Ghosts have always walked there. Now they're not alone… In the depths of Edinburgh, an evil presence is released. Hannah and her colleagues are tour guides who lead their visitors along the spooky, derelict Henderson Close, thrilling them with tales of spectres and murder. For Hannah it is her dream job, but not for long. Who is the mysterious figure that disappears around a corner? What is happening in the old print shop? And who is the little girl with no face? The legends of Henderson Close are becoming all too real. The Auld De'il is out – and even the spirits are afraid.
"The Haunting of Henderson Close is more than just a ghost story, it is the story of a battle against an ancient, implacable evil. There are monsters here, and they are never far from the immediacy of the moment. What makes all that come alive, however, is the depth of the characters and the strength of the bonds between them that build alongside the story." - Beauty in Ruins
You can find Catherine on Twitter - @Cat_Cavendish
You an also find Catherine on his website - catherinecavendish.com
Savage Species - Jonathan Janz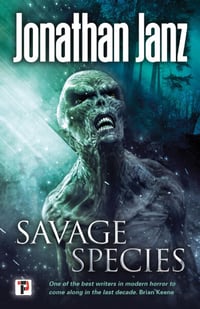 Jesse thinks he's caught a break when he, Emma (the girl of his dreams), and her friend are assigned by their newspaper to cover the opening weekend of a sprawling new state park. But the construction of the park has stirred an evil that has lain dormant for nearly a hundred years, and the three young people—as well as every man, woman, and child unlucky enough to be attending the Algonquin Falls grand opening—are about to encounter the most horrific creatures to ever walk the earth.
"It was exciting, fast-paced, humorous at times, and even came with a dash of romance and love triangles to give a bit of weight to the savagery." - High Fever Books
You can find Jonathan on Twitter - @JonathanJanz
You an also find Jonathan on his website - jonathanjanz.com
Make sure you read our Q&As with Daniel M. Bensen, Catherine Cavendish and Jonathan Janz. We asked them each about their books, their inspirations and their writing practices. All of their answers were completely different so it's really interesting to see the different in their process and how it effects their books. We've listed all three Q&As below!
Check out all of the January Releases blog posts!