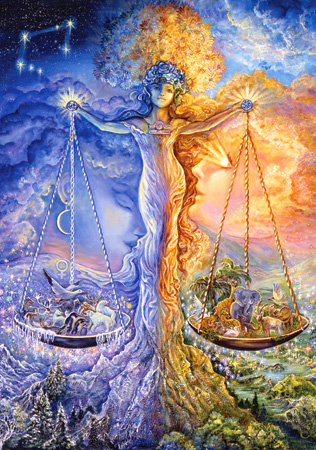 Josephine Wall is a world-renowned artist who has become extremely popular due to her spectacular celestial art. So much of her life has been dedicated to her family and to her paintings. Her fairies, dragons, mermaids and other mythical creatures dive into the imaginations of many individuals. In fact, her fantastical paintings inspire people around the world to paint their own pictures and create their own fantasy worlds. So Josephine Wall is tremendously inspiring, but what inspires her to create these outstanding pieces of art? Today we are going to take a closer look into the personal world of Josephine Wall.
Painting and drawing has been a huge part of Wall's life ever since she was a young girl. The multiple components that have made up her life so far – years of education, a multitude of exhibitions, immense travelling and fifteen years of parenthood – have enabled Wall to finally reach a great height in her career. For the majority of her paintings she draws on the events that have shaped her life to create her paintings.
'The art of painting is more than a career to me, it is an all-consuming obsession and love of colour and form.'
Looking through the extensive range of paintings Josephine Wall has produced, it is easy to believe her when she says she creates most of her paintings by channelling the power from Mother Earth to the canvas. The realistic touch of nature helps an art fan fall deep in love with each of her paintings. Wall can look out of her window at Wisteria Cottage and see the lush English countryside; there she can find mystical trees, magic shooting stars, secret underwater worlds and exotic fairy lands, all populated by enchanting animals such as deer, birds, horses, butterflies, cats, fish and bunnies. She uses her obsessions and wild dreams of living equally with mythical creatures as inspiration for her paintings. The exhilaration Wall gets from these ideas drive her compositions, as can be seen in The Spirit of Flight (the amazing cover image for our new book!), which is fuelled by her imaginings of what it would be like to fly like a bird and view the world from above.
Beyond her passion for nature, she has been greatly influenced by her education and other artists as well. Classical masters such as the Pre-Raphaelites, Arthur Rackham, Salvador Dali, René Magritte and many others are at the core of her artistic drive. But even though she studied how to perfect her art techniques at Art College, her passion for mythology and fantasy came instead from the hundreds of fantasy novels she has read and studied in her free time. The main influential authors she lists are those that have created some of the richest, most identifiable imaginative realms: J.R.R Tolkien with The Lord of the Rings, Lewis Carroll with Alice's Adventures in Wonderland and J.M. Barrie's Neverland in Peter Pan. These worlds in particular have been at the heart of her inclination to take off on a successful celestial journey.
But now that she has created so many masterpieces of art, where does she continue to find inspiration? The answer is simple: From anything and everything. Josephine Wall is never short of inspiration as there are endless possibilities when it comes to the imagination. Her fully-realized fantasies give us some insight into what lies beyond the naked eye. For as long as she is able to paint and live, her dreams and visions of fantastical worlds will continue to thrive and inspire her to paint.
We're proud to be the publishers of Josephine Wall's beautiful pictures in our new title, Celestial Art. To take a closer look at the title click here. To see the book on Amazon, click here.