Continuing with our author Q&As to celebrate our January releases, we are talking to Catherine Cavendish about her new release The Haunting of Henderson Close. She talked to us about her new book, her writing practices and advice for new writers!

What is the book about?
The story takes place deep underground in the haunted tourist attraction called Henderson Close in Edinburgh's Old Town. My central character – Hannah – has taken a job there as tour guide and her role is to take parties of visitors along the spooky, twisting streets, telling them old legends of ghosts, plague and interesting characters. All is going well for a short time but then Hannah starts to see things she cannot explain; a mysterious woman standing in the street below her flat - a woman who cannot be there. A slip in time back to the Henderson Close of Victorian times, a little girl with no face. All of a sudden, the legends of Henderson Close are becoming all too real and the worst is yet to come.
That sounds like a great story! Readers often want to know about how an author started. When did you first become interested in writing?
I have been writing for as long as I can remember. As a child I would make up stories for my dolls to act out, and adapt books I had read into stage plays. I saved up and bought my first typewriter (yes, I'm that ancient!) when I was ten years old.
When did that love of stories get you involved in horror and fantasy?
This goes back to a childhood reading Dennis Wheatley, Sheridan le Fanu and other authors of the genre. At school, I remember the deliciously scared feeling I experienced when we read The Monkey's Paw by W.W. Jacobs. The amazing thing about that story is that nothing gory actually happens, but when that knock at the door sounds... Oh, the shivers! I loved reading horror and stories that gave me goosebumps so I suppose it was only natural that I would gravitate to writing what I enjoyed the most.
Is there any advice you can give someone reading this and is just starting to write?
Firstly, develop the hide of a rhinoceros – you'll need it. Never argue online – especially with someone who has given you a less than flattering review. You never win those battles and I have seen some writers' reputations permanently ruined. The main thing though is to produce the best work of which you are capable. The words 'that'll do' should be eliminated from your vocabulary. Be prepared to be ruthless with your own work. If that paragraph doesn't move the story on or serve some other useful purpose, out it goes. Finally, never, ever give up.
What makes you write even when you're exhausted?
Frequently it is because I'm in the middle of a scene and I don't want to lose the momentum. In common with many writers, my characters drive the story onwards. I am merely the poor sap that has to hurry to keep up with what they're saying and doing. I can hardly stop them in mid drama, can I? Even if my eyes are losing focus! It happened a lot with The Haunting of Henderson Close.
We've been asking authors about their writing practices, where do you write?
In a corner of the kitchen. I have my laptop, printer and occasionally a black cat will attempt to add her contribution by stalking across the keyboard.
I hope her edits are good! Do you write in silence, or to any particular music?
Silence. I don't even have a window. I need to be totally immersed in the world I am creating.
Do you find it hard to write? Or harder to edit your own work?
That's an interesting question. First drafts usually come together fairly quickly but then the real writing starts and I typically redraft several times, editing as I go. The hardest bit is when you think you've caught all the anomalies, pitfalls, plot holes, inconsistencies and so on, and you have been over it so many times, you lose perspective. That's the time to put it away for a couple of weeks – or longer – work on something else and then come back to it. The problems leap out at you then and that makes editing easier.
Can we ask what you are writing at the moment?
I've been working on a story set in Haworth – Bronte country – not far from where I grew up (in Halifax, West Yorkshire). There will be ghosts. There may be Bronte references, and there will definitely be bleak moorland, horizontal rain and the lonely cry of the curlew…
That sounds amazing, we can't wait to read it!
Thank you to Catherine for taking the time to speak to us about her writing practices and telling us a little about The Haunting of Henderson Close. You can pick up her new book, along with the other January releases, from Thursday the 10th January 2019. It will be available in paperback, hardback, audio book and ebook. Check out our website for details.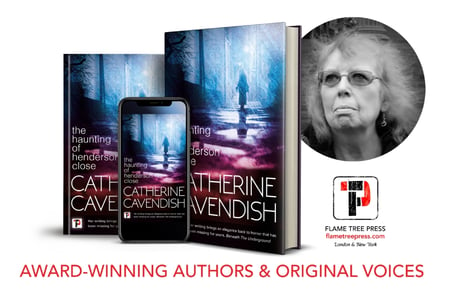 Cat first started writing when someone thrust a pencil into her hand. Unfortunately as she could neither read nor write properly at the time, none of her stories actually made much sense. However as she grew up, they gradually began to take form and, at the tender age of nine or ten, she sold her dolls' house, and various other toys to buy her first typewriter, an Empire Smith Corona. She hasn't stopped bashing away at the keys ever since, although her keyboard of choice now belongs to her laptop.
The need to earn a living led to a varied career in sales, advertising and career guidance but Cat is now the full-time author of a number of paranormal, ghostly and Gothic horror novels and novellas, including Waking the Ancients, Wrath of the Ancients, The Devil's Serenade, Dark Avenging Angel, The Pendle Curse, Saving Grace Devine and Linden Manor. The Haunting of Henderson Close is her first novel for FLAME TREE PRESS.
She lives with her long suffering husband and black cat (who remembers that her species used to be worshipped in ancient Egypt and sees no reason why that practice should not continue). They divide their time between Liverpool and a 260 year old haunted apartment in North Wales.When not slaving over a hot computer, Cat enjoys rambling around stately homes, circles of standing stones and travelling to favourite haunts such as Vienna and Orkney.
Check out all of the January Releases blog posts!