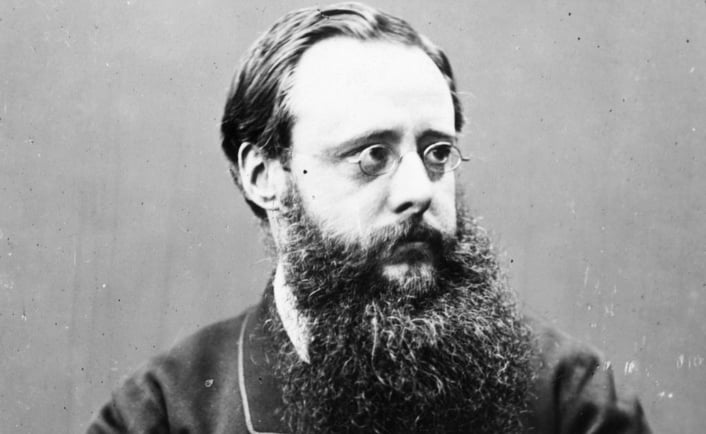 William Wilkie Collins (1824–89), who was born in London, is the author of the widely acclaimed 'sensation' text 'The Woman in White' (1859–60). Recently, his detective novel 'The Moonstone' (1868) made it to Number 19 in Robert McCrum's Guardian list of the 100 best novels written in English, where McCrum describes the book as a 'marriage of the sensational and the realistic'. A close friend of Dickens, Collins is lauded as one of the great forerunners of detective fiction – T.S. Eliot considered Collins and 'The Moonstone' to have invented the genre. His contribution to the genres of sensational and supernatural fiction was considerable, and, famous for his unorthodox, even scandalous, lifestyle during the Victorian era, his own life was not short of inspiration for his work.
Upon leaving school, Collins became a clerk for a family friend's tea company, which he didn't enjoy, going so far as to describe the place as his 'prison on the Strand'. He turned to writing at this point, though his first full novel, 'Iolani, or Tahiti as It Was; a Romance', was rejected by publishers and wasn't ever published during his lifetime. Collins's father, a landscape painter, had various ambitions for his son. The family was very religious, with enforced church visits during Collins's early years, but when it became apparent that Collins did not want to become a clergyman his father instead pushed him in the direction of a legal career. Although Collins did complete his legal studies – knowledge that no doubt fed through into his novels – he held a dislike for the rules of Victorian society and never formally practised law.
A Lifelong Friendship
Collins's development as a writer coincided with his close relationship and effective working partnership with the novelist Charles Dickens. Collins met Dickens in 1851 through a mutual friend, and Dickens would go on to become his lifelong friend and mentor. They would frequently act together, write together and travel together, with Collins often visiting Dickens's home. Before Collins devoted himself to novel writing, Dickens's theatre company acted out his first play, 'The Lighthouse', and they continued to collaborate on other dramatic and fictional works. Moreover, Dickens's weekly magazine 'Household Words' and the journal 'All the Year Round' were the means through which Collins's short stories and novels reached the general public. Collins knew great success during the 1860s, beginning with the serialization of 'The Woman in White' in 'All the Year Round', with 'The Moonstone' serialized later on in the same journal. Curiously, Dickens wasn't as keen on 'The Moonstone', though it is now generally considered one of Collins's best works. The pair wrote to one another often, though most of the letters Dickens kept from his friend fell victim to the famous 1860 bonfire in Dickens's back yard at Gad's Hill Place. Destroyed by the blaze were all but three of Collins's letters, as well as literary correspondence from a number of other authors including George Eliot and William Makepeace Thackeray. It is believed Dickens was keen to dispose of so many years of correspondence out of fear, just two years after a public separation from his wife and with the risky presence of a mistress, that his personal life would become publicized – either way he was effectively obliterating reminders of his past.
Opposition to Marriage
Collins is also famous for his bohemian lifestyle, most notably for his romantic arrangements with the two important women of his life. As a writer of thrillers and sensational fiction, it seems fitting that he should have been finely tuned to the mechanisms of scandal, knowing how best to shock a Victorian-minded public. Collins thoroughly disapproved of the institution of marriage, and from 1858 till the end of his life he lived with the widow Caroline Graves and her daughter Harriet, whom he treated as his own. His meeting with the twenty six year old Caroline is believed to have inspired the hugely successful 'The Woman in White'. The scandal did not end there, however, as in 1864, while researching a novel, Collins met Martha Rudd, with whom he went on to have three children. They assumed the names of a married couple, though the children were all born out of wedlock. Collins maintained long-term relationships with both women, who lived in separate households and kept separate roles in Collins's life. Caroline, perhaps in response to Collins's relationship with Martha and his rejection of marriage ideals, left Collins to marry Joseph Clow in 1868. After two years though, she returned to Collins, who continued to commit to both women right until his death (aged 65). When Caroline died, she was buried with him.
Collins wrote much about women in Victorian society, with his fiction displaying a sense of the injustices that were rife during the period. Some of his novels, such as 'No Name' (1862) and 'Man and Wife' (1870), acted as a social commentary on the impact of Victorian laws and traditions, and certainly his cynical disapproval of – and active rebellion against – many Victorian ideals brought attention to his popular works.
Dependency on Opium
An additional factor that cast its influence over Collins's life was a growing dependency on Laudanum – a nineteenth century medicine that was a mixture of opium and alcohol. Initially taken to alleviate the pain of his chronic gout, Collins built up a tolerance and became increasingly dependent on it for much of his life, despite attempts to wean himself off. Already troubled with short-sightedness, his eyes suffered further due to the pain of the gout, which at times made it impossible to write – he would instead dictate to a secretary in these instances in order to meet publisher deadlines. He was able to therefore write authoritatively on the disorientation experienced during sight problems, and blind characters feature in a number of his stories as a result. His reliance on opium, too, flavoured his written worlds, with opium, and the nightmares caused by its use, playing a central role in 'The Moonstone'. Other types of addiction are also evident in this tale, such as when the character of Franklin Blake must deal with the symptoms of tobacco withdrawal. Collins will have known the effects of laudanum well, as he suffered from hallucinations during the later stages of his dependency; he was convinced, for instance, that he was being followed by a duplicate version of himself, which he nicknamed 'Ghost Wilkie'. In having to deal with his own distortions of reality and hallucinogenic experiences, Collins was able to write well on the unsettling and disorientating aspects of supernatural incidents. His final novel was entitled 'The Haunted Hotel' (1878), adding to his already notable contribution to the ghost fiction form. It is perhaps thanks to his own vivid experiences with narcotics that his accounts of frightening occurrences endure as such convincing and gripping reads.
Wilkie Collins was a gifted thriller writer, and his close knowledge of the law, coupled with his own rejection of Victorian norms, made for popular narratives and succeeded in him for a time being the best-paid writer during the Victorian period.
Generally considered as the inventor of the 'sensation' novel – the precursor to the detective fiction – Collins also left a significant imprint on the genre of supernatural fiction, producing an impressive body of works during his lifetime. Our upcoming Chilling Ghost Short Stories features Wilkie Collins, with a tale that demonstrates all the intrigue, suspense and excitement for which his stories gained fame. The anthology is due for release soon, and you can take a peek at it here!

LINKS
The 2009 novel 'Drood' by Dan Simmons is a fictional account of Dickens's life written from the viewpoint of Wilkie Collins: the synopsis and some reviews can be foudn here.
Collins's first collection of short stories 'After Dark' was published in 1856. You can read a little about the stories it included here.