---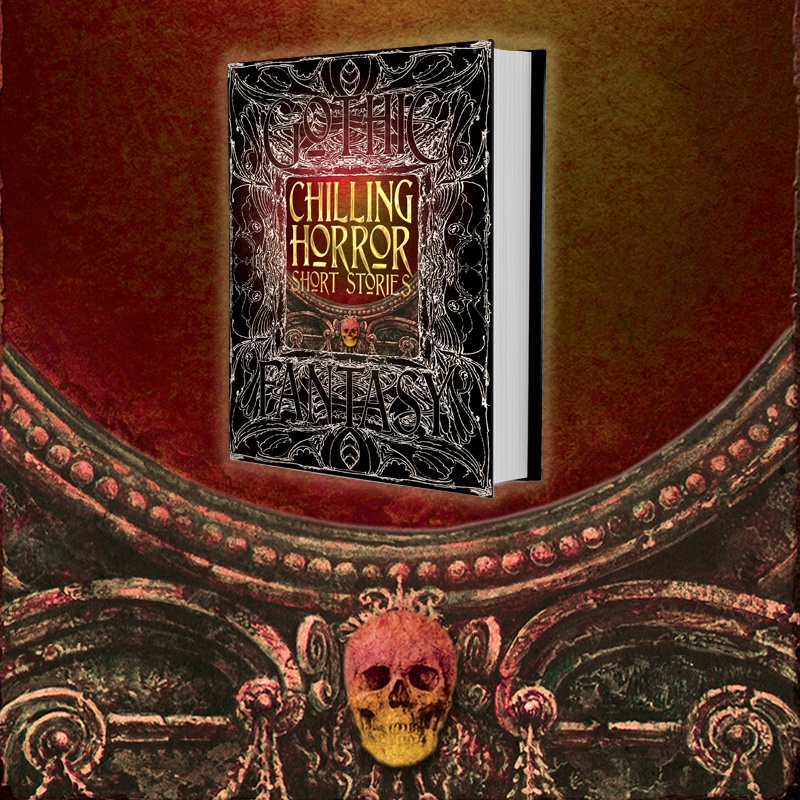 Our forthcoming Gothic Fantasy anthologies feature an explosive mix of new and classic writers. We've released the list of new authors, and their stories, now here are the biographies of Chilling Horror Short Stories. Some are first time writers, others have had stories printed in magazines and story collections before.
---
Rebecca J. Allred. Ecdysis (First Publication)
Rebecca lives in Salt Lake City, Utah, working by day as a doctor of pathology, but after-hours she transforms into a practitioner of macabre fiction, infecting readers with her malign prose. Her work has been featured on Hellnotes.com, Freeze Frame Fiction, Sirens Call eZine and Vignettes from the End of the World. When she isn't busy rendering diagnoses or writing, Rebecca enjoys reading, drawing, laughing at RiffTrax, and spending time with her husband, Zach, and their kitty, Bug. You can keep up with Rebecca at diagnosisdiabolique.wordpress.com or follow her on Twitter @LadyHazmat.
Michael Bondies. Mirror's Keeper. (Originally Published in Black Static, 2011)
Michael Bondies is a native of Dallas, Texas, and a graduate of the University of Colorado Denver music program. He has work appearing or forthcoming in several different venues including Bards and Sages Quarterly, Blood Moon Rising, Tales of the Undead: Suffer Eternal Anthology Volume III, and the anthology Little Stories for the Smallest Room. He currently lives on the West Coast, and when he's not writing you will usually find him playing guitar. Visit him at: www.MichaelBondies.com.
Glen Damien Campbell. The Dying Art. (Originally Published in The Boneyard, 2014)
Glen Damien Campbell lives and works in London. His horror fiction has appeared in a variety of anthologies and magazines, including Something Wicked Vol. One, 100 Doors to Madness, Tales of the Undead: Suffer Eternal, Tales from the Blue Gonk Café and Miseria's Chorale. Besides writing, his interests are music, painting and horror movies. For more information about Glen, or to read his jottings on various things horror and heavy-metal related, visit his blog at gdcampbell.wordpress.com.
Justin Coates. Breach. (First Publication)
Justin Coates is a citizen of Detroit, Michigan. His formative years of reading involved copious amounts of Lovecraft and King, and in recent years he has read every grim tale set in the 'Warhammer: 40K' universe he can get his hands on. A veteran with two tours in Afghanistan, Justin also draws on his combat experience when writing, and finds the process immensely useful in his spiritual recovery from war. This is his first publication, an opportunity for which he is extremely grateful. Take a look at Justin's blog here: www.justincoates.postagon.com
John H. Dromey, In Search of a New Wilhelm. (First Publication)
John H. Dromey was born in Northeast Missouri. He grew up on a farm, but likes the conveniences of city life. Once upon a time he had bylines for brief, humorous items (daffynitions, one-liners, light verse) in over 150 different newspapers and magazines, including Reader's Digest and The Wall Street Journal. He's had short fiction published in Alfred Hitchcock's Mystery Magazine, Black Denim Lit #7, Gumshoe Review, Stupefying Stories Showcase, and elsewhere, as well as in a number of anthologies.
Elise Forier Edie. Leonora. (Originally Published in Penumbra Magazine, 2013)
Elise Forier Edie lives in Los Angeles, California, with her husband and two dogs. Her works of horror and speculative fiction have been published by Tartarus Press and World Weaver Press. Before becoming a fiction writer, Elise worked for many years as a playwright, and still continues to work in the theatre as an actress and director. Her first novella, a paranormal romance called The Devil in Midwinter, was released in April 2014. She is a member of the Horror Writers Association and the Authors Guild.
David A. Elsensohn. A Game of Conquest. (Originally Published with Ether Books App, 2011)
David Elsensohn is usually busy being distracted by such language-coaxers as Tolkien, Howard, Leiber, Gaiman and Lovecraft, or by well-crafted batches of single malt whisky. He has works published in the Northridge Review, Crack the Spine, The Golden Key, Kazka Press's California Cantata, Grim Corps II, and Literary Underground's Unearthed Anthology. A native of Los Angeles, he lives with an inspirational wife and a curmudgeonly black cat.
Eric Esser. Thing in the Bucket. (Originally Published in Fictionvale, 2013)
Eric Esser lives and writes in San Francisco with his love Courtney and the ghost of their black cat Mina. When he was small he used to wander the perimeter of his elementary school soccer field every recess imagining stories set in other worlds, and for some reason no one made fun of him for it. He suspects they discussed him secretly. He is a graduate of the 2012 Clarion Writers Workshop. His fiction has appeared or is forthcoming in Schoolbooks and Sorcery, Pseudopod, and the Awkward Robots anthology series. Visit him at ericesser.net or follow him on Twitter (@ericdesser).
Michael Paul Gonzalez. Worth the Having. (Originally Published in Halloween Tales, Omnium Gatherum Books, 2014)
Michael Paul Gonzalez is the author of the novels Angel Falls and Miss Massacre's Guide to Murder and Vengeance. A member of the Horror Writer's Association, his short stories have appeared in print and online, including the Booked podcast anthology, FCJR, HeavyMetal.com, and the Appalachian Undead anthology. He resides in Los Angeles, a place full of wonders and monsters far stranger than any that live in the imagination. You can visit him online at MichaelPaulGonzalez.com
Ed Grabianowski. Extraneus Invokat. (Originally Published in Black Static, 2011)
Ed Grabianowski's stories have appeared in Black Static, the Geek Love anthology, and David Wellington's Fear Project. You'll find his non-fiction work at sites like io9 and HowStuffWorks. His influences include pulp horror and sword & sorcery like H.P. Lovecraft, Robert E. Howard and C.L. Moore, The Twilight Zone and Friday the 13th Part VI: Jason Lives. A native of Buffalo, New York, Ed likes zombies, welding, dogs and pizza.
Gwendolyn Kiste. The Man in the Ambry. (Originally Published in Typehouse Literary Magazine, 2015)
With parents who married on Halloween and read her Ray Bradbury and Edgar Allan Poe stories long before she started kindergarten, Gwendolyn Kiste considers horror, fantasy, and all things strange to be her birthright. Her speculative fiction has appeared or is forthcoming in LampLight, Sanitarium Magazine, and Nightmare among other outlets. An Ohio native, she currently resides on an abandoned horse farm in Pennsylvania. You can find her online at www.gwendolynkiste.com and on Twitter @GwendolynKiste.
Bill Kte'pi. Start with Colour. (Originally Published in Strange Horizons, 2003)
Bill Kte'pi is the author of two horror novels, Low Country and Frankie Teardrop, the latter of which was published in 2015 by Fey Publishing. He has been publishing short stories for 25 years, with links to available online work at ktepi.com. Start With Color shares a setting with The Minotaur, originally published in Strange Horizons. Bill and his girlfriend live in New England and are planning a move to the Southern U.S.
James Lecky. The Magnificat of Devils. (Originally Published in Oktobyr, 1997)
James Lecky is a writer, actor and (occasional) stand-up comedian from Derry, N. Ireland. His short fiction has appeared in a number of publications both in print and online including Beneath Ceaseless Skies, Heroic Fantasy Quarterly, The Phantom Queen Awakes, Arcane, Jupiter SF and Emerald Eye: The Best Irish Imaginative Fiction. His influences are many and varied including (but not limited to) Clark Ashton Smith, Jack Vance, Philip K. Dick, J.G. Ballard and Lord Dunsany.
Frank Roger. Trial and Error. (Originally Published in Portulaan, 2013)
Frank Roger was born in 1957 in Ghent, Belgium. His first story appeared in 1975. He now has a few hundred short stories to his credit, published in more than 40 languages. In 2012 a story collection in English (The Burning Woman and Other Stories) was published in Ireland by Evertype (www.evertype.com). Apart from fiction, he also produces collages and graphic work in a surrealist and satirical tradition. They have appeared in various magazines and books. Find out more at www.frankroger.be .
Lucy Taylor. Blessed Be the Bound. (Originally Published in Guignoir, 1991)
Lucy Taylor is the Stoker-winning author of The Safety of Unknown Cities, Spree, Unnatural Acts and Other Stories and eleven other horror/suspense novels and collections. Her most recent work includes the short story collection Fatal Journeys and the novelette A Respite for the Dead. Upcoming publications include the short story In the Cave of the Delicate Singers (Tor.com; August 2015), Wingless Beasts ('Best Horror of the Year #7'; Night Shade Books), and Moth Frenzy ('Peeling Back the Skin'; Grey Matter Press). She lives in Santa Fe, New Mexico: a land full of mystery, romance, and the macabre. Visit her website at: www.lucytaylor.us.
Kristopher Triana. Dead End. (First Publication)
Kristopher Triana is an American author of southern gothic, horror, western and crime fiction. He is the author of Growing Dark and he has two new novels, The Ruin Season and Body Art, which will both be released in 2016. His short stories have appeared in many magazines and anthologies, including D.O.A. II, The Ghost is the Machine, Spinetingler Magazine, Zombie Jesus and Other True Stories, and Halloween Forevermore. In addition, some of his work has also been translated into Russian. He works as a professional dog trainer and lives in North Carolina with his wife.
D.J. Tyrer. Justified. (Originally Published in Surreal Grotesque, 2013)
DJ Tyrer lives in Southend-on-Sea, and is the person behind Atlantean Publishing. He has been published in anthologies and magazines in the UK, USA and elsewhere, including
A Grimoire of Eldritch Inquests, Volume I (Emby Press), State of Horror: Illinois (Charon Coin Press), Steampunk Cthulhu (Chaosium), Tales of the Dark Arts (Hazardous Press), Cosmic Horror (Dark Hall Press) and Sorcery & Sanctity: A Homage to Arthur Machen (Hieroglyphics Press). In addition, he has a novella available in paperback and on the Kindle: The Yellow House (Dunhams Manor). DJ Tyrer's website is: djtyrer.blogspot.co.uk.
Andrew J. Wilson. Deep-sixed Without a Depth Gauge. (Originally Published with Ghostwriter Publications, 2009)
Andrew J. Wilson lives in Edinburgh with his wife and two sons. His short stories, poetry and journalism have appeared all over the world, sometimes in the most unlikely places. The Terminal Zone, his play about Rod Serling, has been performed several times, and was restaged under his direction at the 2014 World Science Fiction Convention in London. With Neil Williamson he co-edited Nova Scotia: New Scottish Speculative Fiction, a critically acclaimed original anthology that was nominated for a World Fantasy Award.
William R.D. Wood. The Dew of Heaven, Like Ashes. (Originally Published in Tomorrow: Apocalyptic Short Stories, Kayelle Press, 2013)
William R.D. Wood lives with his wife and children in Virginia's Shenandoah Valley in an old farmhouse turned backwards to the road. He enjoys exploring this world and creating new ones of his own. His work has appeared in Omni Reboot, the Lovecraft eZine and in titles from Emby Press, Morpheus Press and Apokrupha. Far, far too much greatness exists in the realms of speculative fiction to pick favorite influences, but William's ideal would be to write Lovecraftian fiction like Stephen King in an Arthur C. Clarke universe interpreted by H. R. Giger. Check out www.williamRDwood.com for more.
LINKS
We have a number of other posts on the Gothic Fantasy short story collections:
See here for the full list of successful submissions
And here for more about the selection process
See here for information about the books, on our trading website, flametreepublishing.com
---