In the first of this month's Q&As with our January authors, we have Gregory Bastianelli. He talks about the biggest influence on his writing, who and what he bases his characters on and advice to aspiring writers! Be sure to check in tomorrow for more writing inspiration!

What are the underlying themes?

A major theme running through the book is loneliness. Many of the characters find themselves at a juncture in their lives where they have become alone, and now they find themselves alone in the snow storm, but must band together and help one another to survive.

Did you base your characters on anyone you knew?

I never base characters on actual people I know. That would be too dangerous. I may use some characteristics from several different people I know and mold that into a completely unique character. My characters become very real people inside my head.

Who influenced you most in the writing of the book?

My biggest influence in my writing starts with Ray Bradbury and that special feeling of magic, wonder and nostalgia he captures in his work. After that, Richard Matheson and Stephen King molded me into the kind of writer I am today.

Is there any advice you can give someone starting to write?

Write, write, write. Aim to write something every day if possible, if not, at least almost every day. There is no better way to improve your writing.

How do you balance your writing with everyday life?

That is probably one of the greatest challenges to being a writer. It is important to carve out a block of time in my day to devote to writing. Even if that time is as little as an hour or two, it's enough time to get some good writing in and still leave time to handle the everyday routines of life, work, family and home, as well as having some fun.

Did you write in silence, or to any particular music?

I always have music playing when I write. I usually listen to hard rock and heavy metal music, which is the type I enjoy. I don't find it distracting; it just keeps my engine revving. I feed off the energy.

Did you find it hard to write?

Starting a new novel is always such a daunting task to me. My nerves are heightened when I first sit down to begin. There is a sensation of excitement, but also one of fear, knowing that once I start, my life will become consumed by the story until I am finished.

What was it like to be a published author?

It is such a wonderful feeling to see stories that I've imagined in my head, finally become printed pages for others to enjoy. The fact that I am able to see these stories come to life and share them with others is such a thrill.

What are you writing now?

I am always working on something new, whether it be a short story, novella, or another novel. When one tale ends, another begins.
Thank you!
---
Thank you to Gregory for taking the time to talk today about Snowball. You can pick up this new FLAME TREE PRESS edition of his book, along with the other January release now. It will be available in paperback, hardback and ebook. Check out our website for details.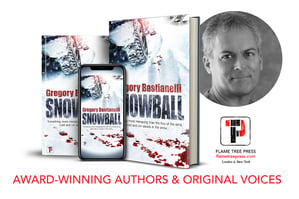 Gregory Bastianelli is the author of the novels Loonies and Jokers Club. His stories have appeared in the magazines Black Ink Horror, Sinister Tales and Beyond Centauri; the anthologies Night Terrors II, Cover of Darkness and Encounters; and the online magazines Absent Willow Review and Down in the Cellar. His novella The Lair of the Mole People appeared in the pulp anthology Men & Women of Mystery Vol. II.

He graduated from the University of New Hampshire where he studied writing under instructors Mark Smith, Thomas Williams and Theodore Weesner. He worked for nearly two decades at a small daily newspaper where the highlights of his career were interviewing shock rocker Alice Cooper and B-movie icon Bruce Campbell.

He became enchanted with the stories of Ray Bradbury as a young child, and his love of horror grew with the likes of Richard Matheson, Robert Bloch, Stephen King and Ramsey Campbell.

He lives in Dover, NH, in a Colonial home built in the 1700s. He enjoys kayaking, hiking and bicycling in the summer and snowshoeing and racquetball in the winter. Along with spending time with family, he enjoys traveling, especially to Italy where he has visited his ancestral home and relatives residing there and hiked the Path of the Gods on the Amalfi Coast and to the top of Mt. Vesuvius.

---
Make sure you check back in with the blog for more Q&As with the authors of our January releases!
FLAME TREE PRESS | January Releases | 1 |

Snowball Q&A

FLAME TREE PRESS | January Releases | 3 | Upcoming Titles