In the second of our Q&As with our May authors, we have Glenn Rolfe, author of Until Summer Comes Around. He discusses what he thinks makes a good horror story, which horror author has had the biggest influence on his writing and what scares him the most! Be sure to check in tomorrow for more writing inspiration!



What is the book about?

This is my take on a vampire story. I love the traditional tropes, but I also love making them my own. I'll go along with some of the traditional myths, but I also want the freedom as a writer to take them where I want and let them grow in my little world.

There's also a coming-of-age aspect to the novel. Rocky is a teen growing up in a summer beach town. This dark-haired beauty comes into his life and knocks him upside down. She's mysterious, fun, and too perfect to be true.

That's where the scary stuff comes in.

Theme-wise, it covers love, overcoming evil, facing fears, self-confidence, stepping out on your own, and betrayal.

Did you base your characters on anyone you knew?

There's always a bit of me in every character, but I definitely drew the names from people in my past. Rocky is one of the punks that was a huge supporter of my music career and a great friend. November is the girl that lived next door to me when I was a kid. She had dark hair, wore Chuck Taylor's, and was one of my first best friends.

For Gabriel, I just tried to remember what I didn't like in the pool of arrogant people I've met throughout the years.

Your great first novel, The Haunted Halls is set in a hotel, also the location of your day job. Have you had any real life creepy hotel experiences?

The only thing weird that come to mind happened when I was writing one of the scarier scenes in The Haunted Halls (I was writing on my overnight shift). A set of keys fell from the key holders next to me. It seriously scared the bejesus out of me. I got up and saw the keys and then one of our touch pad locks to a door on the other side of our back office beeped. You have to touch those things to activate them. I looked out and there was not a soul to be seen. My feelers were raised, for sure. Creepy.

What do you think makes a good horror story?

Like any story, you have to have good characters, good story, and a reason for people (the readers) to care. For me, writing comes last in all that. You don't connect with readers with fancy writing. That works for connecting and impressing other writers, but your average readers wants characters and story above all else. That's my focus. Now, what's fun about horror is that you can have heart, romance, scares, mystery, suspense, drama, all wrapped up in one story. And if you do that right, you can impact the hell out of people. Push as many buttons in every story as you can. That's my goal.

What scares you?

Anything bad happening to my kids or my wife would top the list. I've had horrible nightmares about such things. Outside of that, spider, snakes, The Exorcist, and Zelda from King's Pet Semetery movie (the original).

Did you write in silence, or to any particular music?

I like to make a play list while I'm writing. Music can add color to any scene, whether that's by way of the author adding it in for the reader, or just listening to it while writing. I go back and forth between movie scores and songs I love or styles that I think might match the scene I'm writing. Like a nice ballad when working on a budding romance or some Danzig for the darker scenes.

What horror novel has had the biggest impact on you as a writer and who are some of your favorite current writers?

Biggest impact: 'Salem's Lot. It has everything I ever need in a story. A great love story with Ben and Susan, a creepy house on a hill, a small town brought to life only to be brought to its knees!!! Scary scenes like the one at the morgue, the Glick boy at Mark's bedroom window, man. I've read it five times and look forward to the next time.

I try to make my stories that good. Or even and eighth of that…it's the best.

For current writers out there…Ronald Malfi, Hunter Shea, Brian Moreland, Jonathan Janz. I loved Jonathan Maberry's Pine Deep Trilogy. Patrick Lacey and Heather Herrman are two of my newer favorites. Somer Canon, The Sisters of Slaughter (Michelle Garza & Melissa Lason), Todd Keisling. I could go on and on. Horror fiction is full of great writers.


You have mentioned in other interviews that you don't really outline or plot out your novels, but instead take a more spontaneous approach. What are some of the biggest advantages and disadvantages to that approach?

That's funny. This is actually the very first novel I outlined. I was so afraid it would ruin the spontaneity that pantsing brings, but I dug up quite a few uncharted surprises along the way and enjoyed the entire outlining process. That said, I still have a number of works going that are just going where they want to go. I did start a second outline for my next, next project though, so I think I'll keep a foot in each grave.

Pros and cons? Now that I've done it, I can't see the con to doing an outline. It's been amazing. As for pantsing? It can be filled with moments of stress, but I usually just work on a different piece when that gets too much. I'm always working on multiple stories.

Most people who attain success pretty much focus on themselves; yet, you are always looking out for everyone else, thinking of new ways to promote your fellow authors, and promoting them by hand. You don't have to do this! I think it's amazing, but what's behind this generous and all-inclusive spirit?

I came from a punk rock scene where we were all trying to get out together. We were all celebrating each other and each other's successes, each step forward, each show, each record. We were a family. I think I just carried that with me into this next phase in my life. The horror genre is very much like the punk scene. We're the black sheep, we're the underdogs, we're the misfits forced to work and fight from the shadows. You would think that with the success of King and a handful of others, combined with the success of TV shows like American Horror Story and The Walking Dead we'd find a broader reach, but that just remains to be seen.


What are you writing now?

I'm finishing the sequel to my werewolf novel, Blood and Rain, and then stepping into my next project for Flame Tree (fingers crossed).




Thank you!
---
Thank you to Glenn for taking the time to talk today about Until Summer Comes Around. You can pick up this book, along with the other May releases now. It will be available in paperback, hardback and ebook. Check out our website for details.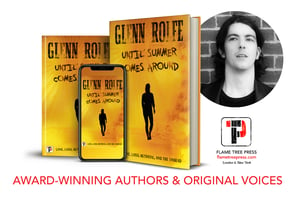 Glenn Rolfe is an author/singer/songwriter from the haunted woods of New England. He has studied Creative Writing at Southern New Hampshire University, and continues his education in the world of horror by devouring the novels of Stephen King, Ronald Malfi, Jack Ketchum, and many others. He and his wife, Meghan, have three children, Ruby, Ramona, and Axl. He is grateful to be loved despite his weirdness.

He is a Splatterpunk Award nominee and the author of The Window, Becoming, Blood and Rain, The Haunted Halls, Chasing Ghosts, Abram's Bridge, Things We Fear, Boom Town, and the collections, Slush. and Land of Bones.

He is hard at work on many more. Stay tuned!

Follow on Twitter: @GRolfeHorror
Glenn's author page: author.to/Getrolfed

---
---
Make sure you check back in with the blog for more Q&As with the authors of our May releases!


FLAME TREE PRESS | May Releases | 1 | Brian Moreland Q&A
FLAME TREE PRESS | May Releases | 2 | Glenn Rolfe Q&A
FLAME TREE PRESS | May Releases | 3 | The City Among the Stars Extract
FLAME TREE PRESS | May Releases | 4 | Upcoming Titles