Next up in our October author Q&As we have Frazer Lee, author of Greyfriars Reformatory. He lets us know what the book is all about, some of its themes and what influenced him to write it! Be sure to check in tomorrow for more writing inspiration!

What is the book about?
Emily is institutionalized at Greyfriars Reformatory for Girls, a desolate place where the guilty, downtrodden and forgotten dregs of society are sent for rehabilitation. Principal Quick rules the roost with a brutal regime of developmental learning, physical activity, and discipline. When the inmates begin to die in brutal and suspicious circumstances, Emily is shocked to discover that they are being haunted by the mysterious 'Grey Girl'. As the bodies pile up, Emily's personality disorder may be the only thing that can save her.

What are the underlying themes?
I tend to write about already damaged people who find themselves in potentially damaging situations. This book takes a look a favorite theme of mine: Guilt. How can we overcome it, and to what extent is if imposed upon us by societal regimes? I am also fascinated by 'What if?' scenarios: What if a young woman's personality disorder is the only thing that can save her from a supernatural force?

Did you base your characters on anyone you knew?
The characters are entirely fictitious, but do possess qualities I observe in people around me, and both the light and darkness I think we all possess, beneath the masks we tend to wear in public.

Who influenced you most in the writing of the book?
I have been developing Greyfriars Reformatory as a film project and felt compelled to get deeper into Emily's character and story in a novel. I was influenced along the way by the high school horror movies of South Korea, and by the atmospheric writing of Angela Carter, Susan Hill, and Patrick McGrath.

Is there any advice you can give someone starting to write?
However crazy your idea might seem, trust me, someone else has always gone crazier. Don't hold back, just throw it all down and you can always rein it later. Invest in a robust coffee making machine, you'll need it. Oh, and switch your internet connection off until you are ready to emerge from your writing session. The only real difference between writers who 'make it' and those who don't is that the former keep at it and don't ever give up.

Where did you write?
I am incredibly lucky to live in a wonky old cottage that dates back to the fifteenth century, and I channeled its atmosphere into every page of this book. I also wrote and edited on trains, on planes, in Dalian, China, and at the British Library in London. Oh, and a variety of coffee shops, because the Holy Bean can definitely help with writing!

Did you write in silence, or to any particular music?
I tend to write to music, especially film scores, and build playlists for particular projects so that I can 'fast track' back into them. This book was helped along by Ladytron, Tangerine Dream, and Hans Zimmer's scores for The Ring and The Ring Two.

Did you find it hard to write? Or harder to edit your own work?
I find it easier to edit than to write. There's this incredibly dark place in a novel, somewhere between the 40-60 thousand word mark, where you can lose the will to live if you're not careful. Luckily I enjoy a challenge, or I would have jacked it in years ago. Endings are glorious, I enjoy testing the thesis and seeing if, and how, the story resolves, and how that might differ from the planned story outline. Writing, just like reading, is an absolute joy and a total pain in the arse all at once. I love it.

What was it like to be edited by someone else?
It is at turns surprising, illuminating and life affirming to have someone take the time and care to help make your work the very best that it can be. I am blessed to have worked with Don D'Auria, one of the best editors in the business, and a total gentleman through-and-through.

What are you writing now?
I have a new horror film screenplay on the go, and I am outlining the characters and storylines for my next novel. I am also researching my PhD, which examines the themes in my novels.

Thank you!
---
Thank you to Frazer for taking the time to talk today about Greyfriars Reformatory. You can pick up his book, along with the other October releases now. It will be available in paperback, hardback and ebook. Check out our website for details.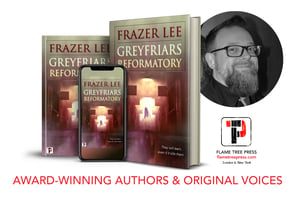 Frazer Lee is a novelist, screenwriter and filmmaker. His screenplay credits include the acclaimed horror/thriller feature Panic Button, and multi-award winning short films On Edge, Red Lines, Simone and The Stay. Frazer s screenwriting and story consultant engagements have included commissions for Movie Mogul, The Asylum, Mediente, eMotion, and Vanquish Alliance Entertainment.

His film and television directing credits include the multi award-winning shorts On Edge and Red Lines, and the promo campaign for the Discovery Channel series True Horror With Anthony Head. He was awarded the Edgar Allan Poe Gothic Filmmaker of the Year Award for his film The Stay. Frazer was named one of the Top 12 UK directors in MySpace.com s Movie Mash-up contest by a panel including representatives from 20th Century Fox, Vertigo Films and Film Four.

Frazer s novel The Lamplighters was a Bram Stoker Award® Finalist for Superior Achievement in a First Novel . His other published works include the Amazon number 1 horror/thriller Panic Button: The Official Movie Novelisation, novels The Jack in the Green and The Skintaker, and the Daniel Gates Adventures series of novellas.

Frazer is Senior Lecturer in Creative Writing at Brunel University London and is an active member of the Horror Writers Association and International Thriller Writers. His guest speaking engagements have included The London Screenwriters Festival and The Guerilla Filmmakers Masterclass. Frazer Lee lives with his family in Buckinghamshire, England just across the cemetery from the actual Hammer House of Horror.

---
---
Make sure you check back in with the blog for more Q&As with the authors of our October releases!


FLAME TREE PRESS |October Releases | 1 | Russell James Q&A
FLAME TREE PRESS |October Releases | 2 | Frazer Lee Q&A
FLAME TREE PRESS |October Releases | 3 | Mark Morris Q&A
FLAME TREE PRESS |October Releases | 4 | John Everson Q&A
FLAME TREE PRESS |November Releases | 5 | Upcoming Titles