In the first of this month's Q&As with our October authors, we have Russell James, author of The Portal. He discusses some of the themes in the novel, who he based his characters on and what he's working on now! Be sure to check in tomorrow for more writing inspiration!


What is the book about?

Three hundred years ago, Satan tried to open a doorway to Hell on a small island in Long Island Sound. Now he has returned to finish the task. Scott Tackett and Allie Layton are the only ones who can stop his plan, but they'll need to overcome a vicious gang of thugs, a coven of witches, and Satan's powerful black magic.

What are the underlying themes?

This story has a strong theme of redemption. Scott and Allie, the main characters, come into the story with a lot of guilt. Some springs from their break-up years ago, but much of it from what they did after. Satan, in the guise of Joey Oates, uses those transgressions against them to great effect as they struggle to find themselves worthy of the mantle of saving the town.

There are several other characters who don't deserve redemption, who do not seek it out. Things don't go well for them at all.

Did you base your characters on anyone you knew?

I've definitely met a lot of small town people, and this book is full of similar characters. I tried to catch the flavor of an isolated, insular community

Who influenced you most in the writing of the book?

There is a generation of writers I first encountered when we were all writing for Samhain Horror. Hunter Shea, J.G. Faherty, Tim Waggoner, J.H. Moncrieff. All of them do amazing work, and their stories really inspired me to keep trying to master the craft and to create works that were fresh and original.

Is there any advice you can give someone starting to write?

First you need to read. All the time, every day. You need to decrease the passive entertainment of TV and movies and video games, and increase the active entertainment of reading. Without exposure to new styles and ideas, your own writing can never evolve.

Second, write every day. There are plenty of things you do every day. Eating, brushing your teeth, walking the dog. Writing needs to be as much a routine in your life as that. It is true that practice makes perfect. The more that you write, the better a writer you will be.

Where did you write?

I have a room in my house with a splendid southern exposure and abundant natural light. That's my best place to write, sitting at a table with a keyboard.

Did you write in silence, or to any particular music?

I'm a write-in-silence guy, except when I start talking to myself sounding out dialogue. Then it might get loud.

Did you find it hard to write? Or harder to edit your own work?

Like any job, getting started working is always tough. But once I get started, time frequently zips by and I notice I've been at it for hours. Writing and editing take two different skill sets, the first creative, the second much more mechanical. I like to exercise both.

What was it like to be edited by someone else?

When you have Don D'Auria as an editor, being edited by someone else is great. I worked with Don at Samhain and have learned to trust his judgement and follow his lead. The man knows the genre inside and out, what works and what won't. I look forward to the edits I get from him.

What are you writing now?

There are a few things in the works. One's a post-apocalyptic story when suddenly all people born after a certain date grow up to be psychopaths. There's a mass extermination of the young, and the world is ticking down to oblivion. But a high school girl becomes pregnant, and the government will never let her carry the child to term. She has heard about a mythical Ashrama, where children born there grow up normal. She and her boyfriend decide to risk the dangerous journey across a depopulated country overrun by crazed psychs and ravenous land pirates.



Thank you!
---
Thank you to Russell for taking the time to talk today about The Portal. You can pick up his book, along with the other October releases now. It will be available in paperback, hardback and ebook. Check out our website for details.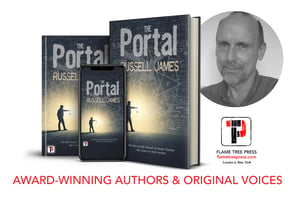 Russell James grew up on Long Island, New York and spent too much time watching Chiller, Kolchak: The Night Stalker, and The Twilight Zone, despite his parents' warnings. Bookshelves full of Stephen King and Edgar Allan Poe didn't make things better. He graduated from Cornell University and the University of Central Florida.

After a tour flying helicopters with the U.S. Army, he now spins twisted tales best read in daylight. He has written the paranormal thrillers Dark Inspiration, Sacrifice, Black Magic, Dark Vengeance, Dreamwalker, Q Island, and Cavern of the Damned. He has four short story collections, Tales from Beyond, Outer Rim, Forever Out of Time, and Deeper into Darkness.

His wife reads what he writes, rolls her eyes, and says "There is something seriously wrong with you." They live in Florida with two untrainable cats. Visit his website at http://www.russellrjames.com and read some free short stories. Follow on Twitter @RRJames14, Facebook as Russell R. James, or drop a line complaining about his writing to rrj@russellrjames.com.
---
Make sure you check back in with the blog for more Q&As with the authors of our October releases!


FLAME TREE PRESS |October Releases | 1 | Russell James Q&A
FLAME TREE PRESS |October Releases | 2 | Frazer Lee Q&A
FLAME TREE PRESS |October Releases | 3 | Mark Morris Q&A
FLAME TREE PRESS |October Releases | 4 | John Everson Q&A
FLAME TREE PRESS |November Releases | 5 | Upcoming Titles