For our next 'Founders of Black SF' post Patty Nicole Johnson will be discussing historian, educator and politician Edward Johnson. Discover his early recognition and efforts to subvert what was, and still is, an all too white centric canon being taught in schools across the U.S.
---
Founders of Black SF: Edward Johnson & Light Ahead for the Negro
By Patty Nicole Johnson
The traditional canon being taught in school across the U.S. has changed little throughout the decades. Many believe this has alienated readers due to the lack of inclusion and representation in these often white-centred narratives. Teachers have long challenged this paradigm by sharing more diverse works with their students, but now they're organizing a grassroots effort to empower more instructors to do the same through the #DisruptTexts initiative.
The effort is not without its detractors, yet the movement is gaining diligent steam in helping students gain and retain a deep love of reading through narratives that reflect their own realities. Edward Johnson, a historian, attorney, politician and educator, long ago took up this challenge. While employed as a principal and teacher, he found a gap in the curriculum Black children were taught: a lack of information about brave acts among their own race. In response, he wrote A School History of the Negro Race in America. He went on to pen other works about the history of Black Americans throughout the U.S. timeline.
In 1904, Johnson looked forward over 100 years when he wrote Light Ahead for the Negro, a vision of Black utopia. Our point-of-view character, who's later called Gilbert Twitchell, boards a friend's airship in a voyage to the 'City of Mexico'. The motor explodes in the air and he loses consciousness in the effort to save himself and his friend. He awakes alone in a room in Phoenix, Georgia – in 2006 – being cared for by the occupants of the house on whose lawn he had landed. He doesn't know where or who he is, but a woman finds papers of his dating back to 1906 in his pocket.
Twitchell comes to learn more about the world. The woman who cared for him, Miss Davis, teaches at a 'negro' school that provides specialized care to the students. He calls attention to the use of the word 'negro' instead of 'colored', and she replies that it's the term accepted by Black people, in lieu of 'colored'. It's apparently accepted that the man is a traveller from the past. The people of the time are somewhat surprised at the extent to which he was treated as a marginalized citizen, so they ask him to write a letter depicting his treatment in his era. Twitchell speaks about the lack of inflammatory slurs aimed at negro people in newspapers now. He commends this, saying that it is what kept prejudice alive in his time. The letter goes on for some time, detailing, in addition to other topics, the way white stores took Black people's money (but not vice versa) so their people couldn't realize upward mobility.
A Dr. Newell finds a paper belonging to his grandfather from 100 years prior. Twitchell reads the letter, and it describes treatment of Black people and how some mistreatment was warranted yet it ultimately went too far, deeming it inappropriate. The conversation between the two extends to labour unions and how Black people were allowed to organize. Twitchell is visited by Dr. Newell's secretary, an encounter which imparts more wisdom to him. The mixed-race individual, of Indian and Chinese heritage, is employed in what is seen as a high position and holds the title with honour, able to walk confidently, not needing to lower his face in shame. The story continues to summarize how Black people gained equality in the south, with different forms of media like articles and letters offering analysis of the changing tides. Later they visit public buildings where the government is housed. The system of congress has been abolished and a corporate model has replaced it with departments and executive leaders. There is no U.S. president.
Twitchell takes a ride with Miss Davis and she remarks on not understanding the genesis of slavery. She thinks that Black people could have served white people without the coercion. Twitchell then notes that she has no ill will toward people from the south like people of his time did. Some time later, she gets a letter and Twitchell teases that it's from an admirer, but Twitchell himself becomes infatuated with her and later asks if she's engaged. She doesn't answer, yet promises to in the future.
Two years pass and she never answers, but events transpire to answer him for her: her loved one dies overseas and she wears black for him in mourning. Twitchell confesses his love for her and in time her heart heals and they are able to marry.
True to Johnson's profession as an educator and a historian, the story does much to inform readers about the past and to set a solid foundation depiction of the future. A modern reader may think it a very measured form of egalitarianism in that there are still comments made to Twitchell that would seem ill today – or at least be seen as a form of microaggression. A couple of examples of the limits of the seeming progress in the novel are the existence of the 'Negro question' and a Sunday school solely for 'Negro' children: people of colour are still being studied in a way that isolates their humanity and there still is segregation in schools.
In today's U.S. educational system, there is still a lack of information provided on Black history. Narratives disseminated by the majority touch on the injustices of the past but don't give as lengthy a history as Johnson did in this work of fiction. Light Ahead for the Negro holds up today in its ease of the use and framing of fiction around the historical. While it can always be studied more, in depth – it's available in its entirety in Flame Tree Publishing's Black Sci-Fi Short Stories anthology – it is inspiring to new writers as an aspirational endeavour, as there is so much untold Black history in this tradition of 'hard' (i.e., very detailed) historical fiction, which entertains as it informs.
The works of Toni Morrison are worth a mention here. Her novel Beloved is inspired by the true story of the escaped slave Margaret Garner. Pursued by those acting under the Fugitive Slave Act of 1850, Garner killed her two-year-old daughter to free her from a life of slavery. Before she could kill herself, she was captured. Morrison imagines the ghost of the slain child haunting the family of former slaves. Difficult stories like this must be told in part to convey the collateral damage caused by a system of injustice that still prevails today.
Is it possible to educate today's youth in the harsh realities of the past while still allowing them to dream and pursue a better tomorrow? Edward Johnson thought so.
---
Patty Nicole Johnson is a Black and Puerto Rican science-fiction writer. In her Chicago bungalow, she weaponises time travel, holograms, multiverses and more to envision a more equitable society. Her work has been published or is forthcoming in New American Legends, On the Seawall, Midnight & Indigo, Constelación and Flame Tree's Black Sci-Fi Short Stories. She primarily writes flash fiction and short stories, yet she's revising her debut novel, The Rhythm of Reveries. She was also a moderator and panellist for the FIYAHCON 2020 Virtual Conference for BIPOC+ In Speculative Fiction. Read her work at pattynjohnson.com, or find her on Twitter & Instagram at @pattynjohnson.
---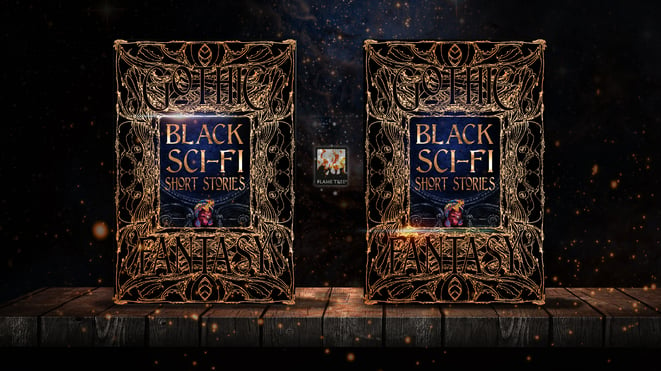 Black Sci-Fi Short Stories combines new stories with early speculative and proto-science fiction by Black writers of an older tradition. Alex Award-winning novelist Temi Oh provides the foreword, alongside an introduction by Sandra M. Grayson, author of Visions of the Third Millennium: Black Science Fiction Novelists Write the Future (2003). With invaluable promotion and editorial support from Tia Ross and the Black Writers Collective.
Dystopia, apocalypse, gene-splicing, cloning and colonization are explored within the collection by new authors and combined with proto-sci-fi and speculative writing of an older tradition (by W.E.B. Du Bois, Martin R. Delany, Sutton E. Griggs, Pauline Hopkins and Edward Johnson) whose first-hand experience of slavery and denial created their living dystopia. Many of the themes in Sci-fi reveal the world as it is to others, show us how to improve it, and give voice to the many different expressions of a future for humankind. You can find the full contents list here.
Don't forget to come back next week to hear all about our next quintessential black science fiction author on the list!