We're very pleased to announce the author lists for our upcoming short story collections Detective Mysteries and Epic Fantasy, due for publication in November 2019. As the latest in our flourishing series of Gothic Fantasy anthologies, the new books continue to pair contemporary takes on the themes with classic tales that have helped shape the genres as we know them today. We received a great response to our recent call for submissions, and we're delighted to now share the results of a selection process that has been both tough and rewarding: congratulations to the below and many thanks to all who submitted!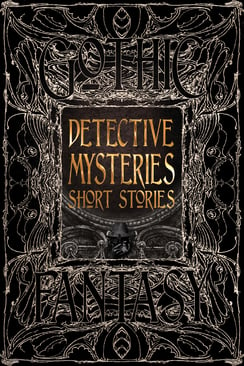 Detective Mysteries
The Case of the Disappearing Body by Daniel Brock
Murder Is My Middle Name by Elliott Capon
No Head for Figures by Philip Brian Hall
A Cat with a Gat by Tina L. Jens
Vandergiessen's Daughter by Tom Mead
Argent by Marshall J. Moore
Nobody Special by Pat Morris
Welcome to Paradise by Amelia Dee Mueller
A Problem with Threes by Trixie Nisbet
The Case of the Mislaid Plans by Patsy Pratt-Herzog
The Lady in Black by Michele Bazan Reed
The Hollow Man by Lesley L. Smith
The Murder at Karreg Du by Cameron Trost
These contemporary authors will appear alongside the following classic and essential writers: Margery Allingham, Robert Barr, Anthony Berkeley, Matthias McDonnell Bodkin, William Evans Burton, G.K. Chesterton, Carroll John Daly, Arthur Conan Doyle, Robert Eustace and Edgar Jepson, J.S. Fletcher, R. Austin Freeman, Jacques Futrelle, Susan Glaspell, Anna Katharine Green, Thomas W. Hanshew, E. and H. Heron, Herbert Jenkins, Maurice Leblanc, L.T. Meade and Robert Eustace, Arthur Morrison, Baroness Orczy, Catherine Louisa Pirkis, Melville Davisson Post, Edgar Wallace, Hugh C. Weir, Mrs Henry Wood.
Epic Fantasy
Faith in the Flame by Brian Bogart
The Pit of Wings by Ramsey Campbell
The Longest Night by Evey Brett
Neko Brushes by Leah Cypess
A Marvelous Deal by Kate Dollarhyde
Diplomatic Ties by Lucinda Gunnin
Naked Villainy by Joshua K. Haarstad
The Stones in the Garden by Anne Leonard
The Miller's Daughter by E.H. Mann
Chains of the Past by Alison McBain
Frozen Meadow, Shining Sun by Emily McCosh
A Runeprayer for Bjarvi by Dan Micklethwaite
The Tracks of the Pi Nereske by Wendy Nikel
Dragon's Moon by Mary O'Donnell
A World Without by Aimee Ogden
A Division of Six by Cassandra Taylor
Scars of Sentiment by M. Elizabeth Ticknor
Weave Us a Way by Nemma Wollenfang
These contemporary authors will appear alongside the following classic and essential writers: William Beckford, Ernest Bramah, Eric Rücker Eddison, Richard Garnett, Robert E. Howard, C. J. Cutcliffe Hyne, Andrew Lang, George MacDonald, William Morris, Edith Nesbit, Howard Pyle, Clark Ashton Smith, Chrétien de Troyes.
Once published, the books will be available to buy via our website book pages for Detective Mysteries and Epic Fantasy!
Links