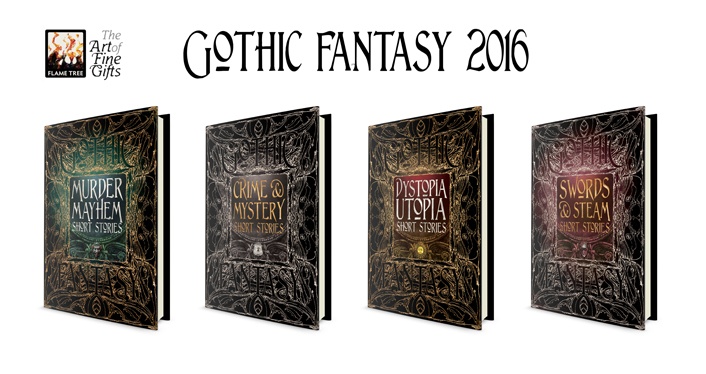 Continuing the successful format of our Gothic Fantasy deluxe hardcover anthologies, we're delighted to add a further two new titles to the series: Dystopia Utopia, and Swords & Steam. These join this year's Crime & Mystery and Murder Mayhem collections, and last year's editions on Horror, Ghosts and Science Fiction, and bring to the series the worlds of alternate realities, steampunk, historical fantasy and perfect or imperfect societies. Once again combining classic tales with new fiction, we include such greats as Fyodor Dostoevsky, Rudyard Kipling, Mary Shelley and Jules Verne, whose expertly crafted stories helped shape the genres as we know them today, and continue to inspire the modern authors we are excited to be able to publish alongside them. Yet again, our call for submissions was met with a fantastic response, which made the final selection a tough but enjoyable job.
We're thrilled to announce the full list of successful submissions for the latest two of our 2016 Gothic Fantasy deluxe anthologies.
Congratulations to all!
Dystopia Utopia
A Model Life by Kim Antieau
The Festival of the Cull by Steve Carr
Survival Instinct by Carolyn Charron
Glass by Megan Dorei
The Keepers of Madleen by Sarah Lyn Eaton
Order, Excellence, Prosperity by Michelle Kaseler
The Object of Worship by Claude Lalumière
The Woman I Used to Be by Gerri Leen
Greasing the Wheels of History by Konstantine Paradias
The New Law by Jeff Parsons
Walkers by Kelsey Shannahan
Islets of the Blest by Nidhi Singh
The Galaxy's Cube by Jeremy Szal
Lazarus Girl by J.M. Templet
Decision Day by Russ Thorne
The Interview by M. Darusha Wehm
No More Heroes by Andrew J. Wilson

These new authors will appear alongside the following classic and essential writers: Edward Bellamy, Samuel Butler, Robert W. Chambers, Fyodor Dostoevsky, Rokeya Sakhawat Hossain, Richard Jefferies, Rudyard Kipling, Jack London, Thomas More, William Morris, Mary Shelley, Voltaire.
Swords & Steam
Little Healers by Andrew Bourelle
Moon Skin by Beth Cato
Dear George, Love Margaret by Amanda C. Davis
Pax Mechanica by Daniel J. Davis
Fire to Set the Blood by Jennifer Dornan-Fish
The Fires of Mercy by Spencer Ellsworth
Sisters by David Jón Fuller
Advantage on the Kingdom of the Shore by Kelly A. Harmon
Spectrum by Liam Hogan
The Crime of a Windcatcher by B.C. Matthews
War Mage by Angus McIntyre
Pen Dragons by Dan Micklethwaite
Taking Care of Business by Victoria Sandbrook
Eli Whitney and the Cotton Djinn by Zach Shephard
Dressing Mr. Featherbottom by Amy Sisson
Vortaal Hunt by Brian Trent

These new authors will appear alongside the following classic and essential writers:John Buchan, Robert W. Chambers, L. Maria Child, Arthur Conan Doyle, Friedrich de la Motte Fouqué, George Griffith, Edward Everett Hale, Nathaniel Hawthorne, E.T.A. Hoffman, Robert E. Howard, Washington Irving, Percival Leigh, A. Merritt, Edward Page Mitchell, Edgar Allan Poe, Howard Pyle, Walter Scott, Mary Shelley, Robert Louis Stevenson, Jules Verne.
So again, congratulations to all. We will provide further updates when we have them.
Links
Our post announcing the Call for Submissions is here.
To see last year's Gothic Fantasy Short Story titles, click here