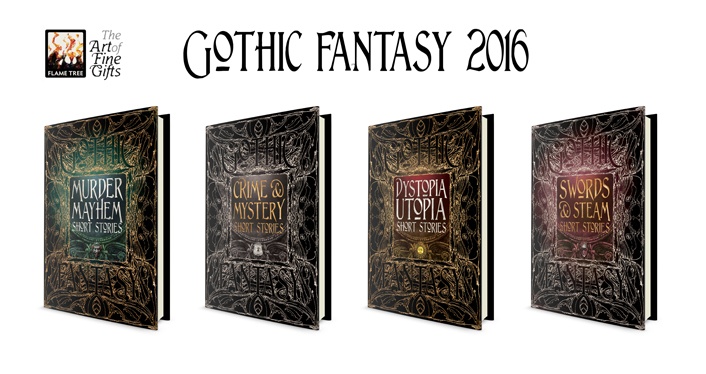 Building on the success of last year's Gothic Fantasy anthologies, deluxe hardcover editions on Horror, Ghosts and Science Fiction, we're thrilled to be adding two new titles to the collection: Crime & Mystery, and Murder Mayhem. Once again offering up the potent mix of classic tales and new fiction, we take a fascinating look back to the origins of the genre from golden age detective whodunnits to chilling horror-based tales of murder. We're including such auspicious names as Arthur Conan Doyle, Edgar Allan Poe, G.K. Chesterton and William Hope Hodgson, who masterfully crafted stories that are still worth reading today, and that continue to inspire the modern authors we are excited to be able to publish alongside them. Our call for submissions was met with a fantastic response, and though the final selection was tough, we thoroughly enjoyed reading so many new tales of mayhem and intrigue.
We're delighted to announce the full list of successful submissions for the first two of our 2016 Gothic Fantasy deluxe anthologies.
Congratulations to all!
Crime & Mystery
The Cost of Security by Tara Campbell
Skitter and Click by Jennifer Dornan-Fish
Paperboxing Art by James Dorr
Home Run by Marcelle Dubé
Suggestive Thoughts by H.L. Fullerton
I Am Nightmare by Jennifer Gifford
Three Words by Nathan Hystad
The Marionettist by John A. Karr
Mechanical Love by Kin S. Law
iMurder by Josh Pachter
Creature of the Thaumatrope by Tony Pi
The Whipping Boy by Conor Powers-Smith
The Man Wore Motley by Stephen D. Rogers
The House by Steve Shrott
Catzized by Annette Siketa
Ghosts, Bigfoot and Free Lunches by Dan Stout
Blood and Silver Beneath the Many Moons by Brian Trent
Murder on the Cogsworthy Express by Cameron Trost
Chains of Command by Sylvia Spruck Wrigley and Ruth Nestvold

These new authors will appear with the following classic and essential writers: Ernest Bramah, G.K. Chesterton, Wilkie Collins, Richard Harding Davis, Charles Dickens, Arthur Conan Doyle, R. Austin Freeman, Jacques Futrelle, Anna Katharine Green, Arthur Griffiths, E.W. Hornung, Maurice Leblanc, Jack London, Arthur Morrison, Edgar Allan Poe, Arthur B. Reeve, Mark Twain, Edgar Wallace, Victor L. Whitechurch, Israel Zangwill.
Murder & Mystery
The Wendigo Goes Home by Sara Dobie Bauer
Funeral by Michael Cebula
Into the Blue by Carolyn Charron
Mr. Happy Head by James Dorr
Nineteen Sixty-Five Ford Falcon by Tim Foley
Mama Said by Steven Thor Gunnin
Six Aspects of Cath Baduma by Kate Heartfield
Freedom is not Free by David M. Hoenig
How to Build a Mass Murderer by Liam Hogan
The Two-Out-of-Three Rule by Patrick J. Hurley
Getting Shot in the Face Still Stings by Michelle Ann King
Less than Katherine by Claude Lalumière
Shared Losses by Gerri Leen
Drive Safe by K.A. Mielke
Redux by Alexandra Camille Renwick
The First Seven Deaths of Mildred Orly by Fred Senese
Mister Ted by Donald Jacob Uitvlugt
Corpses Removed, No Questions Asked by Dean H. Wild
Fragments of Me by Nemma Wollenfang

These new authors will appear with the following classic and essential writers: Ambrose Bierce, Steen Steensen Blicher, G.K. Chesterton, Wilkie Collins, Charles Dickens, Dick Donovan, Arthur Conan Doyle, William Hope Hodgson, E.T.A. Hoffman, Robert E. Howard, W.W. Jacobs, Franz Kafka, Rudyard Kipling, H.P. Lovecraft, Edith Nesbit, Edgar Allan Poe, Arthur B. Reeve, Robert Louis Stevenson, Bram Stoker, Ethel Lina White, Oscar Wilde.
So again, congratulations to all. We will provide further updates when we have them.
Links
Our post announcing the Call for Submissions is here.
To see last year's Gothic Fantasy Short Story titles, click here