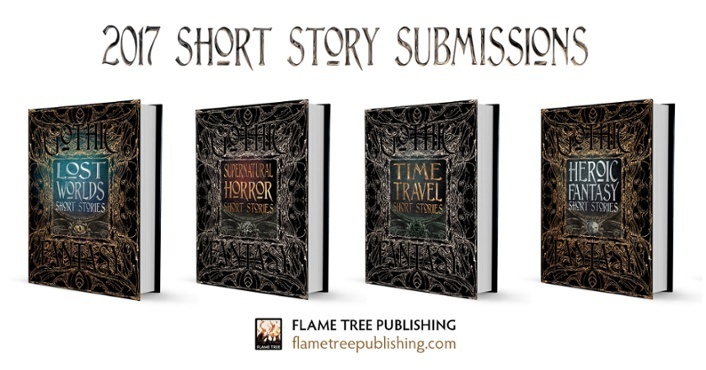 Following on from our recent blog on the successful submissions for Supernatural Horror and Lost Worlds, we proudly present the selected short stories for this year's Time Travel and Heroic Fantasy anthologies. They join our growing range of deluxe hardcover themed anthologies, which can be found here.
With nearly 2000 submissions across the four anthologies, this year's selection process was a truly difficult but enjoyable task. Past and future intertwine in the Time Travel volume, which gathers together the best of today's fresh talent alongside a selection of the 'timeless' short fiction that helped form the genre. Meanwhile, majestic mythical beasts abound in the Heroic Fantasy collection, with adventures in sorcery, swordplay, and fantastical lands also bringing original tales from contemporary authors together with classic storytelling.
Time Travel
The Meaning That You Choose by Bo Balder

Shaping Things to Come by Dominick Cancilla

The Shape of My Name by Nino Cipri

Hostage by Kate Estabrooks

Try, Try Again by K.L. Evangelista

All for Bellkins by Tony Genova

Murder or a Duck by Beth Goder

Cattail Heart by Kate Heartfield

Eternity and the Devil by Larry Hodges

Two Children Reported Missing by Scott Merrow

Striking Light by Samantha Murray

Ouroboros by Chris Reynolds

The Berlin Doctrine by Anton Rose

Omnipunks by Brian Trent

A Brain, A Heart, A Home, The Nerve by Valerie Valdes

This Door Is Locked by Adam Vine

These new authors will appear alongside the following classic and essential writers: F. Anstey, Edward Bellamy, John Buchan, L. Maria Child, Charles Dickens, Rudyard Kipling, Jack London, Harold Steele Mackaye, Edward Page Mitchell, William Morris, Philip Francis Nowlan, Edgar Allan Poe, Mark Twain, H.G. Wells.


Heroic Fantasy
A Matter of Interpretation by M. Elizabeth Ticknor

Burned Away by Kate O'Connor

Dragon and Wolf by Zach Chapman

Erzabet and the Gladiators by Susan Murrie Macdonald
Five Fruits I Ate in Sandar Land by Michael Haynes

Laya by Voss Foster

The Mage's Tower by Beth Dawkins

Oaths Betrayed by A. Creg Peters

Of the Generation by Therese Arkenberg

Ravenblack by Alexandra Renwick

Rhosyn am Ufel by Erin Gitchell

Those Who Wear Their White Hair Proudly by Lauren C. Teffeau

Three Hundred Pieces by David Busboom

To the Ends of the Earth by Amy Power Jansen

The Tremor Road by Tony Pi
The Usual Price by Joanna Michal Hoyt


These new authors will appear alongside the following classic and essential writers: Clark Ashton Smith, John Buchan, Snorri Sturluson, Homer, Robert E. Howard, A. Merritt, Geoffrey Chaucer, Andrew Lang, Howard Pyle, William Morris, Eric Rücker Eddison, with the text of Sir Gawain and the Green Knight and extracts from Beowulf, The Nibelungenlied and The Song of Roland.
So again, congratulations to all! We will provide further updates when we have them.

Links
• Our post announcing the Call for Submissions is here.
• To see the full Gothic Fantasy Short Story series, click here.