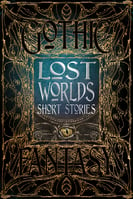 In anticipation of the release of our Lost Worlds anthology, we got in touch with some of the authors behind the new short stories in order to hear about the inspiration behind their contribution, as well as their thoughts on the genre and the writing process itself. In the first of 2 blogs this week, the responses below provide a tantalising glimpse into a few of the chosen tales: mysterious lands and intrepid explorers soon to be unleashed into the book world…
The following answers were received in response to the question:
What was the inspiration for your Lost Worlds story?
Thomas Canfield – The Temple of the Cat
'Inspiration' is perhaps too grandiose a term in my case but I would have to cite William Prescott's A History of the Conquest of Peru. It may seem odd citing an historical work, one, moreover, written in the nineteenth century, as source material for a fictional tale. But few better accounts of the conquest of the Incan Empire have been written. It is a story that is always engaging, frequently fascinating and a fount of ideas and plotlines. It also, in fact, chronicles a real life 'Lost World' and in a manner that is as gripping and readable as any piece of fiction. Anyone with an interest in the subject cannot go wrong giving Prescott a look.
I started with the premise of a protagonist searching for something (or someone) important in a watery, prehistoric world, but I chose Baryonyx as my star because it's an incredible dinosaur that most people have never heard of. Baryonyx is often glossed over in pop culture, and I wanted a story that put this amazing animal in the spotlight alongside other dinosaurs from Early Cretaceous Europe.
'An Echo of Gondwana' started life as a dream – the most vivid impression of a starlit wilderness, and I was aware there were dinosaurs in the dark, a herd of small bipeds, then the polar allosaur came out of the trees and seemed to look into my soul. I had to recapture the feelings in that momentary impression! The painting I mention, Isaac Whitehead's 1857 masterpiece In the Sassafras Valley, Victoria (pictured below), served as an almost immersive visual experience reinforcing the feelings.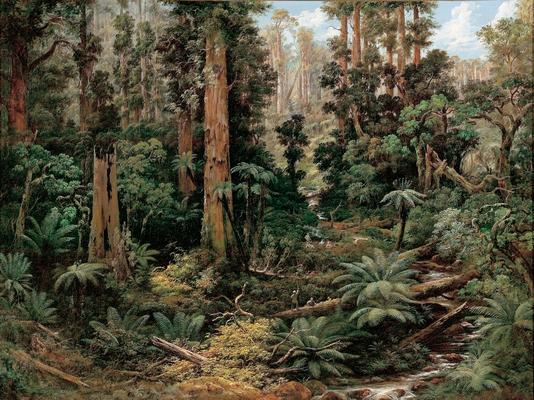 Image courtesy of the Art Gallery of South Australia, Adelaide
My inspiration for Wolf Brother's Song was the image of an explorer singing because he thinks he has escaped with his friend, a wolf-like telepathic creature.
My story, "The Shell Spire," was a strange situation. I dreamed the whole thing. Having dreams that turn into stories is nothing new for me, but this one was complete from start to finish with a shockingly clear cinematic quality. The challenge for me was to translate what made perfect sense in my subconscious, dreaming mind into a story that was accessible to readers not privy to my inner mind.
Lake Vostok has been covered by a mile of Antarctic ice for the last 10-25 million years. The idea of a perfectly preserved ecosystem became the germ of my story. From there, it wasn't much of a leap to go full-out Conan Doyle and put a Lost World under that thick ice, then add a tough bunch of workers just doing their job who are surprised by what they stumble across.
Michael Penncavage

– The Matter Concerning Mr. Symmes and the Hollow World

It was a lot of fun to write this story about this man who lived back in the late 1700s. The declaration that begins my story was actually written by Symmes himself. His expedition never came to be but I though this would make a great "what if?" story.

As a child, I spent a lot of time at my grandparent's home. Beyond their yard and garden, they had 25 acres of woods threaded with deer trails. I would spend hours exploring, daydreaming and playing. It was idyllic. But, if I lingered as twilight descended and the tree trunks darkened, the mood of the place would shift for me. I knew there was nothing to be scared of, but everything would take on a quiet eeriness, and I would waste no time getting home.
David Sklar – A Map of Illusions
This story was written for the Art & Words show 'Art & Words Selections' curated by Bonnie Jo Stufflebeam. Each writer or visual artist submits one original piece, and then if you're a writer, one of the artists will illustrate your story, and you'll base a new poem or story around a piece of art in the show. So each participant submits one piece at the start and does another piece inspired by something else in the show. "The Caliph of Unseen Places" was my take on the painting Hover (pictured right) by Todd Ford.
Image courtesy of Todd Ford
James C. Simpson – The Road to Cathacara
Cathacara is something that I had created that derived from the mythology of H.P. Lovecraft. It exists in that same realm as his own. Cathacara appears to be in name, something like a distant land or place and that confuses many. Cathacara is actually a god of some sort that feeds on blood and hatred. War is obviously the preferred dwelling place for such a thing and it's the remnants of a past war that form the basis for this story. 'The Road To Cathacara' is actually a semi-sequel to a previous story entitled 'He Who Has Seen Cathacara', which was set during the final days of the First World War. There's certainly a thread of existentialism and a hint of religious and spiritual fear that runs through it. Take that for what you will. Cathacara has its own text and it is as horrific a find as the Necronimicon or The King In Yellow. The words of the forgotten tome are supposed to draw the unwary to Cathacara, which is suggested in the tome, hinting at a cycle that may have concurred for quite some time.
I don't remember precisely what the initial seed was, but almost the entire subsequent story grew out of research and sheer good fortune. Having decided to set a weird tale on a mountainside, I started reading about Kangchenjunga - which led to details about the occultist Aleister Crowley, who I hadn't realised until then was a mountaineer. As I learned more about both Kangchenjunga and Crowley's disastrous attempt to climb it, the story really did begin to write itself.
When I was a very small child, I saw a stage play that opened with a re-enactment of the story of Sedna. The image burned itself into my mind; this young woman clinging to the side of a boat as her father hacked away at her fingers, then sinking to the ocean floor and becoming a monster (yet also a goddess) who tangles animals in her hair. That combined with my love of Asian horror, which contains many horrific images involving women's hair. The story actually started with that final image of Jonas in the umiak and grew from there.
John Walters – The Lady of the Lost Valley
This is one of those rare stories whose initial inspiration came to me in a dream. I saw the lady of the lost valley on the railway platform with her acolytes carrying her incredibly long hair behind her. The vision was so intense and unusual that upon awakening I immediately wrote it down. I also drew on my wanderings alone in the Himalayas in the 1970s as a hippy traveler.
Tune in tomorrow for Part 2 of our Lost Worlds Author Q&A, where we find out some of our authors' favourite tales from the genre, and learn how they go about setting their own ideas down!
Links