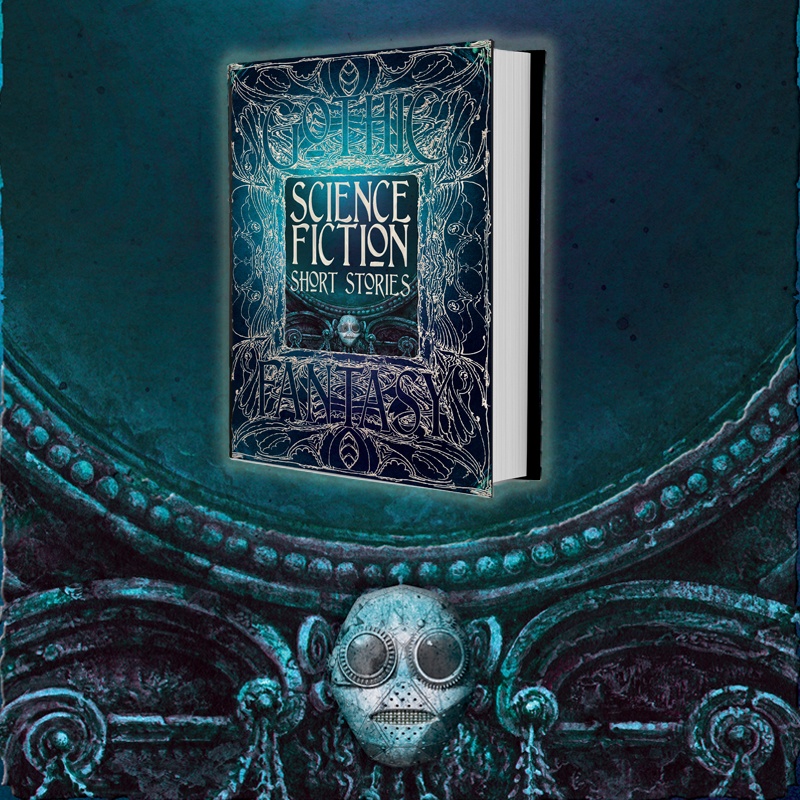 Our forthcoming Gothic Fantasy anthologies feature an explosive mix of new and classic writers. We've released the list of new authors, and their stories, now here are the biographies of Science Fiction Short Stories. Some are first time writers, others have had stories printed in magazines and story collections before.
---
Edward Ahern The Body Surfer (Originally Published in Aphelion, 2012)
Ed Ahern resumed writing after 40-odd years in foreign intelligence and international sales. He has his original wife, but advises that after 47 years they are both out of warranty. He's had over 80 stories and poems published thus far, as well as two books: his collected fairy and folk tales The Witch Made Me Do It (Gypsy Shadow Publishing) and the mystery/horror novella The Witches' Bane (World Castle Publishing). Ed speaks German, French and Japanese in that order of proficiency, and dissipates his free time fly-fishing and shooting.
Stewart C. Baker Behind the First Years (Originally Published in COSMOS, 2013)
Stewart C. Baker is an academic librarian, haikuist and speculative fiction writer. His short stories have appeared in COSMOS, Daily Science Fiction, Nature and Flash Fiction Online, and his poetry has appeared in various haiku and speculative magazines. Stewart was born near London, has spent time in South Carolina, Japan and California, and now lives in Western Oregon with his wife and children. You can find more on his website at infomancy.net
Keyan Bowes Genetic Changelings (First Publication)
Keyan Bowes is a peripatetic US-based author. A graduate of the 2007 Clarion Workshop for Science Fiction and Fantasy Writers, Keyan has had work accepted by Cabinet des Fees, Expanded Horizons, Big Pulp and Strange Horizons, as well as featuring in ten anthologies. Two stories have appeared in a German and a Polish magazine (in translation). She is currently rewriting two YA novels in the contemporary fantasy adventure genre. 'The Rumpelstiltskin Retellings', a story in poetry-blog format, was made into an award-winning short film. See more here: www.keyanbowes.com
Beth Cato Overlap (Originally Published in Cucurbital 3, Paper Golem, 2012)
Beth Cato hails from Hanford, California, but currently writes and bakes cookies in a lair west of Phoenix, Arizona. She shares the household with a hockey-loving husband, a numbers-obsessed son and a cat the size of a canned ham. She's the author of The Clockwork Dagger (a 2015 finalist for the Locus Award for Best First Novel) and The Clockwork Crown from Harper Voyager. Her short fiction is in Beneath Ceaseless Skies, InterGalactic Medicine Show and other venues. Follow her at BethCato.com and on Twitter at @BethCato
Sarah Hans Rest in Peace (Originally Published in Bless your Mechanical Heart, Evil Girlfriend Media, 2014)
Sarah Hans is an award-winning editor, author and teacher. Sarah's short stories have appeared in about a dozen publications, but she's best known for her multicultural steampunk anthology Steampunk World, which appeared on io9, Boing Boing and Entertainment Weekly Online and won the 2015 Steampunk Chronicle Reader's Choice Award for Best Fiction. You can find Sarah floating in the ether above Columbus, Ohio, or online at sarahhans.com
Rob Hartzell The Hives and the Hive-Nots (First Publication)
Rob Hartzell is a graduate of the University of Alabama MFA program. He lives and works in Morrow, Ohio, and is presently at work on a story cycle entitled Pictures of the Floating-Point World, from which 'The Hives and the Hive-Nots' is taken. Rob is also trying to find a home for his novel The Virtual Book of the Dead. His work has most recently appeared, or will appear, at Milkfist, The Black Rabbit and the Startling Sci-Fi: New Tales of the Beyond anthology from New Salon Lit Publications.
Alexis A. Hunter The Vast Weight of Their Bleeding Hearts (Originally Published in Goldfish Grimm's Spicy Fiction Sushi, 2013
Alexis A. Hunter revels in the endless possibilities of speculative fiction. She frequently writes stories featuring robots, artificial intelligences and synthetic life. Her current inspirations are A. Merc Rustad and Natalia Theodoridou – both of these writers deliver powerful tales, gorgeously rendered with depths Alexis hopes to achieve in her own works. Over fifty of Alexis' short stories have appeared recently in Shimmer, Flash Fiction Online, Fantastic Stories of the Imagination and more. To learn more, visit www.alexisahunter.com
Rachael K. Jones Makeisha in Time (Originally Published in Crossed Genres, 2014)
Rachael K. Jones is a speculative fiction author living with her husband in Athens, Georgia. A winner of the 'Writers of the Future' contest, her work has appeared or is forthcoming in many venues, including Shimmer, Lightspeed, Accessing the Future, Strange Horizons, Escape Pod, Crossed Genres, Diabolical Plots, InterGalactic Medicine Show, Fantastic Stories of the Imagination, The Drabblecast and Daily Science Fiction. She is the co-editor of PodCastle, is a SFWA member and is also a secret android. Follow her on Twitter @RachaelKJones
Jacob M. Lambert The Julius Directive Originally Published in Encounters Magazine, 2015)
First place recipient of the Scott and Zelda Fitzgerald short story award, Jacob M. Lambert has published with Midnight Echo: The Magazine of the Australian Horror Writers Association, Siren's Call Publications and more. He lives in Montgomery, Alabama, where he teaches English Composition and is an editorial assistant for The Scriblerian and the Kit-Cats, an academic journal pertaining to English literature of the late seventeenth-and early eighteenth-century. When not writing, he enjoys time with his wife, Stephanie, and daughter, Annabelle.
Adrian Ludens Metsys (Originally Published in Chrome Baby, 2013)
Adrian Ludens is a dark fiction author who lives with his family in Rapid City, South Dakota. A member of the Horror Writers Association his favorite and recent anthology stories include: Blood Lite III: Aftertaste (Pocket Books), Shadows Over Main Street (Hazardous Press), Darker Edge of Desire (Tempted Romance), Insidious Assassins (Smart Rhino Publications), Surreal Worlds (Bizarro Pulp Press) and the Mammoth Book of Jack the Ripper Stories. Visit him at www.adrianludens.com
Mike Morgan Fishing Expedition (First Publication)
Mike was born in London, England, but has also lived in Stoke-on-Trent, Japan, Houston and Iowa. He has been writing for many years, but most recently has had work accepted by Pole-to-Pole Publishing, Uffda Press and Martian Wave. When he's not writing short stories, Mike is a regular contributor of articles about science fiction TV and movies to the website WhatCulture.com, where he has accumulated 1.5 million views. You can follow him on Twitter @CultTVMike
Kate O'Connor Red (Originally Published in Penumbra, 2012)
Kate O'Connor was born in Virginia in 1982. She graduated with a degree in Aeronautics from Embry-Riddle Aeronautical University, Prescott, and now lives in the New York area. Kate has been writing science fiction and fantasy since 2011. In between telling stories, she flies airplanes, digs up artifacts (as an archaeology field technician) and manages a kennel full of Airedales. Her short fiction has most recently appeared in Accessing the Future, Intergalactic Medicine Show, Escape Pod, and Daily Science Fiction.
Conor Powers-Smith Nude Descending an Elevator Shaft (Originally Published on The Tomorrow Project website, 2013)
Conor Powers-Smith grew up in New Jersey and Ireland. He currently lives on Cape Cod, in Massachusetts, where he works as a reporter. His stories have appeared in AE, Daily Science Fiction, Nature and other magazines, as well as several anthologies. He is a big fan of science, especially evolutionary biology and theoretical physics, and wishes he had paid more attention in school. Most of his favourite speculative fiction was written by Wells, Vonnegut, Pratchett, Lovecraft, King, Huxley, Bradbury, or Adams.
Zach Shephard Sweet Dreams, Glycerine (First Publication)
Zach Shephard lives in Enumclaw, Washington, where he plays board games, gorges on ice cream and spends the entire summer looking forward to fall. He believes recreational reading is best done at state parks, preferably in close proximity to flowing water. Zach's fiction has appeared in Intergalactic Medicine Show, Weird Tales, Daily Science Fiction and the Unidentified Funny Objects anthology series. He's a big fan of Roger Zelazny, and would probably never have started writing if not for the battered copy of Nine Princes in Amber on his bookshelf.
David Tallerman Jenny's Sick (Originally Published in Lightspeed Magazine, 2010)
David Tallerman is the author of the comic fantasy novels Giant Thief, Crown Thief and Prince Thief, the absurdist steampunk graphic novel Endangered Weapon B: Mechanimal Science and The Sign in the Moonlight and Other Stories, a collection of pulp-styled horror and dark fantasy fiction. His short fantasy, science fiction and horror stories have appeared in around seventy markets, including Clarkesworld, Nightmare, Lightspeed and Beneath Ceaseless Skies, and his genre-bending debut novella Patchwerk is due from Tor.com in early 2016. David can be found online at davidtallerman.co.uk and davidtallerman.blogspot.com
Brian Trent Shortcuts (Originally Published in COSMOS, 2014)
Brian Trent is a prolific writer whose fiction appears regularly in ANALOG, Fantasy & Science Fiction, Daily Science Fiction, Escape Pod, COSMOS, Galaxy's Edge, Nature, Crossed Genres and more. He was a 2013 winner in the 'Writer of the Future' contest and a 2013 winner for Story of the Year from Apex Magazine. His literary influences are varied, and his interests include technology, classical history and sociology – particularly the interplay between all three. Brian lives in New England, where he is a novelist, poet and screenwriter.
Patrick Tumblety A Life As Warm As Death (First Publication)
Patrick's writing explores psychological horror and its ongoing battle against the human spirit. His work has been described as being able to deliver both 'genuine fear and genuine hope.' (Amy H. Sturgis – Award Winning Author). His first published release was 2012's Dark Passages, a collection of original thrillers. Since his debut, his work has been featured in a variety of notable publications, such as Ross E. Lockhart's Tales of Jack The Ripper from Word Horde Press, Miseria›s Chorale by Forgotten Tomb Press and Fossil Lake from Sabledrake Enterprises, edited by Christine Morgan. Patrick›s work also appears in film, television and photography. He currently lives in Delaware with his wife, Kathleen, and their cat, Dusty.
Donald Jacob Uitvlugt Butterfly Dreams (Originally Published in Crossed Genres, 2010)
Donald Jacob Uitvlugt lives on neither coast of the United States, but mostly in a haunted memory palace of his own design. His short fiction has appeared in print and online venues such as Havok Magazine and AnotherDimensionMag.com, as well as the forthcoming anthology Mark of the Beast. He also regularly serves as a judge at the weekly one-on-one writing competition at TheWritersArena.com. Donald strives to write what he calls "haiku fiction": stories small in scope but big in impact. If you enjoyed 'Butterfly Dreams', let him know at his blog haikufiction.blogspot.com or via Twitter @haikufictiondju
M. Darusha Wehm The Care and Feeding of Mammalian Bipeds, v. 2.1 (Originally Published in Escape Pod, 2012)
M. Darusha Wehm is the three-time Parsec Award shortlisted author of the novels Beautiful Red, Self Made, Act of Will and The Beauty of Our Weapons. Her most recent novel, Children of Arkadia (Bundoran Press), is now available everywhere. Her short fiction has appeared in many venues, including Andromeda Spaceways Inflight Magazine, Toasted Cake and Escape Pod. She is the editor of the crime and mystery magazine Plan B. She is originally from Canada but currently lives in Wellington, New Zealand, after spending the past several years traveling at sea on her sailboat. For more information visit darusha.ca
Nemma Wollenfang Clockwork Evangeline (Originally Published on Titan Books online, 2014)
'Clockwork Evangeline' is Nemma's prize-winning story. It won first place in the Steampunk Style Short Story Competition 2014 run by Steampunk Journal and was published online by Titan Books. An MSc postgraduate of Vector Biology and Parasitology, she studied at Keele, Salford and Manchester Universities. Her work has been long/shortlisted on several occasions and has appeared or is upcoming in 18 different publications, including: Come Into the House (Corazon Books), A Bleak New World (Raven International Publishing) and Calliope Magazine. Her unpublished novel was also shortlisted for the Writers' Village International Novel Award in 2014. Follow her on twitter: @NemmaW
LINKS
We have a number of other posts on the Gothic Fantasy short story collections: