Our new release Terrifying Ghosts Short Stories is the latest instalment in our thriving series of Gothic Fantasy anthologies! The collection combines tales by modern authors with classic fiction from the genre, so fresh perspectives and frights accompany work by M.R. James, Edith Nesbit, Lafcadio Hearn, E.F. Benson and other such greats. Here to give a sneak peak of what to expect on the modern side, authors from the book share the inspiration behind their contributions...

What was the inspiration behind your story in this anthology?
Several things came together for this one. Visiting Lake Vyrnwy with its sunken village and Gothic straining tower put me in mind of the Lady of Shalott. I wanted to write a gothic love story where a bisexual heroine finally meets her Lady of the Lake (who has a literal body of water) and rather than dying for stepping outside of her expected role, finds freedom with her.
This will sound like I cribbed it from The Turn of the Screw, but it's all true. I had cousins whose father was much older than their mother, who was my mother's sister. His aristocratic English roots were visible everywhere in their shabbily genteel Victorian house on the New England coast. After she spent a night in it, my mother swore his heirloom canopied bed was haunted. I believed her then, and still do.
I can't recall where I came upon this – maybe on the radio – but years ago I learned that once upon a time trains did indeed stop at the kind of place Peacehaven proves to be. Add to that the experience of waiting on a lonely station late at night, when it starts to seem as if you'll never see another train, and you have my tale. Often stories of mine are generated by the mating of ideas I've had at different times, sometimes years apart.
'Ones and Zeros' was originally written for The Ghastling magazine, who were seeking stories on the theme of the number 10. That led me to thinking about binary number systems, and what happens when you place someone who believes rigidly in facts and figures in an inexplicable situation. I coupled that with an interest in non-traditional haunted house stories, which led me to my own 'Number 10' – a haunted cottage in the country.
The concept began while I was trick-or-treating with my kids, watching them take candy from strangers, after years of telling them to not take candy from strangers. That kernel of an idea collided with the experience of going through a divorce, and being haunted by memories, and the old saying 'No matter where you run, you can't run from yourself'.
The inspiration behind my story is a long term, rather obsessive relationship with Bluebeard. I mixed it into a pot with ideas of intergenerational trauma and how ghosts of the past don't just linger, they actively try to hold you in place, stuck, flailing, unable to move on. Looking past Bluebeard, I followed the tale of his daughter, still attached to her brutalised mother with a psychic umbilical cord, a mother who won't let go.
The inspiration for this story was a woodcutting of a skeleton wearing what appeared to be a bridal veil. This inspired a very clear mental image of a skeleton rising from a grave with a tarp still attached to it, flapping in the breeze like a veil, and the rest of the story just kind of flowed from there. I thought it would be really fun to write a story from the ghost's POV, for once, too, and so 'The Cold Earth' was born.
Sean Hogan – My True Love Gave to Me
I don't know that there was anything in particular that inspired 'My True Love Gave to Me', but I can certainly speak as to the genesis of the story. Some years ago, a friend approached me with the idea of filming a short Christmas ghost story for the horror website she was then working for. Being a big fan of the tradition, I instantly agreed, and wrote a scripted version of 'My True Love Gave to Me'. Subsequently, the owner of the site decided he didn't want to finance the short, and so into the trunk the story went. And although I did eventually end up filming a Christmas ghost story for the same friend, it was under different circumstances and with a different scenario entirely. But I never quite forgot that original script, and so when I saw the call for submissions for Terrifying Ghosts, it occurred to me that it might be possible to turn it into a prose story. Nothing is ever wasted!
I write about my fears in an attempt to understand them, to tame them. Here, it was fear for my grandmother who was living in the isolation that so many have endured during the pandemic, though thankfully the similarities between Ethel and Grandmother Kennett end there. I wanted to explore the length someone might go to, cut off from society and haunted by memory, to be seen by the living, instead of the dead.
John Kiste – An Inverted Haunting
I have never seen a tale about a haunted house that was haunted everywhere but within the house. And I felt a ghost that could appear in water coolers and in front of the windshield while you were driving fit the category of terrifying. I wrote the story 'An Inverted Haunting' specifically for this anthology and am thrilled to be included.
I wanted to write a ghost story that thoroughly took advantage of Philadelphia as a setting, and I was tired of all the ghost stories I read having cisgender protagonists.
I participated in a Halloween event at a local writers festival where myself and three other authors (J.H. Moncrieff, David Demchuk, and Adam Petrash) had the opportunity to stay overnight in a haunted house, with the end goal being to write a ghost story for a limited edition chapbook. Though I didn't encounter any spirits, I was inspired to write 'Floating Ghosts' thanks to the house (which is now a museum) and its Victorian Gothic beauty.
J.A.W. McCarthy – We Were Supposed to Be Happy
The first scene – a young woman coughing up her mother's spirit into the sink – came to me and I ran with it, building from there. As the story progressed, I developed the themes of duality and people's perceptions of us versus who we really are. I've always loved ghost and possession stories, so I wanted to write from the point of view of a young woman who possesses her sister's body and learns who her sister really is.
I'm a big fan of samurai stories, and the Japanese yokai are so different from Western notions of ghosts that I wanted to try my hand at combining the two for Terrifying Ghosts. I enjoyed writing Yukiko so much that I've written another story featuring her, 'Nure-Onna', which releases this August as part of Tyche Books' Sirens, Selkies, and Sea Monsters anthology.
'Theater Crowd' is a conscious riff on one of my favourite stories from Ray Bradbury's The October Country: 'The Crowd'. I always loved how Bradbury took an everyday event – gathering at the scene of a car accident – and turned it into something supremely eerie. My story attempts to do the same for the simple act of attending a matinee screening, as movie-going (at least at this particular cineplex) provides a more thrilling experience than the protagonist ever could have imagined.
In my twenties, I lived in a largely Irish Boston neighbourhood. One night I ended up at a bar with an old off-the-boat Irishman. He pontificated on literature and, because I could quote passingly from Macbeth, staked me to free drinks. I've never forgotten him. The supernatural part of my narrative: one of my aunts was born with a caul (face membrane) which supposedly bestows second sight. My Irishman and the caul joined for this story.
Michelle Tang – The Sounds of a Bamboo Forest
The inspiration to 'The Sounds of a Bamboo Forest' actually came from my mother's trip to Japan. Her favourite place to visit was a bamboo forest, and she told me how peaceful it was to be there. When I saw the photo, I noticed how densely packed the trees grew, and how tall they reached. It made me consider how bamboo is often symbolic of peaceful contemplation, and I wondered if I could create a setting where the surrounding bamboo could be unsettling instead.
Jeffrey Thomas – Praying That You Feel Better Soon
Though my story might remind some readers of a certain Doctor Who creature, I assure you it was written years earlier! Like my character Will, my maternal grandfather was employed by his town's Department of Public Works. My inspiration for the setting was Pine Grove Cemetery in Westborough, Massachusetts, where my parents and other relatives are interred. Fortunately, there are no creepy angel statues therein (but there is a bronze statue of the god Pan).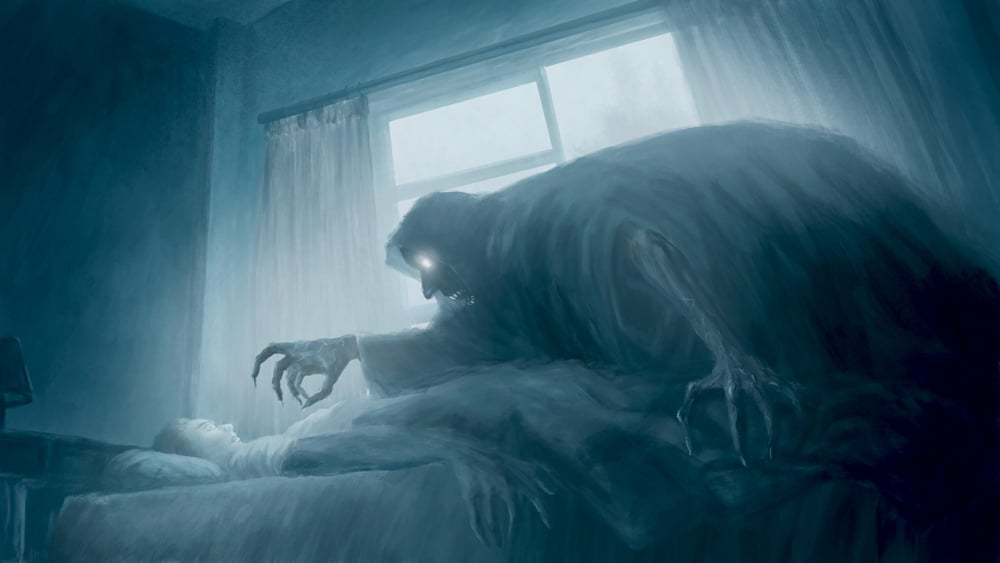 To read these stories and more, buy the book from our website here!
Links