Ever since Britney Spears used Josephine Wall's paintings on her website in 2005, Josephine has been one of the most popular fantasy artists in the world. Her paintings depict everything from the Zodiac to goddesses from different world mythologies to well known stories and fables, and with Halloween right around the corner, there is no better time to celebrate the creator of this beautiful imagery of these mythological figures.
Creating Her Own Myth
Josephine was born in Farnham, Surrey in May 1947. When she was 14, she and her family moved to Poole, Dorset, and when she went to university, she studied fine art at Bournemouth College. Her first job after graduating was at Poole Pottery, where she designed and painted Delphis ware.
In 1974, a few of her paintings were exhibited in Teheran and Tokyo, and in 1975, she had her first solo exhibition in Swindon.
The Second Coming
Her second solo exhibition didn't take place until 1990 because she took these 15 years to raise her three children. That's not to say she wasn't painting and creating during that time: she was still exhibiting both locally and abroad. Also during this year, Josephine and her paintings were the subject of a special on Southern Television in the UK.
In 1991, she held her third solo exhibition, and in 1993, she signed contracts with F.J. Warren in England and Genius in Switzerland in order to grow her audience. These contracts allowed her to publish her work in the forms of posters, cards and framing prints, and to distribute her work worldwide.
In 1996, Josephine signed a licensing agreement with Art Impressions in Los Angeles, California, which allowed for many more commercial opportunities for her work. Products such as mugs, puzzles, journals and needlepoint kits featuring some of Josephine's work are now sold worldwide thanks to this contract.
In 1998, five of Josephine's pieces were selected for an exhibition at London's renowned Mall Gallery, and in 2004, she had her first exhibition at the New York Art Expo.

Making It Big
In 2005, she exhibited at the Art Expo again, and in the same year, she received a nomination for one of the ARTV awards. Britney Spears liked Josephine's work so much that she requested the use of Josephine's paintings for her then-new website. She also bought a few pieces and Josephine painted an original work just for her.
Josephine's Zodiac series was painted in 2006, and in 2007, 10 of her prints were sold at auction on Carnival Cruise ships. In 2007, she was also asked to be Guest Artist on the Oriana, where she gave painting demonstrations, held Q&As and exhibited six of her original paintings.
She did two tours of Florida, the first in 2008, and the second in 2009. She exhibited her work, did book signings and attended the Cherry Blossom Ball. During this time, she was also asked to showcase some of her work on the Isle of Wight with other members of the Society for Art of Imagination.
In 2010, she opened her own gallery in Dorset. In her gallery, she shows her own work, and she welcomes visitors from all over the world. More recently, in 2012, she created her own Facebook page so that she could keep in touch with her fans. As of the time this post is being written, she has 80,498 likes.
Check out our beautiful luxury notebooks that feature a few of Josephine's paintings! Here and here are my favourites.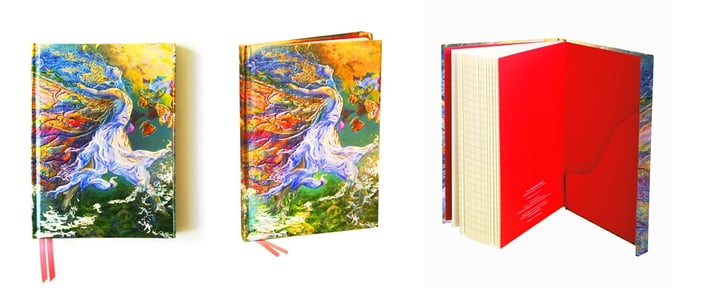 Links
For Josephine's Facebook page, click here.
To see the website for Josephine's gallery, click here.
Britney Spears' website has been updated since 2005, but you can still check it out here.
This post was written by intern Taylor Steinberg.