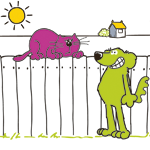 With a name like Roobarb & Custard, who wouldn't love this animated, five-minute long TV show? Even better is that the main characters are Roobarb, a green, shaggy dog, and Custard, the next door neighbour, who is a hot pink cat. These two are always trying to outwit one another, which leads to absolute hilarity, no matter how old you are.
About the Show
Roobarb & Custard first premiered on BBC1 on 21 October 1974, just before the evening news. Each episode involves Roobarb getting involved in some crazy misadventure that he leaps into, no holds barred, and Custard is always cynical, and he tries to ruin Roobarb's fun. Depending upon the episode, either character could end up on top, so the viewer stays interested.
The series was hand drawn, as animation technology 40 years ago was rather more rudimentary than it is today. It was drawn in an intentionally rough style, which added to the energy of the show and served as a contrast to the sleekness of the Hanna-Barbera cartoons (such as Josie and the Pussycats and Super Friends) that were also being shown at the time. The frames are always moving, which animators call 'boiling', and the sketchy drawing technique allows for more focus to be put on the comedy in the show.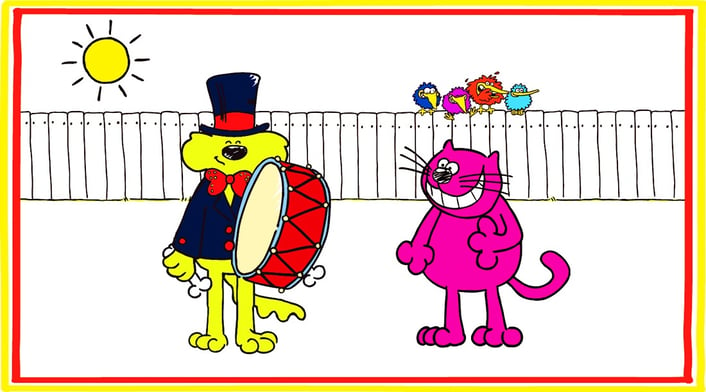 Commercial Success
People loved the show so much that a new series (Roobarb and Custard Too) was produced in 2005. This series comprises 39 seven-minute segments, as opposed to 30 five-minute episodes, and it uses computer technology to animate it, although it still shows the rough illustration style of the original. It was also produced by the creators of Roobarb and Custard: Grange Calveley and Richard Briers.
Grange Calveley wrote the episodes and Richard Briers narrated them. Calveley said that the character of Roobarb was inspired by his own dog, a Welsh Border Collie. In Roobarb: An Illuminated Biogwoofy, his biography, he describes how his real dog would jump up into trees and how that became part of the show. For Richard Briers, though, the cartoon is what made him a household name. Before Roobarb and Custard, he had done some TV acting and some small jobs, but after the show took off, Briers became famous, starring in the classic series The Good Life – and even appearing in Bob the Builder in 2005.
Unfortunately, both of these incredible and influential men died in early 2013, but they died only three days apart. Perhaps the bond they formed in creating the show impacted them more than anybody could know.
Modern Day
Roobarb and Custard is still being shown on the telly, and that is a huge accomplishment after 40 years. Catch it on Channel 5, or, you can watch it online! The show's website features a 'Watch' button that takes you to a website where you can watch the episodes for free. Or, if you really want to support the cartoon and be able to watch the episodes whenever you please, the episodes are available for download on the iTunes store.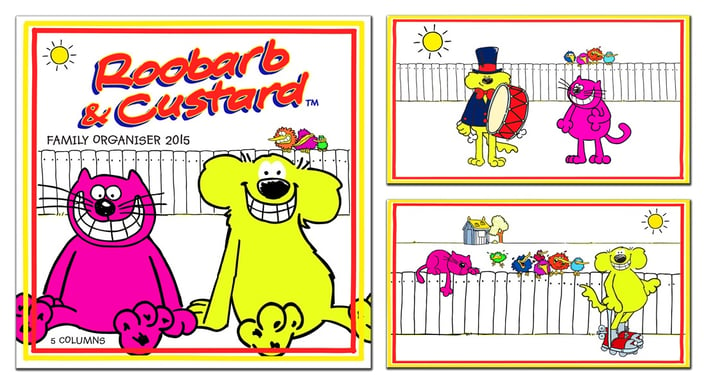 Beautiful Illustrated Calendars
Although Roobarb and Custard may not be the most beautiful or intricate of cartoons, that's not to say the show is ugly. Calveley put all of his time and effort into putting the cartoon together, and he used what resources he had. The images of the characters have become iconic and there is a simple charm to the animation style. We here at Flame Tree have put together some of the brightest and most comical images from the cartoon in order to assemble a family organizer calendar, which can be seen here. This lovely calendar will not fail to light up a room while featuring all of your important dates, and it will also not fail to make you giggle when you flip through all of the images. If you like charming children's characters, you may also enjoy our We're Going on a Bear Hunt and Maisy 2015 Family organizers as well.
Links:
For the Roobarb and Custard website, click here.

Roobarb and Custard are the celebrity supporters for the PDSA (People's Dispensary for Sick Animals)! To find out more about the charity, click here.Ω

If you're feeling especially punny, why not make a rhubarb and custard cake to celebrate the 40th year anniversary of the show? Recipe here.