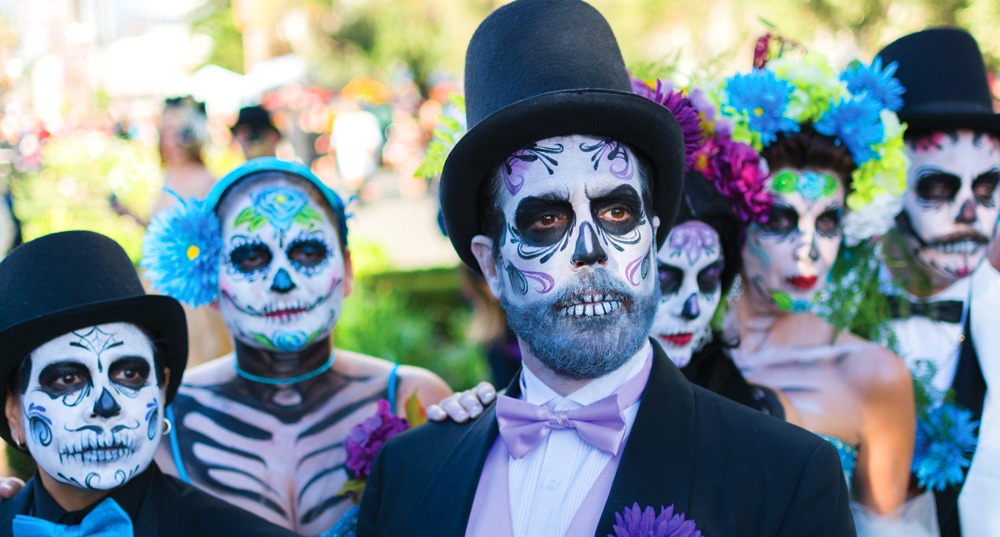 Day of the Dead is a Mexican holiday in which people gather together with friends and family to remember those who have died, including colourful parades, music and parties in cemeteries. They believe that at midnight on October 31 the gates of heaven are opened and the spirits of children who have passed away are allowed to spend 24 hours with their families. On November 1, adult spirits also come down to enjoy the festivities.
The tradition dates back hundreds of years to a festival celebrated by the Aztecs for the goddess Mictecacihuatl, when it would have been celebrated in early Summer. It now takes place on the 1st and 2nd of November to happen alongside the Roman Catholic festivals of Saints' Eve, All Saints' Day and All Souls' Day.
Mexico
The celebration is particularly popular in southern and central regions of Mexico. Originally, Day of the Dead (or Dia de los Muertos) was not celebrated in the north of Mexico, at first because it was unknown to the people there who tended to be European and not indigenous people, but later because it was associated with mixing Pagan festivals with Catholicism and most of those in the north did not agree with this. The celebration was made a public holiday by the Mexican government in the 1960s – in part to unify the country – and so now even those in northern Mexico are encouraged to participate.
There are many aspects to the celebration in Mexico. One of the main ones is the beautiful alters called ofrendas, which are made by each Mexican family in their homes. They are traditionally decorated with marigolds, candles, photos, food and drinks. There are many parties and parades held for day of the Dead in Mexico, including vibrant and colourful markets and stalls. Families often spend time cleaning graves and talking and drinking together, remembering their loved ones who have passed away. The celebration is a happy one, but it is also a way to grieve and confront death, rather than fear it.
Europe
Day of the Dead is also observed in many places in Europe, with slightly different celebrations being held, but all to honour the passing of relatives and friends. Croatia, Finland, Germany, Sweden, Slovenia, Norway and Poland all light candles to pay respect to the dead. While in Belgium, France, Italy, Ireland and the Netherlands people visit cemeteries with flowers and say prayers together to remember and honour the deceased.
In Brittany, France, people go to cemeteries at night to kneel at the graves of their loved ones, where holy water is poured. At home, they leave out food for the spirits and the rooms are kept especially warm for their comfort.
America
There are many places in America that celebrate Day of the Dead in mostly the same way as it is celebrated in Mexico. Texas and Arizona are the main states for which this is true, in part because of the prevalence of the Mexican people in the southern states. In Tucson, Arizona, the All Souls Procession is held every year. People wear masks and dress up in bright colours to honour the dead while people write out prayers for their loved ones, to be carried throughout the procession in an urn. With thousands of people attending to grieve together it is an incredibly powerful and popular event.
But it is not just Texas and Arizona that have adopted Day of the Dead ceremonies. Many celebrations are held throughout America, including in San Francisco where altars are put up in Garfield Park by the Marigold Project, who are a charity that aim to promote and share the practices of Day of the Dead.
The Philippines
In the Phillippines Day of the Dead celebrations are taken very seriously. They are termed Allhallowtide in English and Araw ng mga Patáy in Filipino. Only being beaten in importance by Christmas and Holy Week, there is an official holiday on the 1 November but often the government allows days before and after to be non-working days to allow people to travel to their hometowns. As with celebrations in Mexico, people visit graves and spend time eating, drinking, singing and dancing. Incense sticks are lit, and candles and flowers are offered to the dead.

To learn more about Day of the Dead customs, history, art, celebrations and much more take a look at our beautiful new book Day of the Dead. This title informs readers about important rituals, costumes and festivities whilst showcasing the art, movies and literature that were inspired by the celebration. You can take a closer look at the book here. For Amazon click here.
Links
To learn more about other festivals that celebrate the dead click here.
To see some fantastic art inspired by the festivities click here.