Grant Wood (1891–1942) is known for dismissing the European influences that he felt were standing in the way of American painters developing their own artistic identity. Among his most famous pieces of work are the much-discussed American Gothic (1930), the satirical Adolescence (1933) and the borderline parodic Daughters of Revolution (1932).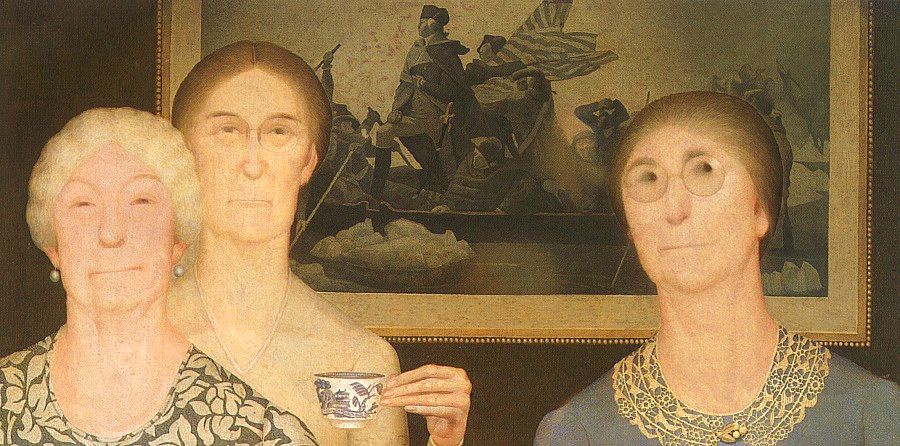 'Daughters of Revoloution' image source
But despite all the wit he put in his paintings, the man himself was surprisingly self-conscious: he was rumoured to be a closeted homosexual and, according to his friend Darrell Garwood: 'he stammered, he even hiccoughed […] he couldn't look Miss Prescott [the principal of the school where he taught] in the eye'.
The Cosmopolitan Farmer
Although he was undoubtedly part of the Regionalist movement, Wood did see the world outside the Midwestern countryside he came from: he went on four trips to Europe from 1922 to 1928 where he studied several different styles of painting. He did not care much for Impressionism or its focus on form and texture, but was largely inspired by Flemish painters of the Northern Renaissance, particularly Jan van Eyck (c.1390–1441). He was drawn to their paintings of local landscapes and to their celebration of the people from their everyday lives. This, along with the realization that 'all the really good ideas [he'd] ever had came to [him] when [he] was milking a cow', led him to his decision to go back to where he came from.
He returned to the United States where he painted Woman with Plants (1929), a portrait of his mother, using what he had learned from the Flemish masters: he depicted her with simple yet great dignity as the strong and loving countrywoman he knew her to be, painting her clothes and the typical Iowan landscape stretching behind her with the same lively, soothing shades of green.
'The Painter in Overalls'
As a pioneer of Regionalism, Wood preferred painting landscapes and people close to him rather than the biblical scenes and mythological characters of the Italian Renaissance. The paintings following his return to Iowa could in fact be associated with a family album: most of them were humorously tender portraits of his friends and family or nostalgically pastoral, luscious landscapes of his hometown and its surroundings, which were welcomed with open arms by an audience that was being crushed down by the weight of the Great Depression. In 1930, his American Gothic gained instant popularity, although not everyone understood it. The portrait of his dentist and his sister as a farmer and his spinster daughter in front of their Midwestern house was often seen as a criticism of the austerity and narrow-mindedness of American farmers; however it seems more believable that Wood intended it as a slightly ironic homage, as he did most portraits of his contemporaries.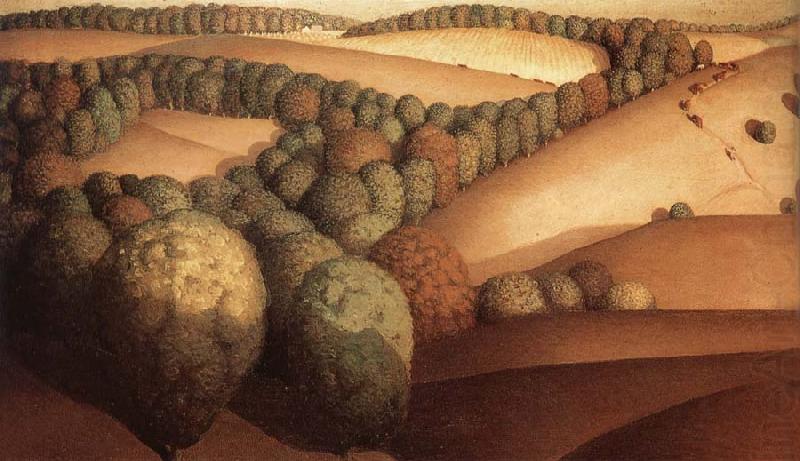 'Near Sundown' image source
Nevertheless, this unexpected publicity allowed him to expand his audience to a wider scale: he started travelling to promote Regionalism and to show his paintings in New York and Chicago. He quickly became known as 'the painter in overalls', an easy-going, accessible character, and he began to overcome the social clumsiness that had followed him through the first forty years of his life. But this also contributed to critics commonly overlooking the underlying subtlety and irony of his paintings.
The Misunderstood Dreamer
His technique, especially in his landscapes, bears an off-the-wall quality in its sharp outlines, its curves rather than angles and its bright, polished surfaces. The aesthetics of Wood's work are of utopia rather than simple depiction; with paintings such as Young Corn (1931) or Near Sundown (1933) he would rather have us imagine the abundant plains of a Golden Age than remember the wastelands of the Dust Bowl. Unfortunately, the reasons why he was so praised during the Depression are the same reasons why he was knocked down afterwards. In her 1935 essay published in the North American Review, Ruth Pickering wrote of Grant Wood that he 'hoisted his overalls on a stick to scare away the city connoisseur and the academician'.
Indeed one cannot help smiling at the awkwardness of Arnold Comes of Age (1930), the out-of-fashion stiffness of Victorian Survival (1931) or the daring absurdity of Parson Weems' Fable (1939), though critics at the time did not seem to see it that way. His interest in Midwesterners passed for propaganda, while the optimism and simplicity of his landscapes quickly became annoying to the academic audience. But perhaps the saddest part of it is that the very down-to-earth people who are celebrated in most of Wood's work didn't seem to care about what he was trying to achieve for them through his art.

American Gothic is just one of the many stunning pieces of artwork we've applied to our new foiled journals. All of our luxury notebooks feature art that is printed onto hardcover boards, embossed and then foiled, really bringing the most out of these beautiful masterpieces. To see the American Gothic journal click here, for our full range of notebooks, click here.
Links