As well as our beautiful calendars, we also produce a range of diaries and year planners, perfect for organising your work and life. The week-to-view desk diaries feature plenty of space for noting down appointments, with an image on every spread; while the super slim, month-to-view year planners are handy to have on the go, each with a delightful image gracing their cover. From Catalina Estrada's stunning and intricate designs to endearing Moomin antics, there is something for everyone. Below is a quick summary of some highlights, but be sure to check out our full range to find the perfect one for you.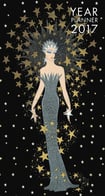 No one created as many sublimely stylish art deco images and designs, reaching as wide an audience, as the master designer Erté (1892–1990). The cover of this year planner features his ever popular Starstruck, one of many serigraphs (silk-screen prints) that Erté made in the 1980s from his much earlier drawings and gouaches. The high-end quality of the limited-edition serigraphs, often using embossing, foil stamping and ever-more sophisticated techniques, resulted in remarkable works, and the dazzling Starstruck is no exception.
No one can fail to appreciate the joyous combination of nature's wondrously organic tendrils and the enigmatic porcelain-skinned beauties of fin-de-siècle designer, artist and illustrator Alphonse Mucha (1860–1939). This year planner's vibrant cover is from 'Monaco - Monte Carlo', his poster for the newly opened railway line 'Chemin de Fer P.L.M.', connecting Paris to the French Riviera. The highly stylised and elaborate pattern of lilacs, hydrangeas, dianthus and violets encircling a bare-shouldered girl gazing up in wonder, evokes all the lushness, luxury and leisure associated with the Côte d'Azur.
There are no limits to the dreams and magic created by painter of celestial journeys Josephine Wall (b. 1947). This artist creates enchantingly beautiful and inspirational scenes, filled with colour and light, featuring goddesses, fairies, mythical beings and all manner of stories and concepts, all sharing a respect for this planet and promoting the values of love and imagination. This year planner's cover image is from Enchantment, a mesmerising composition featuring a beautiful Celtic tree nymph holding a chalice of hope with its rainbow vapours drifting down to a waiting winged centaur.
The beautifully nostalgic Moomin characters created by Tove Jansson (1914–2001) began life in a comic strip in a Swedish newspaper and are now a national phenomenon, loved by children and adults alike all over the world. Her stories are known for raising the importance of friendship and family, and focusing on the little things that make life pleasurable. This desk diary features Moomintroll, Snorkmaiden, Little My and Sniff playing in the woods on the cover and has lots of Moomin images inside to make you smile throughout 2017.
L.S. Lowry (1887–1976) is known for his oil paintings featuring industrial scenes and drawings of areas in and around Manchester and Lancashire. His works are on the surface simplistic, with only a small range of colours used, but often tell a complex story about the people and places they feature. This diary features L.S. Lowry's paintings and drawings from The Lowry, which holds the world's largest collection of his works, as well as an archive of letters, photographs and items including Lowry's paint brushes and palette knives.
William Shakespeare (1564–1616) is known across the globe and is without exaggeration often considered the greatest writer in the English Language. As well as his beautiful poetry he also came up with some of the best, funniest, cleverest insults that are scattered throughout his plays, for times when a pithy put down is needed. This diary showcases the best of these, alongside Shakespearian imagery, including illustrations of London, characters from the plays and Shakespeare's will.
Writer, musician, playwright and actor Spike Milligan (1918–2002) was known primarily for his success with the radio programme The Goon Show which he wrote for and performed the trumpet on. He also wrote comical verses, often for children in the form of literary nonsense. This week-to-view diary takes his best and funniest cartoon strips to give you endless laughs throughout the year.
The Eden Project is an educational charity committed to encouraging the connection between human beings and the living world. Based in Cornwall (UK), the centre's huge tropical biomes and gardens house plants collected from a variety of climates. This charming year planner features a delicately illustrated bullfinch as its cover. It is a treat to see this usually secretive species of bird perched smartly on the tree branch here, and the purity of design brings out the richly coloured plumage of this feathered friend.
Catalina Estrada's sparkling world of colour and symmetrical floral imagery is a dazzling feast for the eyes, and this year planner's cover is no exception. Featuring the birds that are a frequent motif in the rest of her Paradise Collection, this detail of Oasis Colibri is filled with an electric optimism, and a clear passion for colour and texture. Born in Columbia and now based in Barcelona, Catalina's work is inspired by Latin American folklore and can be found in products across the fashion and interiors industries.
The Scottish architect, designer and artist Charles Rennie Mackintosh (1868–1928) had a considerable influence on European design. Some of his most famous design achievements include The Hill House and the Glasgow School of Art, as well as the wall decorations, furniture and fittings for Miss Cranston's series of Tea Rooms. Mackintosh frequently used stylised flowers as decorative elements in his furniture, as shown in the cover chosen for this year planner. Depicting a detail from an ebonized mahogany writing cabinet, this is an exquisite example of his work that displays his beautifully distinctive style in all its glory.
Links
If you haven't found the year planner for you here, we have more! From Japanese Woodblocks to Fairyland, there's sure to be a theme to suit you!
Check out our full 2017 calendar catalogue here.