A whole world of merchandise and media, from art calendars to coffee cups and T-shirts to an actual theme park ('Moomin World' in Western Finland), has built up around children's favourites The Moomins – our hippopotamus-like friends really are a treasure trove for the art of fine gifts. I remember watching these eclectic characters and their adventures in Moominvalley in a cartoon series back in the 1990s. But of course they go further back than this, back to Tove Jansson's original novels, the first of which was published in 1945 in Swedish by Schildts publishers.
The Birth of The Moomins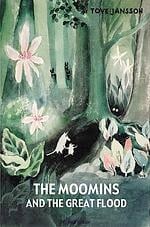 Multi-talented Finnish-Swedish artist, illustrator and writer Jansson's first Moomin book, The Moomins and the Great Flood, was written during the Second World War. The author reportedly wanted to lighten her mood by writing something naive and innocent. In it we meet Moominmamma and Moomintroll, who are travelling through a forest looking for Moominpappa, who has gone off adventuring with the strange ghostly Hattifatteners. They are joined by a little rodenty creature, who in later books is named as Sniff. However, though a wondrous introduction to Jannson's fantastical and subersive world, this book is often seen as a prequel to the subsequent titles and was not a success – in fact it was not published in English until 2005.
A Host of Characters
The variety of creatures and characters in Jansson's books reflected her bohemian upbringing and tolerance of diversity. From the calm and resourceful mother and the clothes-obsessed and flirtatious Snork Maiden, to the mischievous tomboyish Little My, women alone are represented on quite a spectrum. The philosophical concepts raised by, for example, the distinction between the materialistic Sniff, who is forever trying to get rich quick, and the wandering Snufkin who cares little for private possessions and property, reveal the depth of Jansson's creations. The first book that really introduced this wider cast of characters and shot Jansson to fame was Comet in Moominland (1946), to be followed by six more main Moomin titles, ending with Moominvalley in November in 1970. There were also five Moomin picture books for younger children.
More Than Books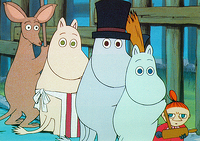 In 1954, Jansson began a series of newspaper comic strips for London paper The Evening News, where the Moomins' adventures took on more of a social satire aspect, and were later created with the help of her brother Lars Jansson. More comic strips and books were to follow over the next decades as the Moomins' popularity grew, along with many television series, such as the delightful Polish-Austrian puppet animation series, The Moomins, which became popular in the UK in the 1980s, and of course the aforementioned cartoon – actually a Dutch-Finnish-Japanese-produced anime series made in Japan in 1990–91. Snork Maiden et al. will also be gracing the big screen in 2014, with Moomins on the Riviera, made by Handle Productions: 'a hand-drawn animated feature film … which will appeal to adults and children alike' – all very exciting, and we will be the judge as to whether it indeed maintains 'the timeless humor, tone and pictorial quality of the Moomins'.
Links