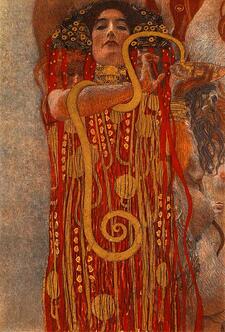 Gustav Klimt is one of the most popular and celebrated art nouveau artists. His works are instantly recognisable and his golden paintings, such as the incredibly popular The Kiss, are perfect for our beautifully foiled luxury notebooks and iphone cases. Here's some background information on the man himself as well as a more in-depth look at The Kiss.
Golden Origins
Gustav Klimt's father was a gold and silver engraver, a labour that doubtless had some effect on Klimt who later decorated his work with these precious metals. The family lived in a Viennese suburb and Klimt received a formal education in art at the Vienna School of Decorative Arts, specializing in murals. Gustav Klimt's talents were immediately spotted and he received commissions while still at college. He decorated two public buildings in Vienna: the Burgtheater and the Kunsthistorisches Museum, working in collaboration with his brother and a friend. By the age of 30 Klimt was a renowned and successful artist.
A Secessionist Artist
In Vienna, artists who sought to distance themselves from historicism and tradition formed an avant-garde, experimental group called the Secession, the Viennese interpretation of Art Nouveau. Austrian artist Gustav Klimt led this organization from 1897 until 1905. Klimt's work is typical of the profound historical and ideological changes that were taking place at the end of the century, although his output was atypical in terms of style and effect. Klimt had an aesthetic ideology and understood why art needed to explore deeply into emotion and existentialism and break free of all contemporary conventions in order to do so. He achieved this by creating extraordinarily decorative murals and paintings, often lavishly coated in gold. Klimt's most experimental work dealt with the themes of the subconscious impulses and desires, and they aroused high feelings amongst the public and art critics.

The Kiss
Possibly his most famous work, The Kiss achieves a balance between emotion and ornamentation. The lovers are encased in an embrace of golden fabric. The man is decorated in the cold colours and geometrical angular patterns that symbolize masculinity; the kneeling female is represented in warm colours by swirls and circles, the symbols of femininity. Together they create a harmonious whole.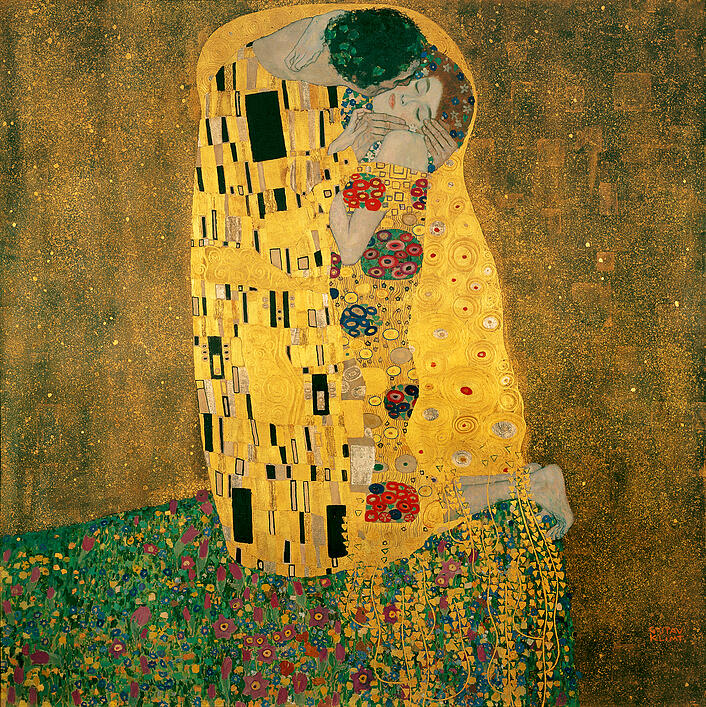 Klimt's extraordinary creative energy, expressive use of line and dominant use of ornament captured the avant-garde spirit that helped develop the abstract aesthetic that followed. His opulent yet emotional style makes him a key art nouveau artist, and one who is still very much admired today.
Links
Explore more of his artworks at the Klimt Museum website here

Read this BBC News article discussing the appeal of Klimt here

You can buy our Flame Tree notebook with Klimt's The Kiss cover here