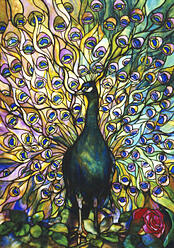 Art Nouveau artist Louis Comfort Tiffany was highly skilled in jewellery design, ceramics, enamels, and metalwork but he is best known for his beautiful stained-glass designs. Using opalescent glass in a variety of colours and textures, he created a stunning range of jewel-like Art Nouveau works.
A Product of His Time
No artist's panoply of work can be separated from the culture of the time in which they lived. Louis Comfort Tiffany was particularly fortunate to be born, with talent, into a wealthy family, but his monumental success was not only due to the circumstances of his birth; he also owed much to the American spirit, and optimism of the era. For this was a time when old styles and influences were washed away, and artists challenged historicism – and the dull repetition of tradition in art. As one century drew to a close a proliferation of ideas emerged to welcome in the next one and artists benefited as wealthy patrons bestowed commissions in their desire to be at the vanguard of culture.
The art industry of Tiffany came to epitomize much of the glory of the 'new art', or Art Nouveau, which reached its apotheosis from 1880 to 1910. This creative entrepreneur is regarded as a herald of the new movement, whose large body of work spanned a number of decades, a variety of materials and media – and encompassed many of the aesthetic values of the day. Tiffany's work and his beliefs were not confined to this movement, however, and have stood the test of time, to be enjoyed by new generations who marvel at the intricacy of his designs and the delicacy of his touch.

The Pursuit of Beauty
Tiffany declared that his goal was the 'pursuit of beauty' and he was able to engage in this singular aim by means of a range of arts and crafts. His personal qualities of drive, ambition, creativity and commercial acumen equipped Tiffany well, and he was able to experiment in painting, interior design, ceramics, enamelling, jewellery and mosaics throughout his career. It was his incomparable talent with glass, however, for which Tiffany shall always be best remembered. This challenging medium was ripe for change in the 1870s, as traditionalists stuck firmly to the long-practised methods of painting enamel on clear, uniformly coloured glass.
After years of experimentation, Tiffany patented a series of revolutionary techniques in glass-making: techniques that enabled the glass artist to play with integral colours and textures, creating new types of hand-blown glass which Tiffany named 'Favrile'. Opalescent glass was created, which contained a variety of colours and hues within, offering a range of artistic opportunities for the glass-maker. New, three-dimensional effects were achieved by layering different colours of glass, and including delicate decoration between the layers. By adding metallic salts to molten glass Tiffany also achieved iridescence in his glassware which, with its shimmering lustre and rich vibrant palette of blues and greens, captured people's imaginations.
Stunning Windows
It was not only in colour that Tiffany worked great changes; his leaded windows, for which he became particularly well-known, often featured figures from Biblical scenes, as required for his ecclesiastical commissions. But, once he had mastered the creation of tone and shade within glass, Tiffany began to paint pictures with glass, producing extraordinary visions in light and colour without the need for a figurative focus. Stunning scenes of landscapes, cascading morning glories, ivy and clematis won approval from clients and critics alike; Tiffany's work was recognized as a spectacular fusing of art and craft in one medium.
Every piece of a leaded window was a unique example of colour shot through glass, and captured the mercurial way that changing light in nature plays with our perceptions. Tiffany's windows were living works of art; as daylight expressed its fickle moods, so the glass's visual display was transformed. He used these same techniques to produce a large range of lampshades which proved to be enormously popular with the American public. Themes from nature provided motifs for the shades, from poppies and wisteria to dragonflies and peacocks.
Nature's Design
Nature played a full part in all of Tiffany's work; it was to be his primary inspiration throughout a long career. He designed and built huge gardens where he could enjoy nature's blessings and study the varieties of colour and shape that informed his work. Some of his most exquisite hand-blown vessels of Favrile glass, for example, bear the form and colours of delicate plants opening in bloom. One of the most famous pieces of Tiffany art jewellery is a hair decoration that features a pair of enamelled and bejewelled dragonflies perched atop the puffballs of dandelions in seed. The puffballs are made from a fine mesh of gold wire that is sprinkled with tiny beads of opalescent glass: Tiffany had combined many elements of his art and craft industry to produce a single, unique piece of art.
A Lasting Legacy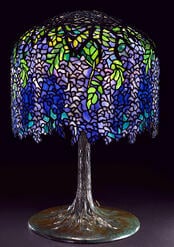 Throughout his career Louis C. Tiffany sought a unity of design in the firm's output, and a quality of craftsmanship from his skilled team of employees. He was successful in serving society's elite with prestigious objects of desire, and also used early methods of mass production to make 'fancy goods' for the less wealthy. By the 1920s Tiffany had enjoyed many years' success, nationally and internationally, and sought to prepare his legacy by the means of a Foundation, museum and art school, established in his beloved country home, Laurelton Hall. Sadly, the school closed and the Hall burned down in 1957, destroying many of Tiffany's finest windows.
The Foundation still exists, how­ever, and awards grants to young artists of talent. Tiffany's greatest legacy, however, is his art. Although many items were destroyed when fashions changed, and his glassworks fell from favour, much remains. In his pursuit of Beauty Tiffany provided us, and generations beyond, with spectacles in light and colour; he showed how the invaluable skills of craftsmen and women can be used to capture nature and, as he put it 'obtain the revelation of True Beauty'.
Tiffany's skill as a colourist and a craftsman led him to create works that still inspire artists and audiences today. The above is an extract from Louis Comfort Tiffany Masterworks (ISBN: 9780857752680) by Camilla de la Bedoyere.
Links
Read more about Tiffany on the Metropolitan Museum of Art's website here

Look at some stunning Tiffany works on this pinterest board here