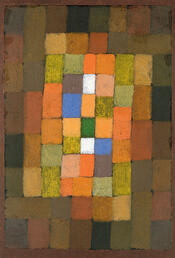 A hugely influential artist, Paul Klee eludes classification. His art appeals to our primary instincts and makes us look beyond the ordinary. He was influenced by many things in his life, from his musical parents to his travels and his family, and we take a look at some of those inspirations below.
A Creative Childhood
Born on the 18th December 1879 in Münchenbuchsee near Bern in Switzerland, Klee's artistic career was intrinsically linked with the Swiss musical tradition from an early age. His mother and father both had a musical background as teachers and performers, and guided their son into taking up violin lessons from the age of seven. Klee's violin teacher Karl Jahn introduced his students to both music and art. As an avid art historian he collected monographs of the old masters and used them to inspire the musicality and art in Klee's early career.
As a teenager Klee made the decision to follow a career in fine art by enrolling at the Munich Academy. By the end of the nineteenth century Munich had become a hub for innovation in art and culture, and attracted many free thinking artists. After initially failing to gain acceptance into the academy, Klee finally enrolled in 1900 where he attended classes by painter, sculptor and architect Franz von Stuck. The academy taught a traditional syllabus of fine art training based on life drawing, observation and meticulous detail. In von Stuck's class the young Klee developed his technical skills in drawing and etching but had early struggles with painting and using colour.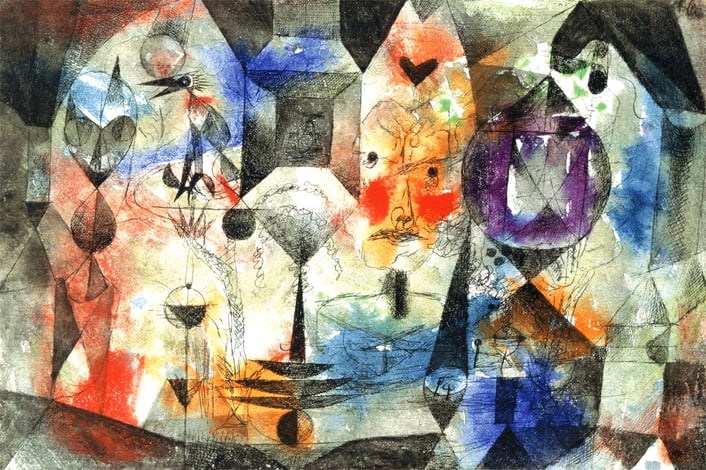 The Munich Secession
In 1892 a group of artists in Munich instigated a group known as the Munich Secession. Formed in protest to rigid academic control of training and exhibiting, they broke away from artistic conventions and established new radical ideas based on a multi-disciplined approach to art. As a member of the group Franz von Stuck introduced these philosophies to the young Klee and helped usher in the beginnings of Modernism in Germany.
Inspirational Travels
Klee sought out to develop his style and place within Modernism by undertaking several journeys. He visited Italy in 1901 and Paris in 1905. He was greatly influenced and inspired by the work of old masters such as Fra Angelico, Michelangelo, and great artists like Toulouse-Lautrec, van Gogh and Cézanne. He met dealers Daniel-Henry Kahnweiler and Paul Durand-Ruel in Paris at the beginning of 1912, and was shown works by Picasso, Braque, Derain and Vlaminick. He had been variously associated with Expressionism, Cubism, Futurism, Surrealism and Abstraction, but he remained individual, innovative and experimental.
Klee travelled to Tunisia in 1914 and enthused by the light, colour and landscape, he began fusing this experience with the many other influences into his work to create a highly personalised style of painting.
Family Life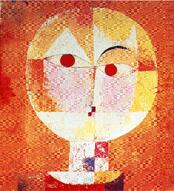 But arguably as influential as travel and art was his marriage to Lily Stumpf in 1906 and the birth of his son Felix in 1907. Unconventionally for the time, Klee took almost sole charge of Felix's upbringing. They were very close and Klee paid close observation to the subtle changes in his son. This possibly informed his interest in the subconscious, the naïve appearance of his painting and his exploration of spirituality. Even through family disapproval, lack of paid work and Klee's faltering attempts to make money from his art, the couple regularly engaged in cultural activities. Klee continued to innovate his style with new techniques and he had his first solo show in July 1910 at the Bern Museum. The response to his first solo show was met with a mixed reaction and limited commercial success. Undeterred, Klee kept working and experimenting with materials and techniques.
In the next post, we'll follow Klee's career through two world wars, including his work with Kandinsky and The Blue Rider Group, and his struggle against the Nazi oppression of art.
For more about Paul Klee take a look at our book Paul Klee: Masterpieces of Art. Packed with insightful biographical information plus high-quality reproductions of his work, this is a must own for any modern art lover. Click here to peek inside the book.
Links
Read about Tate Modern's Paul Klee exhibition here

Check out our Art of Fine Gifts twitter account @flametreearts here