'Anyone who sees and paints the sky green and fields blue ought to be sterilised'
Adolf Hitler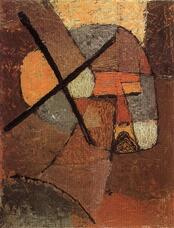 This draconian threat underpins the lengths to which the Third Reich took control and enforced a type of art advocated by the Nazi regime, while annexing modern art as 'degenerate'. Unfortunately for Hitler it is also a visceral reminder of the fantastic art and prevailing modern art movements which produced artists such as Paul Klee at the turn of the 20th century. The V&A recently published the Entartete Kunst inventory, which serves as a reminder of Hitler's barbaric attempts to reshape culture and history. This publication is also a reminder of the struggles and defiant stances of artists during this period, and in particular the evocative and emotive works of Klee.
Meeting Kandinsky
In 1911 Klee met Kandinsky, whom like Klee, had also previously attended Franz von Stuck's classes at the Munich Academy. They forged a close relationship based on their artistic and intellectual concerns. They shared an interest in musicality, colour and spirituality in art and painting, which Kandinsky had started to explore in his treatise, Concerning the Spiritual in Art.
Kandinsky had been involved in setting up a group to promote modern ideas in art, called NKVM (the New Munich Society of Artists), but this had failed and in response he formed a new group called Der Blaue Reiter (the Blue Rider). Klee joined the new group which had no manifesto or specific approach except a shared mutual aim to express what each artist perceived as 'spiritual truths through art'. They were influenced by modern art movements such as Art Nouveau, Cubism and Futurism as well as folk art, primitivism, music and art and the mystical, colourful and emotive.
Klee's early musical education remained a strong influence in his visual art and in 1910 he wrote: 'I must one day be able to play freely on the keyboard of my colours'. After joining the Blue Rider group Klee took part in several group exhibitions which were not well received by critics or the public; but the group persevered.
The Bauhaus
After Kandinsky had fled Germany at the outbreak of war, the two were again reunited at the Bauhaus. Klee had taken up a teaching position at the Bauhaus in Weimar in 1921 and delivered a series of workshops ranging from bookbinding, stained glass and mural painting. Housed in a complex alongside Kandinsky the two became absorbed in theory, teaching and developing their own practice. They pursued their interest in colour relationships and often collaborated on projects. Klee published The Art of Colour in 1961 which became highly influential in the developments of modern art.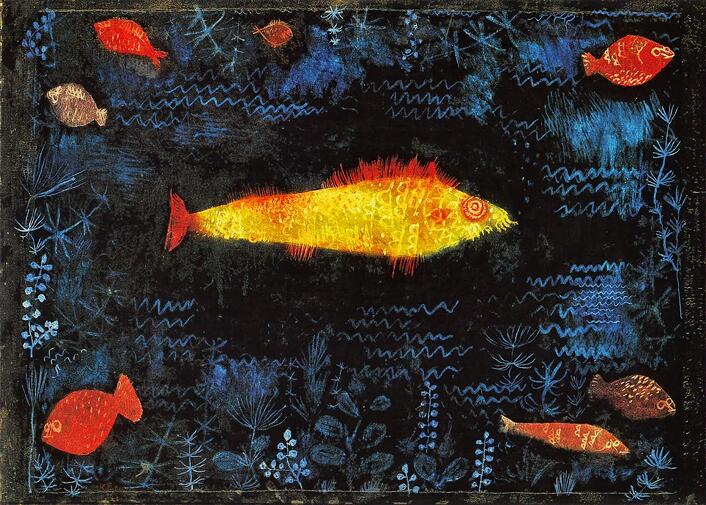 Degenerate Art
At the outbreak of the First World War, Klee was conscripted into the German reserve forces. He was stationed in Bavaria where he had the task of painting aircraft but several of his friends and colleagues had been killed in the struggle. He was deeply saddened and his painting reflected his emotional state. He began combining painting and poetry, created symbolic forms and used ambiguous titles for works which moved further towards abstraction. Klee started to gain some commercial success which culminated in his joining the Bauhaus as a teacher. He gave precedence to his subconscious, intuition and imagination in forming what could be described as a naïve appearance, but this was his deliberate, carefully planned way of expressing astute and thoughtful underlying perceptions and observations. Klee summed up his two-pronged approach with the words: 'one eye sees, the other eye feels'.
In 1937, 17 of Klee's works were shown in the Entartete Kunst, or Degenerate Art, exhibition. The Nazis aimed to use the exhibition as propaganda against what they deemed as modern, degenerate or subversive, as opposed to their approved view of German culture which could be seen coinciding in the Grosse deutsche Kunstausstellung (Great German Art Exhibition). Ironically over 2 million viewers visited the Degenerate Art Exhibition in three and a half months, whereas half that number visited its counterpart. 102 Klee works were seized by Nazis from public collections.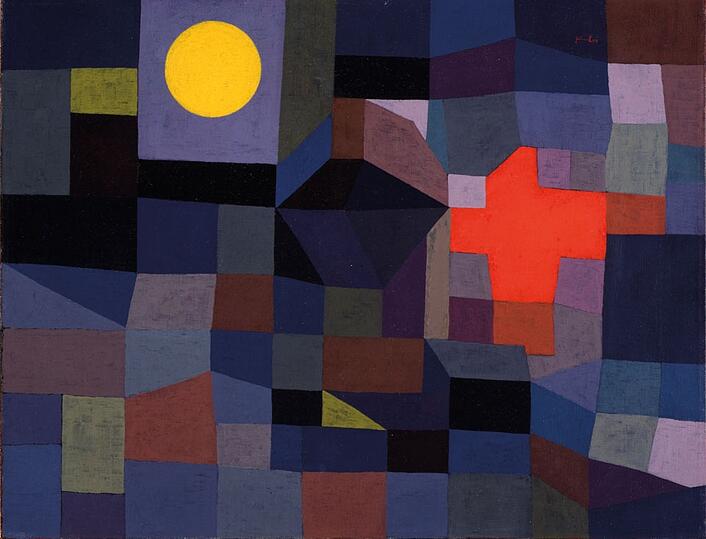 The recent re-emergence of art looted by the Nazis and subsequent publishing of the Entartete Kunst inventory is testament to the enduring nature and appeal of modern art.
Links