Japanese Beginnings?
Although beautiful woodblock prints are often considered the epitome of quintessentially Japanese art, in reality many manifest strong Western influences. For example, as a young man, Hokusai was particularly intrigued by European-style perspective. He uses such perspective in his most famous work, The Great Wave off Kanagawa (pictured below), to stunning effect; the contrast between the huge rising wave in the foreground and the almost imperceptible figure of Mount Fuji in the background is highly effective, and is perfectly complimented by the stark contrast between the movement and energy of the wave against the stillness and stability of the mountain.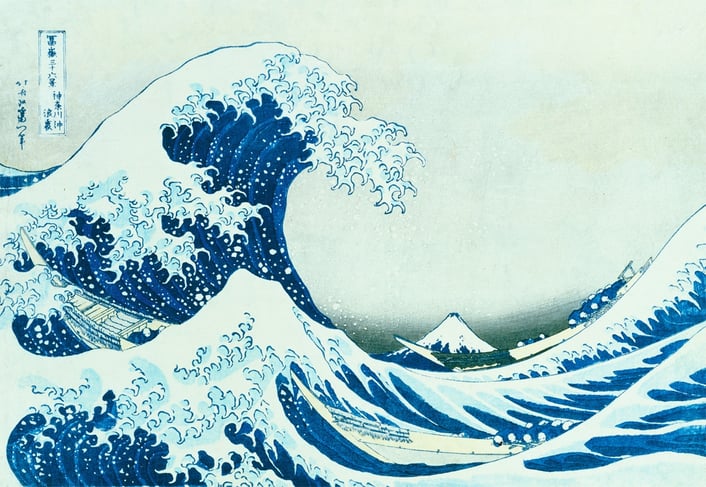 It is ironic then that this print – perhaps the most renowned and celebrated of its genre – and others like it – have spread widely on an international scale, influencing all manner of Western artists with their 'Japaneseness' and initiating countless alterations and reproductions.
Amongst some of the most significant figures who drew influence from Japanese prints in their work are the artists Gustav Klimt and Claude Monet, and the poet Ezra Pound.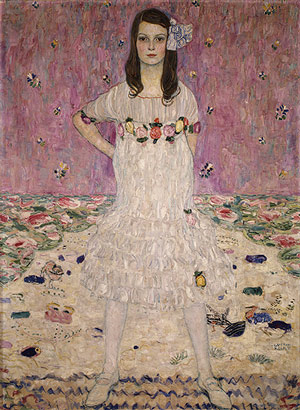 Gustav Klimt – Oriental Influence
Often regarded as the greatest painter of the Art Nouveau period (which took the form of the Viennese Secession in Austria), Klimt began looking into Japanese art at a time when such styles were still overlooked in traditional artistic circles. By the early 1900s his portraits of women began blending sensuality with the coolness of Oriental motifs. Drawing particular inspiration from Japanese 'pillar prints' – a format of woodblock print measuring 73 x 12 cm – Klimt painted flat, decorated clothing on his women that was as important as their lifelike faces. Such works, regularly containing actual gold leaf, are now known as Klimt's 'Golden Phase'. During a later fauvist phase from 1910, Japanese influence is again evident; this time in expressive and vibrant portraits such as his depiction of Mäda Primavesi (pictured left), which draws on ideas from ukiyo-e woodcut prints.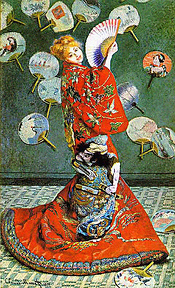 Claude Monet – a Japanese Obsession
Claude Monet, after whose work the Impressionism movement was named, first discovered Japanese art during a visit to Holland. As he was buying food from a shop, he noticed that his produce came wrapped in Japanese prints. He was instantly struck by the beauty of the illustrations and the uniqueness of their composition. This discovery marked the start of a lifelong obsession with Japanese prints, and Monet even put together his own collection including works by Hiroshige, Hokusai and Utamaro. It was this collection that inspired the construction of the Japanese bridge in Monet's Giverny garden, a structure which features in many of his famous works including The Waterlily Pond with the Japanese Bridge. La Japonaise, a portrait of his wife Camille in a blonde wig and heavily embroidered Japanese costume (pictured right), is another of Monet's works showing strong Eastern influence, and was met with great praise.

Ezra Pound – the Founding of a Movement
Ezra Pound was a successful poet and leading figure in the early modernist movement. Early in his career, he would sit and write in the British Museum Reading Room. It was here that he met Laurence Binyon, a curator who introduced him to the East Asian artistic concepts which would come to heavily influence the imagery and techniques of his poetry. In particular, Pound observed the beauty of Ukiyo-e prints inscribed with Japanese Tanka verse. Such works were paramount in Pound's founding of the Imagist poetry movement, alongside his friends and contemporaries Hilda Doolittle and Richard Aldington. Pound explained that this movement was 'concerned solely with language and presentation', as opposed to notions and techniques such as romanticism, rhetoric, abstraction and the over-use of adjectives. Pound's resultant haiku-like verse resonates with purity and precision, for example 'In a station of the Metro':
The apparition of these faces in the crowd;
Petals on a wet, black bough.
Closing the Circle
Beginning with Japanese prints influenced by Western-style perspective, this stunning outpouring of Japanese-inspired work represents a closing of the circle and a lessening of the gap between East and West, whilst thankfully doing little to destroy the wonder of otherness.
Links