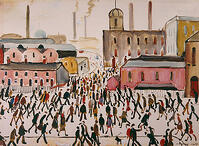 February 23 marked the anniversary of the death of beloved British artist and creator of matchstick men Laurence Stephen Lowry (1887–1976). Lowry wanted to paint the realities of the modern city – people on their way to work, fights on the street – a real insight into 20th century working class life.
Early Inspirations
The earliest drawings Lowry made as a boy were of yachts off the coast in North Wales. The sea was a constant source of inspiration for him. His later works include empty seascapes and studies of ships coming into harbour, often based on the sea at Sunderland where he became a regular visitor later in life.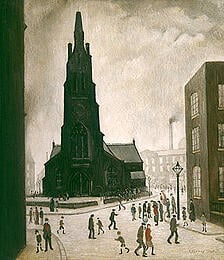 In the 1920s Lowry frequently drew the surviving Georgian areas of Salford. Although they appear to be topographically accurate their features are often manipulated for artistic effect or invented. Lowry was asked by the Curator of Salford Art Gallery to record particular areas of Salford before the old properties there were demolished. Lowry's father knew that St Simon's Church was due for demolition and suggested that Lowry make a drawing of it. His first sketch, made in 1927, consisted of a few scribbled lines on the back of a torn envelope from which he produced a finished drawing and, in the following year, this painting.
Lowry also produced numerous drawings and paintings of Peel Park in Salford. Salford School of Art, where he studied life drawing in the evenings, was based in the Royal Technical College which overlooked the park.
Hard Times
Lowry painted landscapes throughout his career but his empty 'lonely' views appear from the 1930s. At this time he was caring for his mother who was confined to bed and died in 1939. As well as depicting often imaginary scenes they also represent Lowry's own emotional state at the time.
During the Second World War Lowry undertook some fire watching duties in Manchester city centre. He recalled often being 'first down in the morning to sketch the blitzed buildings before the smoke and grime had cleared.' A number of his wartime works show bomb-damaged churches in the city, such as Blitzed Site, 1942.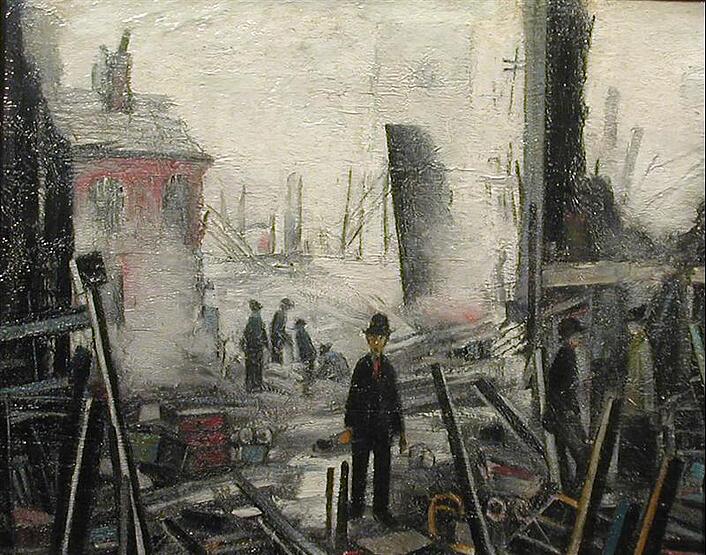 A Way of Working
Lowry preferred to work in oil paint. He did occasionally experiment with pastels, such as with Coming from the Mill, c. 1917–18. The subdued colours of this pastel drawing are similar to the dark tones of Lowry's oil paintings at this time. Lowry used pastels only occasionally, claiming that they did not have the 'weight' of oil paints. His painting of the same subject was completed more than ten years later. Watercolours by Lowry are also relatively rare. He experimented with the medium in the 1950s but preferred oils as he could make changes and work on them over a period of time. He estimated that he had completed 'no more than a dozen' watercolours.
'I saw the industrial scene and I was affected by it. I tried to paint it all the time. I tried to paint the industrial scene as best I could. It wasn't easy.'
L.S. Lowry
Lowry attended life drawing classes for many years but over time developed his own distinctive style of figure drawing. Describing the people in his industrial scenes he said, 'I loved them … as part of a vision. Had I drawn them as they are, it would not have looked like a vision.' Lowry often said his paintings depicted 'the battle of life' and felt that life was a struggle for many people. He sympathised with the children he saw playing in the street saying, 'Poor little things, they don't know what they will have to go through'. Lowry's paintings from the 1960s focus on single figures, or small groups of people, rather than crowds. A line is occasionally used to denote a pavement but there is no trace of the architectural background Lowry once used for his industrial scenes.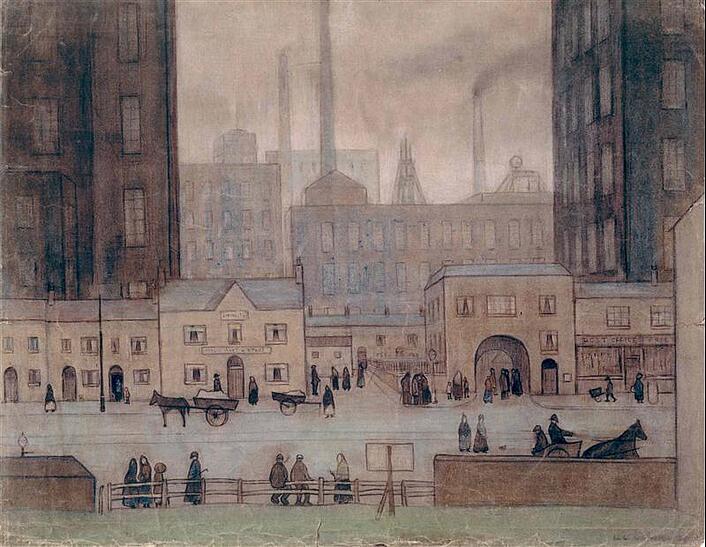 Lowry's unique depictions of modern industrial life, from haunting unpopulated scenes to urban landscapes teeming with his iconic matchstick men, have a distinctive and enchanting style that has left an enduring cultural legacy.
For much more information on Lowry plus stunning, full-page reproductions of his most iconic works take a look at our book, L. S. Lowry: Masterpieces of Art.
All works by L.S. Lowry (1887–1976)
© The Lowry Collections, Salford
Links
View Lowry's key works on the Lowry Gallery's website here

You can watch a short video from 1957 about Lowry here

Check out our art of fine gifts twitter account @FlameTreeArts here