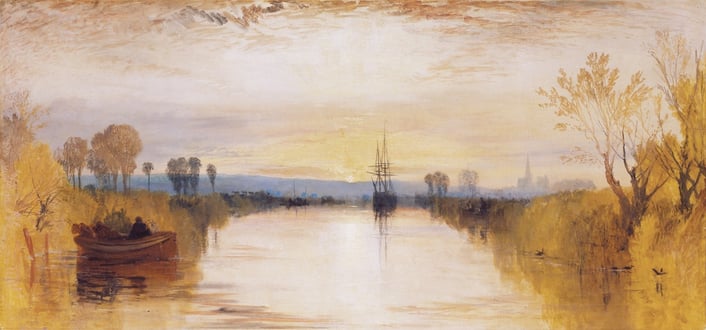 Mr Turner, a new movie about beloved classic British artist J.M.W. Turner has been one of the breakout successes of the 2014 Cannes Film Festival, with lead actor Timothy Spall winning the award for Best Actor. The movie explores the real person behind the legendary landscape painter, an eccentric man from humble beginnings. Let us take a look back at the life of the man which inspired this film…
A Tough Start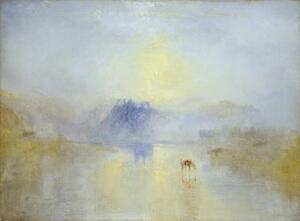 Joseph Mallord William Turner (1775–1851) was born on, or close to, St George's Day (23 April), 1775 in Covent Garden, London. Coming from a working class background his family were hardworking tradespeople who supported his education and fostered his interest in drawing and painting from a young age. Suffering several personal tragedies such as the death of his sister and subsequent committing of his mother to the Bethlam hospital, Turner spent much of his early life moving around southern England and staying with his extended family.
He attended a school in Brentford for a year in 1785 where he acquired an interest in drawing and watercolour painting and a fascination in observing the behaviour of water in the River Thames and surrounding area. Moving to Margate in 1786 Turner, now aged eleven, grew in confidence in watercolour and took inspiration from the sea, the open skies, the fishermen and their boats in the harbour, and the narrow, winding streets and alleyways of the town. By the following year Turner had moved to Oxford where he became increasingly proficient at recording topography, detail and architecture in his sketchbooks. So much so that he gained work as a draughtsman for the architect Thomas Hardwick.
Master of Light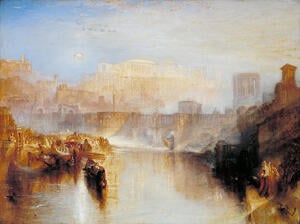 In 1789, Turner entered the Royal Academy Schools and commenced a professional career as a professional artist. From balancing a strict regime of sketching classical and Renaissance plaster casts and life drawing, with travelling around Britain in his free time to study the landscape, Turner rapidly developed his skills and style. By 1802 Turner had become a full Academician at the Royal Academy. His work was in demand, he had several important patrons and he had become established in the art world.
Turner was now able to exhibit his work regularly at the Royal Academy and had freedom to travel and study European landscapes and the work of painters he greatly admired. He travelled from Calais to Paris, and directly on to Switzerland, spending his time in the Swiss Alps, which gave him great pleasure. He sketched Mont Blanc and the St Gotthard Pass many times from different views. In 1819 he travelled to Italy and visited Venice, Rome and Naples and then again from 1828 to 1829 he visited Florence and Rome. These trips proved highly influential and developmental in Turner's style, subject matter and imagination. The fluid handling of paint and use of resplendent colours with luminous, streaming light would pervade throughout Turners output, defining his appellation 'painter of light'.
Varnishing Day Virtuoso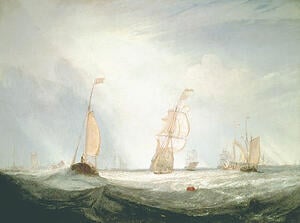 'Turner has been here and fired a gun' exclaimed a bamboozled John Constable at the opening of the Royal Academy exhibition in 1832. This outcry of shock and surprise was the result of a spectacular last minute addition made by rival Turner to his painting; Helvoetsluys. Working for almost fifteen years on his own painting Opening of Waterloo Bridge, Constable felt he had the upper hand in exhibiting next to a painting with all the typical Turner trademarks and tropes; play of light, rough sea and dramatic ships etc but without anything head turning, without any real bite or colour.
That was until the man who had gained a reputation as a virtuoso or almost as a performer rather than painter, with his last minute transformative prowess, strolled in on varnishing day, the final preparation day, and added a buoy into the sea in the foreground with a single daub of red paint. Turner had totally changed the complexion of the painting and settled this competition with a flamboyant display of handling and bravado which had been premeditated to ensnare his young rival in.
Turner had gained a reputation as a 'varnishing day virtuoso' by deliberately leaving paintings half finished or sketched out in order to allow the most dramatic of transformations when conventionally most artists were preoccupied with making cautious final touches. He had also developed a reputation as the most fierce of competitors and merciless in his attempts to outdo his contemporaries. Unfortunately this time, Constable had been the victim.
The text above has been adapted from the beautifully illustrated book J.M.W. Turner: Masterpieces of Art by Rosalind Ormiston (ISBN: 9781783612062), available from Amazon here.
Links