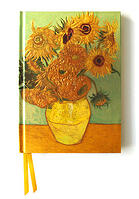 Vincent Willem van Gogh, is now one of the most respected and well-known artists in the world. He is known for his post-impressionist paintings with bold colours that evoke an honest emotional reaction; self portraits, landscapes, cypresses and sunflowers are some of the most memorable subjects of the 2,100 works he completed in his short lifetime. Many of his most well-known pieces were completed in the last two years of his life, while he was suffering from severe mental illness. But of course, at the time, his work was only known to a small number of people (and appreciated by fewer still). It is an absolute tragedy that he died not knowing what the reaction to his work would eventually be, and how much pleasure he would give people all over the world. There is no doubt that his astounding artistic skill as well as his troubled life have touched millions. Today is the anniversary of his death and so I thought it would be a good time to take a look back at his brilliant Sunflowers, his life in letters and his death.
The Letters
The majority of Vincent's letters are to his friends and family, mostly his brother Theo. They shed a lot of light on the artist's extraordinary life and even provide us with a few extra sketches. It is always clear that his art kept him going, even when his mood was at its lowest. He writes in a letter to Theo about his loneliness and extreme sadness, but in the same letter writes of his work: "I have painted three more large canvases. I'm fairly sure that these canvases will tell you what I cannot say in words, that is, how healthy and invigorating I find the countryside". Despite his mood, Vincent would look for the beauty in everything and managed to capture it in his paintings. When he moved to Auvers-sur-Oise he noticed 'violet hues' and he described "old thatched roofs with a field of peas in flower in the foreground and some wheat". He was fascinated by his surroundings and this description became his painting Thatched Cottages. One of his most famous paintings, The Starry Night, was conceived when he was musing about painting the sky in a letter to Émile Bernard, "The imagination is certainly a faculty which we must develop and it alone can bring us to creation of a more exalting and consoling nature ... A star-spangled sky, for instance, that's a thing I would like to try to do." He painted this while hospitalised, and then went on to paint Starry Night Over the Rhone while in the asylum at Saint-Rémy. These paintings, along with his Sunflowers, are perhaps some of the most discussed pieces of art.
Sunflowers
You might ask yourself – why sunflowers? The answer is that they had a special significance for Vincent. Yellow was a special colour for him and in Dutch literature sunflowers were a symbol for devotion and loyalty. As a result, sunflowers are the subject of two series of paintings. The first series was painted in Paris in 1887 and depicts the flowers on the ground, looking withered and uncared for, reminding us of the cycle of life and death. They are known as The Paris Sunflowers as they were painted by Vincent while he was living in Paris with Theo. The second series, The Arles Sunflowers, painted in vases in August 1888, were due to Vincent's excitement about living with his artist friend Gauguin. He wrote: "Now that I hope to live with Gauguin in a studio of our own, I want to make decorations for the studio. Nothing but big flowers." Vincent describes the flowers he would like to paint in a letter to Theo here but none of the actual paintings strictly resemble his early descriptions. There are now versions of the Sunflowers all over the world, including in London, Tokyo, Munich, Philadelphia and of course Amsterdam. His piece Still Life: Vase With Fifteen Sunflowers was sold at auction in 1987 for $39,921,750, which was at the time a record amount for a work of art. It was broken a few months later by another of Vincent's pieces, Irises.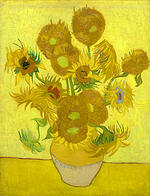 The Arles Sunflowers
The first versions of the Arlesian Sunflowers were painted by Vincent in August 1888. They were bigger than later versions as they were painted on a size 20 canvas, while the rest were on a size 30. As well as being smaller the initial versions were altered, with extra flowers added. These alterations would be done using a wet-on-wet technique, whereby layers of wet paint would be applied to paint that had not yet dried. This would have required Vincent to work fast.
The Repetitions, painted in January 1889 are perhaps the most widely known. At least one of the paintings in this series was enlarged by Van Gogh and it is likely that another was made bigger with added canvas by Émile Schuffenecker who was one of the first collectors of Gogh's work. There has been some debate that one of the paintings might be her work but most art historians agree that the sunflowers are genuine.
A Controversial Death
Van Gogh died on the morning of the 29th July 1890, in his bedroom in the village of Auvers-sur-Oise in Northern France. There is still some controversy surrounding his death, even amongst experts today. There are two main theories. The first, and most widely accepted, is that Vincent committed suicide by shooting himself in the stomach region on the 27th July, causing himself irreparable damage. But there are others (including his 2011 biographers Steven Naifeh and Gregory White Smith) who think he was shot accidentally by a boy he knew. His mental health had been declining since 1889 when he was committed to hospital and then later confined to an asylum at Saint-Rémy. He seemed to be recovering there as he was able to go outside and complete several paintings, but he had several relapses with the longest in March 1890. But in May Vincent was discharged and went to live in Auvers-sur-Oise where he began to recover. He reported improvement in his mood and that his nightmares had almost all gone but, as usual, this period of improvement did not last log before his mood plummeted again. It is clear from some of his letters at that time that a great sadness and emptiness plagued him. While suffering from his gunshot wound in bed he spoke of how he would do it all over again should he recover, saying 'La tristesse durera toujours' – the sadness will last forever.
To read more about Van Gogh's most insightful and revealing letters, with expert commentary, read our book Vincent Van Gogh: A Life in Letters & Art, by Rosalind Ormiston (ISBN: 9781847869920). Find it on Amazon here.
Links
Go to the Van Gogh Museum's collection to read all of Vincent's letters.

You can find out more about Van Gogh's paintings on The National Gallery's website here.

A review by The Guardian on the controversial biography by Naifeh and White can be found here.
Van Gogh's letter image taken from vangoghmuseum.com
Sunflowers image also taken from vangoghmuseum.com