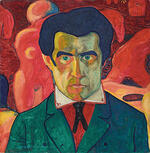 Tate Modern has just opened the first ever UK retrospective of Kasimir Malevich (1879–1935), a Russian artist who changed the face of modern art. With his radical ideas, his pioneering work on geometric abstract art left a lasting legacy.
Early Life
Malevich was born near Kiev and was the eldest of his parents' 14 children. He had little knowledge of professional painters but he was aware of peasant painting, which he practised. In 1904, after the death of his Polish father, Malevich moved to Moscow where he received his education at the Moscow School of Painting.
In 1915, Malevich published his manifesto From Cubism to Suprematism, and he began to collaborate with other Suprematist artists. Together these artists worked in a peasant/artisan co-operative in Skoptsi and Verbovka village, and Malevich began to exhibit his work in the Jack of Diamonds group in Moscow with Nathan Altman, David Burliuk and A. Ekster, and others.
A Dynamic Suprematist
His early works concentrated on Russian agriculture, landscapes and farmers. However his experimentation led him to paint more abstract pieces, eventually culminating in the suprematist masterpieces he is particularly known for. His Black Square, 1913, was a particular turning point for modern art, with the Tate calling it 'one of the defining works of Modernism'. Malevich had chosen not to paint people or objects or landscapes, but reduced his work to one colour and one shape – something unseen at the time.
As the originator of the Suprematist movement, Malevich's work featured numerous simple shapes painted in a limited colour palette. He believed in 'the supremacy of pure artistic feeling' rather than the depiction of objects. As the Stalinist regime came to power however, his work was not well received, as it was seen as a rejection of nature and reality. Consequently, many of his works were confiscated and he was banned from creating and exhibiting similar art.
Immortality
Malevich died in Leningrad in 1935. He had lived through such events as the First World War and the October Revolution. His artwork remains the legacy of an extremely talented man. 'No phenomenon is mortal' said Malevich. 'This means not only the body but the idea as well, a symbol that one is eternally reincarnated in another form which actually exists in the conscious and unconscious person.'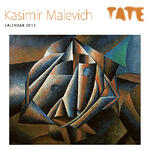 Tate Modern is celebrating the life of this extraordinary man by taking a journey through Kasimir Malevich's life as viewed through his artwork. The exhibition features his early Russian landscapes and religious paintings, through his abstract and suprematst works, as well as featuring sculptures, drawings and even theatre decoration, before showcasing his late return to figurative painting. Perhaps not as well known as he ought to be, for all that he has done for the world of art, Malevich was a truly magnificent artist
One of our fantastic new 2015 art calendars is our Tate Kasimir Malevich calendar, produced in conjunction with the exhibition, which will be available on Amazon
Links
Get a glimpse of the exhibition in this short video from the Tate

View more of Malevich's pioneering artwork here

For more interesting articles on art, follow @flametreearts on Twitter here
Self Portrait image © State Tretyakov Gallery, Moscow